With their low cost, cloud delivery model, and large numbers of raving fans, many startups and small teams find themselves considering Trello vs. Asana for project management software. 
Since the birth of the mainframe-driven Critical Path Method in the 1950s to the rise of modern, cloud-delivered team collaboration tools, businesses have used project management software to plan and organize their work, allocate resources, and keep track of deadlines and progress. Both Trello and Asana offer teams (and their managers) increased task visibility, easier delegation and follow-up, and many other features essential for modern business. 
Choosing the right project management tool is often a matter of taste or preference; heavy competition between vendors has helped create an army of ever-so-slightly differentiated copycats that handle general collaboration and task management, plus some options tailored to specific industries or use cases (e.g. construction project management software).
While there are many similarities between Trello vs. Asana, there are some differences that anyone choosing between them should consider. In this article, we'll look at each system separately, outlining basic functionality and features, then compare the two systems, considering why you might choose one over the other.
Founded in 2009 by two former Facebook employees who based it on an internal tracking tool they developed, Asana's mission is to "help humanity thrive by enabling all teams to work together effortlessly." I'm not sure if they're "making humanity thrive" per se, but using Asana is a relatively effortless experience for teams, especially once you get used to working within the system. There's also a helpful tutorial, an easy-to-search "Help" section, and a series of wonderful on-boarding emails that will have you and your team acclimated in no time.
When you first log in to Asana, you're greeted by your upcoming tasks list, as seen below (this can be customized in your preferences). Depending on your role, you may find the customizable, project-tracking "Dashboard" area or activity-logging
"Inbox" to be a more appropriate place to start, but most users should probably just stick with 'Tasks."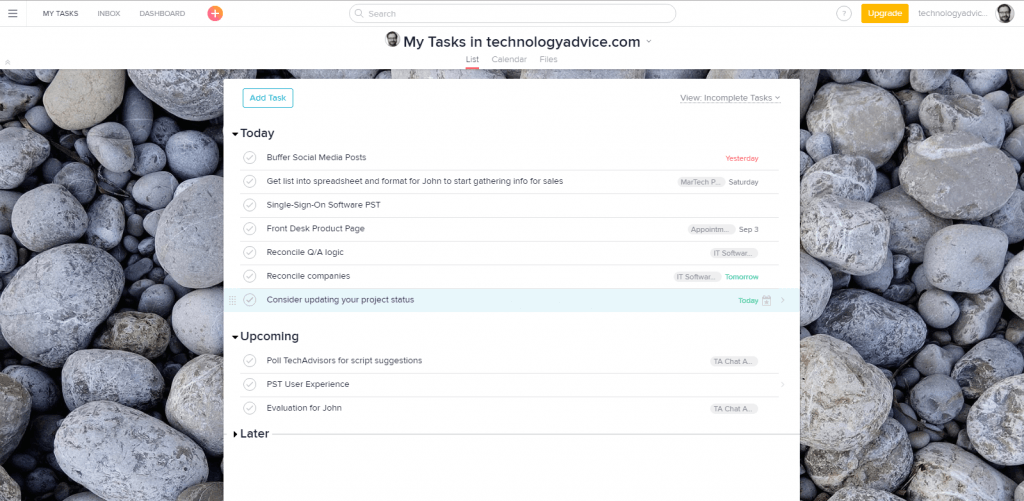 As you can see in the image above, Asana sorts tasks into tabs for "Today," "Upcoming," and "Later," which helps you maintain focus on your current work, while also planning for the future. For each task, you'll see essential information such as the due date and project name, and you can easily click on a task to drill-down into specifics, including the description and history, who else the task is assigned to, notes, attachments, a comment area, and the ability to create and assign sub-tasks.
This task list and the individual task entries are the focal point of Asana, but they also offer a calendar view and a file sharing area where you can access attachments your team has uploaded to Asana.
The other main area you'll be using every day is the navigation menu, accessed via the hamburger icon in the top left of your user interface. Once pressed, the pane below will manifest on the left side of your window.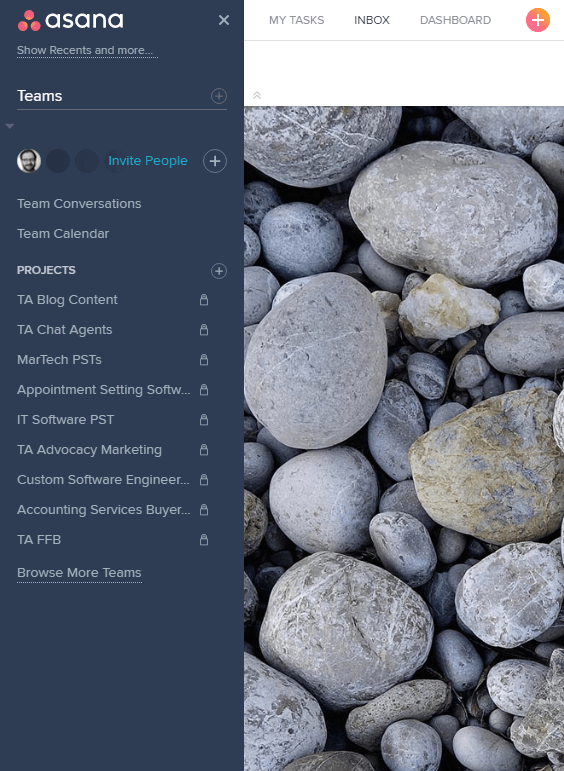 You can quickly navigate between projects to view all tasks, files, and communication surrounding each. You can also access your team calendar, your team-wide conversations, invite new collaborators, and switch between teams.
Asana's pricing is straightforward, with free (albeit limited) accounts for teams with up to 15 members, then $8.33/user/month (billed annually) for larger organizations.
Trello
Trello was created by Fog Creek Software in 2011 (makers of popular development tools such as the FogBugz bug tracking platform) and split off as an independent company in 2014.
Where Asana focuses heavily on training in the onboarding and signup experience, once you finish registration for your free Trello account, you're immediately taken to your boards page, where you find a "Welcome Board" and the ability to create a new board, search boards (and search help!), or create a new team.

Once you've worked your way through the welcome board to learn how Trello functions, you can get started by creating a new board. You can skip the welcome and just start creating boards if you prefer, since the UI/UX is fairly intuitive. I've created an example board (pictured below) to demonstrate some of Trello's features.
Speaking of boards, Trello is based on a production system called 'Kanban', developed by Toyota for boosting efficiency at their auto manufacturing facilities. Learn more about Kanban: What is Kanban and How Did It Change Management?

You'll probably want to create a new "Board" for each project you manage, and then a "List" to manage related tasks. Within each list, the individual cards functions like Asana's sub-tasks — you can assign cards to collaborators, create due dates, upload attachments, etc. That said, Trello is extremely free-form. You can use the Board-List-Card hierarchy to organize just about anything, from brainstorm sessions to sales quotes.
One of the more powerful ways to organize Trello is for managing processes. For example, TechnologyAdvice uses a Kanban board to organize our content production efforts. Each "list" or lane represents a single step in our process, including ideation, editing, social promotion, etc. Each step is managed by different team members, but we all can see, at-a-glance, where any one piece of content is in the process. This is a boon for teams that adhere to sprints and Agile or Scrum-based project development.
Last but not least, Trello is free. Yes, there's a paid individual user version that offers increased file attachment sizes (from 10-250MB) and the ability to customize appearance, but most users interested in paying for the system will likely want the Business Class or Enterprise editions, which offer pre-built integrations for popular third-party tools such as Slack or Salesforce, single sign-on and two-factor authentication, intrusion detection, and priority support. Click the image to see the full pricing page.
Trello vs. Asana
Odds are, you're reading this article because you've been filtering options, and you've reduced your choices to Asana vs. Trello. 
The biggest, most obvious difference between the two systems is how they organize tasks. Trello's highly visual Kanban approach is hard to beat for creating custom, repeatable processes that allow easy team collaboration. Asana's task-centric, list-based approach is more traditional, organizing your team's work around individual projects and keeping everyone up to date with Asana notifications and reminders.
A few more points of differentiation include:
API:

Both Asana and Trello offer an API, but Asana's is only available to paid users
User Limit:

Asana cuts off its free option at 15 users, while Trello offers unlimited users for free.
Account Management

: If you require support, Asana's paid accounts are enrolled in their Customer Success Program, which will give you access to a training specialist for onboarding and deployment, process design, and more. Trello only makes this available to the highest-cost plan.
Integrations

: Asana offers free integration with a wide variety of tools to both paid and free plans, including Zapier. Trello only offers Box, Dropbox, and Google Drive integration for free — others require you to pay, or know how to use the API to integrate it yourself.
Making the Choice
Hopefully you now have enough information to choose between Trello vs. Asana. If you need any further help, check out the articles below, or visit our Project Management Software Product Selection Tool for a list of customized software recommendations. 
Read More:
Technology Advice is able to offer
our services
for free because some vendors may pay us for web traffic or other sales opportunities. Our mission is to help technology buyers make better purchasing decisions, so we provide you with information for all vendors — even those that don't pay us.