Slack held a press conference this morning to announce a new enterprise communication and collaboration tool: Slack Enterprise Grid. The offering has already gone through extensive testing at several large companies, including IBM, PayPal, and Capital One, who helped shape the collaboration tool for the specific needs of the enterprise.
What's different about Slack Enterprise Grid?
Security
Enterprise companies have complex security needs, and many operate in regulatory spaces that require strict security and audit features. Enterprise Grid will include Slack's standard in-transit-and-at-rest encryption features and add certifications for HIPAA and FINRA compliance, among others. They've also built new integrations with enterprise search tools (for auditing and e-discovery), data backup providers, and on-site security.
Scale
Enterprise Grid expanded and built to scale the idea of the channel familiar to most Slack users. Grid users will find unlimited workspaces for team collaboration and connections between these workspaces through channels that don't expose sensitive data between teams. Where before, sales and marketing teams may have had their own separate Slack accounts, teams can now live under the single Grid account, keeping important data in a central location.
ALSO READ: 6 Slack Alternatives to Try Before You Commit 
Control
Administrative controls allow the company to define user, team, channel, workspace, and Grid permissions from a central dashboard. These permissions allow faster integrations across the enterprise. Granular permissions let administrators build workspaces according to the needs of each individual team.
Integrations
Slack added SAP integration to pull workforce analytics and business ops into your collaboration tools. This is in addition to over 900 application integrations that help your teams communicate progress and updates across the business.
The Enterprise Collaboration Market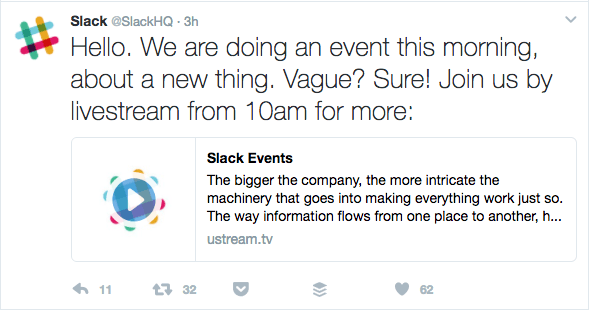 Slack's reveal this morning came with little fanfare other than a few tweets before a live unveiling at 10 a.m. PST, but after this month's flurry of feature releases, the Grid comes as little surprise. The new offering debuted on the heels of several other 2017 Slack releases: threaded conversations, built-in calling, native Salesforce integration, and a new desktop app for Windows 10 that works with live tiles. It's hard to imagine a successful enterprise app without Windows or Salesforce.
With Enterprise Grid, Slack has better positioned itself to become a leader in enterprise collaboration space (as if it weren't already). Voice and video calling positions Slack to overtake Google Hangouts and WebEx for communication tools, while enterprise-grade security and compliance likens the tool to the ever-popular Atlassian suite (JIRA, HipChat, Confluence). 
ALSO READ: Slack vs. HipChat: Choosing a Messaging App for Your Team
Slack did not release pricing details for Enterprise Grid; interested companies should contact sales for a custom quote.