During college, I worked in the stockroom of a national retail chain, so I know from experience what a pain in the ass procurement can be, especially when you don't have the right tools. Paper purchase orders (POs) start stacking up in your five-tiered inbox system, then migrating, unsorted, into bank boxes that live in some dank storage space.
How many years are you supposed to keep them? Three? Seven? Doesn't matter; you couldn't possibly find any given one among thousands if your life depended on it. Not to mention, you have no idea how to handle shipping errors and payment disputes or how to streamline costs with particular vendors.
There are a number of reasons you might be shopping for purchase order software.
Maybe you own a retail establishment and need a better way to manage inventory in light of  customer demand. Maybe you run an IT department and need a better way to integrate requisitions and orders. Maybe you're an accountant struggling to create a clean audit trail for compliance purposes.  
ALSO READ: 5 QuickBooks Alternatives for SMB Accounting
In any case, implementing a digital purchasing system is a good place to start. This kind of tool — alternately referred to as order management software or procurement software — will help you bring all of your requisitions, orders, invoices, and vendor information into a single, organized place. Beyond that, many solutions provide built-in reporting features to help you troubleshoot inefficiencies and reduce costs.
It isn't hard to see the benefits of purchase order software. Choosing a solution that's right for your needs, on the other hand, can be a challenge. The market is full of multifarious tools and categories that include order management/procurement/purchase orders as a feature, from enterprise resource planning (ERP) suites to best-of-breed web apps. To make matters worse, procurement software lacks the notoriety that other, more accessible IT categories enjoy, so it's hard to tell the reputable vendors from the . . . less reputable.
In this post, we'll help you understand the market and narrow your options by comparing top solutions in four categories.
1. Best-of-Breed Procurement
Best-of-breed apps focus on one particular area of functionality. In this case, the software will help you create, approve, and track purchase orders. Some may provide additional features and integrations (such as inventory management) as a way to secure competitive advantage, but you'll generally be looking at narrow utility. If you want a simple solution that's inexpensive and easy to implement, this is the category for you.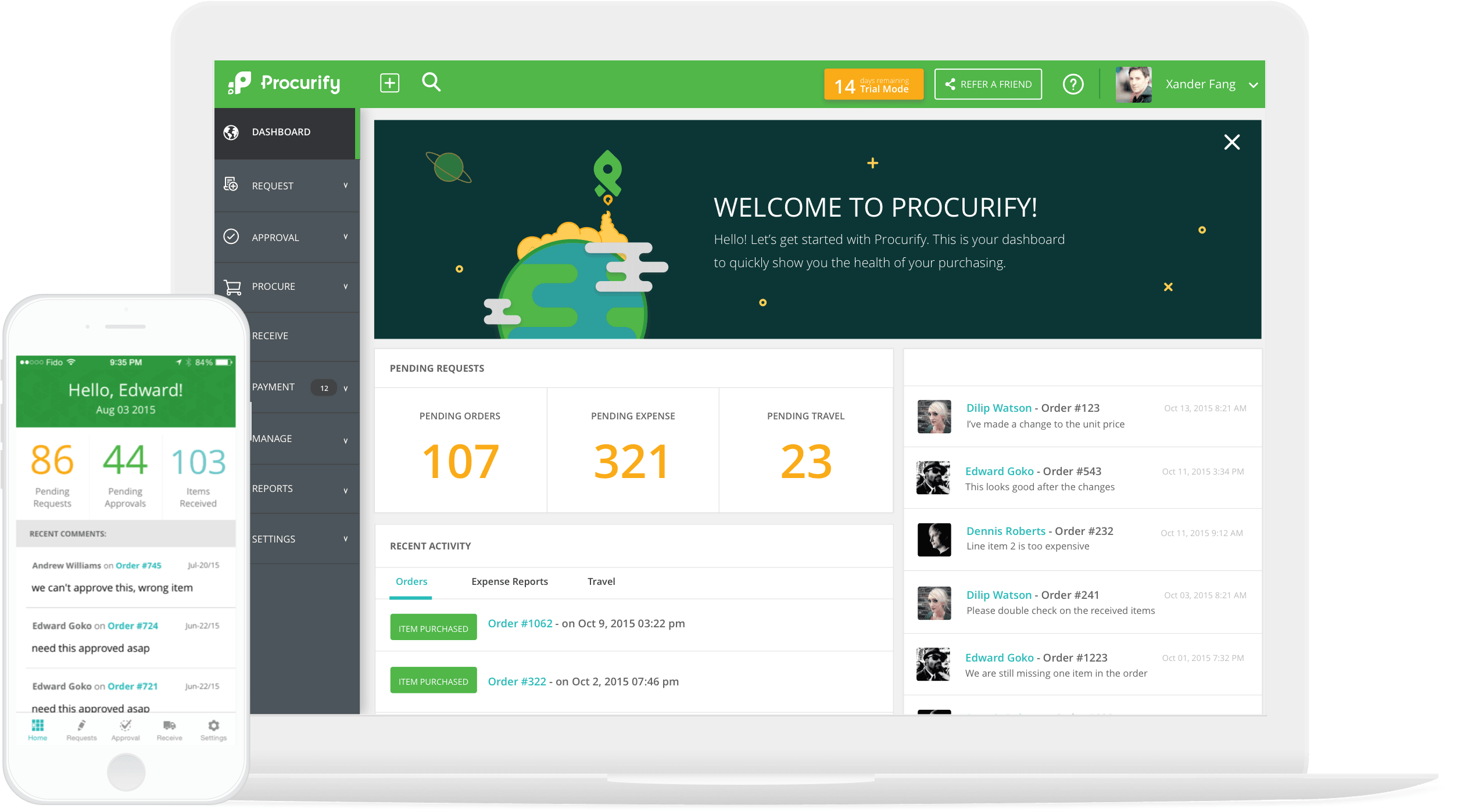 Procurify is a cloud-based purchase order management tool designed to "make purchasing ridiculously easy." The simplicity and effectiveness of their solution has earned Procurify business with well-known companies like Hootsuite, Cornell University, and ASCO.
Instead of using paper POs and spreadsheets, you can build your workflows and approval process in Procurify and give everyone access to submit requests through the web interface or native mobile apps. Since Procurify integrates with most major ERPs and accounting solutions through its data migration wizard, you can use it to save money on additional licenses for these (more expensive) systems.
Procurify is a great choice for operations teams, Finance, IT, and general business purchasers.
Others to consider: Orderhive, Tradegecko, Tradeshift, Unleashed
2. Accounting
Accounting software, of course, is built to help companies manage money moving in and out of their accounts and stay compliant with tax regulations. Since paying for business-use products and services is a large part of that process, many accounting solutions include a set of order management features. Just as you want maintain transparent relationships with your clients, you want to keep accurate records of transactions you make with vendors.
If you manage your own accounting and don't already use a centralized tool, solutions in this category are a great way to kill two birds with one SaaS contract.
Leading Vendor: Xero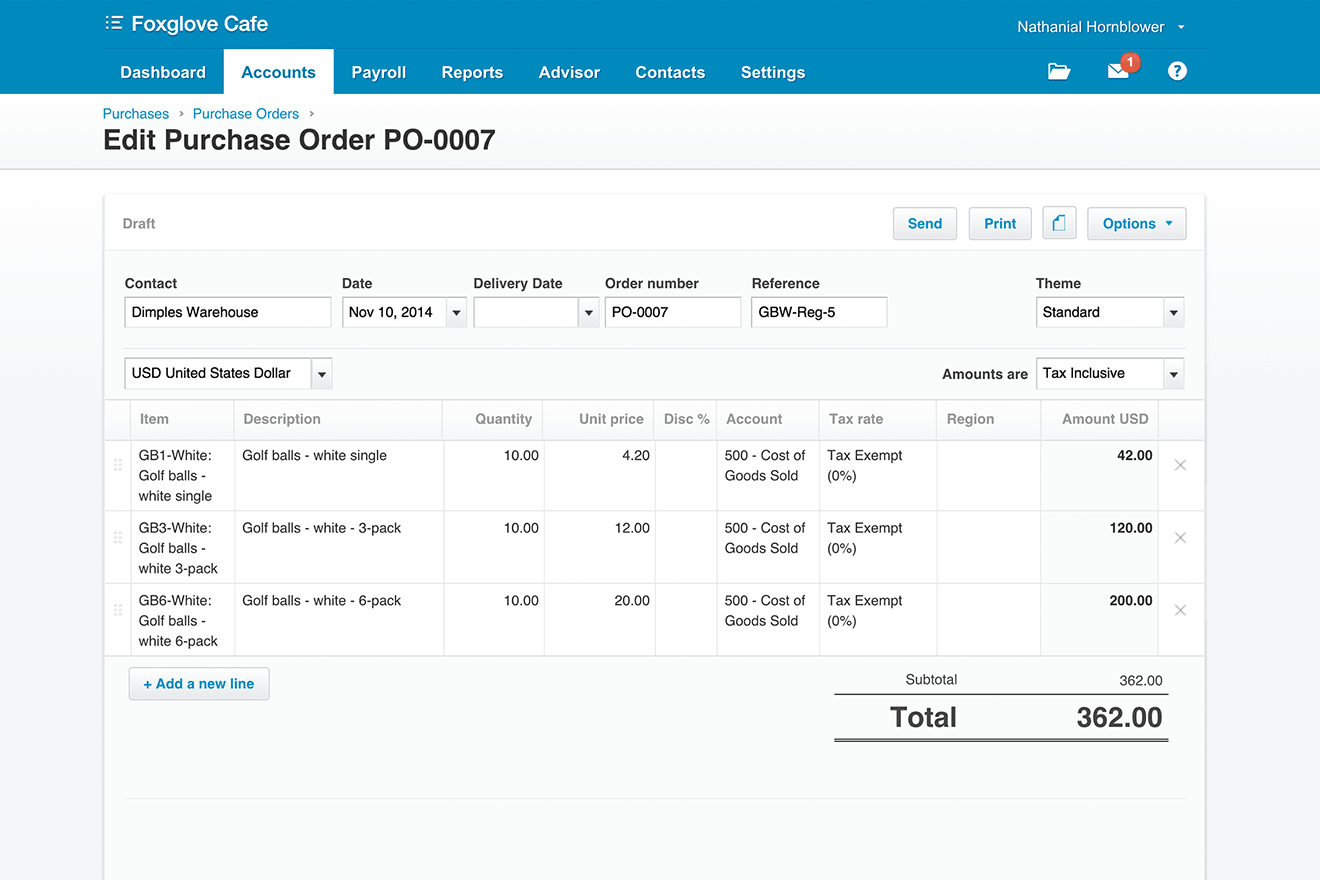 Xero is one of the most popular web-based accounting solutions on the market, and a number-one competitor to QuickBooks. In addition to a full suite of accounting features, Xero lets users create customizable purchase orders, send them to vendors, and transform them into bills when it's time to pay.
The workflow for this is fairly straightforward. Using the same interface (or mobile app) you use for all of your other accounting functions, navigate to the Purchases menu and select "New Purchase Order." Fill out the details (contact name, date, order number, items, etc.), and specify a delivery address from your list. Then save as a draft or approve. You can use email templates for sending POs to your suppliers, which will save time for those you work with on a regular basis.
Other options: QuickBooks, Intacct, Zoho Books
3. IT Asset Management
Procurement in the IT department is different than retail procurement or procurement for other departments. That's partly because it takes specialized knowledge to manage IT assets and choose between vendors, and partly because there are so many different kinds of IT assets. Purchase orders might include anything from enterprise software to servers, networking components, employee devices, or security appliances.
It's especially important that all procurement requests go through the right channels for approval, and that purchasing is directly connected to subsequent contract and asset management. If you're looking for an IT-specific purchase order solution, I highly recommend starting with those built for your job role.

ServiceDesk Plus, built by ManageEngine, is an IT helpdesk solution by name, but it's functionality extends far beyond ticket management. The "purchase order tracking" features are designed to give you an easy way to create and manage the complete process of ordering, from initial creation of the PO to approval, invoicing, and payment.
One of the cooler features of ServiceDesk Plus is that you can create a product catalog and associate specific items with different vendors, prices, and warranty information. That makes it a lot easier to go back and reorder previous items, or find a better rate, when possible. When you physically or virtually receive your products, you can automatically convert them into assets in your inventory. ServiceDesk Plus also includes reporting features, budget management, contract management, and software license management.
Other options: Solarwinds, Spiceworks, BMC
4. Enterprise Resource Planning (ERP)
ERP software is by far the broadest solution to a purchase order problem, but it's still worth considering. If you implement an ERP product, you won't just get purchase orders; you'll get an entire suite of products built for end-to-end financial and operational management. If you aren't familiar with ERP software, you can read more here.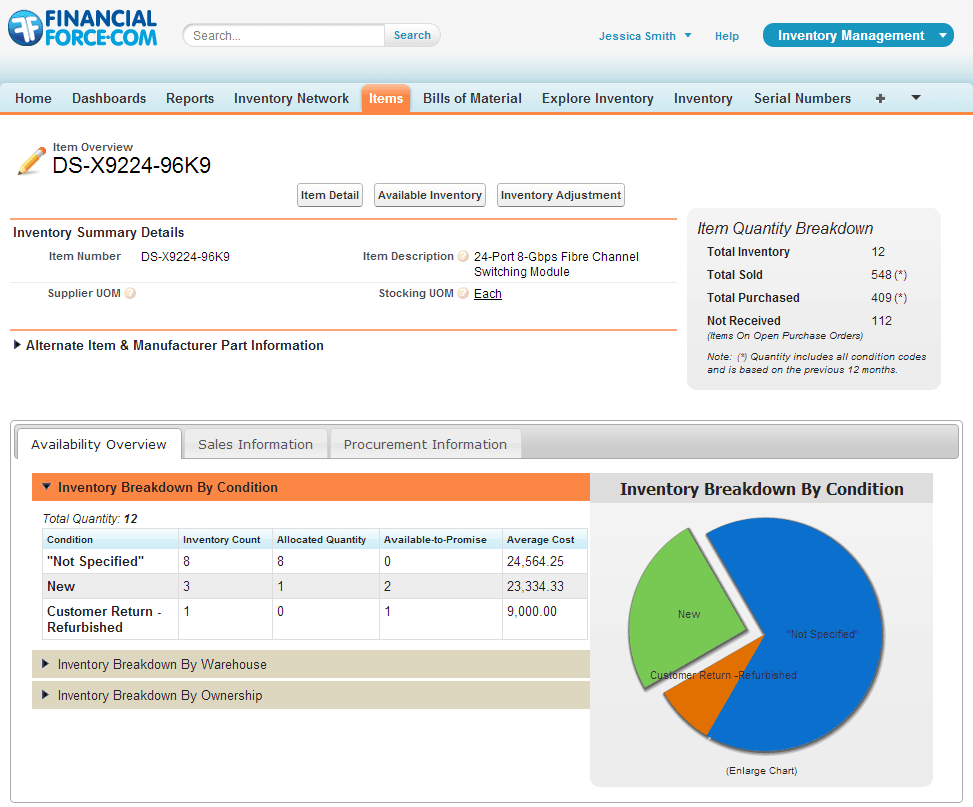 FinancialForce is an ERP solution built on the Salesforce platform, which is nice to know if you're interested in horizontal compatibility (i.e. integrations and add-ons). Their suite of business tools includes professional services management, financial management, human capital management, and customer management, should you choose.
When it comes to procurement, FinancialForce is definitely the most advanced solution we've looked at so far. Purchase orders are part of their "spend management" module, which helps organizations reduce costs and keep track of their relationships (and contracts) with vendors. You can monitor requisitions (a fancy word for order requests that originate inside of your company) based on your spending policies and create automated workflows for approval. When you're ready, convert the requisition into a PO, and place the order.
You can also keep a catalog of supplier agreements and use the system to request multiple bids at once, which makes it easier to negotiate price. FinancialForce also includes procurement analytics, hierarchies, and spend controls.   
Other options: Sage, Netsuite, Microsoft Dynamics
* * *
As you can see, purchase order software comes in many different shapes and sizes. If you're just beginning the research process, decide which category is best suited to your needs and intended use. Then compare solutions in that category. Pretty simple . . . except that it's not.
If you need help, don't hesitate to call or email one of our unbiased experts for a free consultation. They know a few things about stuff.
Technology Advice is able to offer
our services
for free because some vendors may pay us for web traffic or other sales opportunities. Our mission is to help technology buyers make better purchasing decisions, so we provide you with information for all vendors — even those that don't pay us.