monday.com is a work OS, or a highly customizable work management platform for many different uses. Microsoft Project is a project management-specific app in the Microsoft family of products.
Both monday.com and Microsoft Project work as powerful project management tools, complete with various project views, task management features, and software integrations. But ultimately, monday.com and Microsoft Project take very different approaches to managing projects.
Let's find out which one is better suited to your team's needs.
monday.com vs. Microsoft Project: Which is better?
monday.com
Microsoft Project
Starting price
$8.00/seat/mo.
$10.00/user/mo.
Project management tools
All the essentials
Advanced tools many teams may not need
Setup
Turnkey or from-scratch setup
From-scratch setup
Time, cost, and resource management
Doable with templates
Built-in functionality with extra tools
Integrations
200+ integrations of all kinds
Mostly Microsoft integrations
Try monday.com
Try Microsoft Project
Pricing and feature details up to date as of 5/2/2023.
monday.com: Better for out-of-the-box use
monday.com's work OS lets you build and customize boards. With the right setup, you can use your boards to manage projects, resources, support tickets, and more. monday.com also offers pre-built products, including monday marketer, monday CRM, monday projects, and monday dev―all turnkey options for specific use cases.
These product options make monday.com usable right out of the box. Just add in your data (like project and task info), and you can get going. Even if you decide to start from scratch, you can pick up monday.com relatively quickly. It has a user-friendly design, and monday.com has an extensive self-help database, making monday.com easy to tailor to your needs. Plus, most teams won't have any problem learning how to use it.
That makes monday.com a versatile platform, suitable for many businesses―especially if you want to stick with one software across multiple types of teams.
Pros
Turnkey and self-built options
Plans starting under $10 per mo.
Many software integrations
Extensive support database, customer service, and paid help
Built-in automation
Cons
Very basic time tracking features
Limited portfolio management except on Enterprise plan
No integrations or automations on Basic plan
Limited task dependencies
Microsoft Project: Better for advanced project management
Microsoft Project, or MS Project, is Microsoft's project management solution. The Microsoft corporation publishes a few different versions, including Microsoft Project Online, Project on the web, and an on-premises option. (Microsoft Planner is a separate software.) All versions integrate nicely with other Microsoft products.
They also all include similar project management tools―and lots of them. You'll find everything from task dependencies to auto-scheduling of tasks to advanced roadmaps. In fact, MS Project has such advanced project and portfolio management features that many project managers agree Project is more software than most teams need.
If your team manages many projects in its portfolio, though, or you tackle complex projects with many moving parts, you'll likely be impressed by Microsoft Project. Even if it's too much for your team at large, your project managers can use MS Project for powerful planning.
Pros
Roadmaps and other portfolio management tools
Advanced time tracking and resource management features
Detailed reporting included
Cloud, desktop, and on-premises versions
30-day free trial
Cons
High starting price
Steep learning curve
Difficult-to-navigate support database
Few software integrations outside of Microsoft family
monday.com vs. Microsoft Project: Pricing
While it would be great if your team had an unlimited budget for management software, most teams operate on a tight budget. So you have to find the right balance of features and pricing to get a project management tool that meets your needs without breaking the bank.
While many project management platforms have similar pricing, monday.com and Microsoft Project take very different approaches to their plans.
Pricing and feature details up to date as of 5/2/2023.
monday.com
The cheapest monday.com (paid) plan starts at under $10 per user per month―and even the high-tier Pro plan comes in under $20 per user per month. (While monday technically offers a free plan, the two-user limit means most teams can't use it.)
Most teams will want at least the mid-tier Standard plan. Along with project boards and dashboards, it gives you a Gantt chart view, workflow automation, software integrations, and other handy project management features.
You can save on monday.com by choosing annual billing. You also get unlimited viewers on all plans, and you can allow up to four guest users for the cost of one seat.
Microsoft Project
Microsoft Project, quite simply, costs a lot. Plans start at $10 and go up to a whopping $55 per user per month, making it one of the most expensive options out there.
In most cases, you'll want the mid-tier Project Plan 3 for $30 per user. It gives you enough advanced features to make MS Project feel really different from other project management software. (You can find other, cheaper software to do most of what the low-tier Project Plan 1 does.)
Microsoft doesn't offer billing discounts, but you can potentially save by going with the on-premises version. That way, you pay a one-time user license instead of a monthly fee.
Which to choose for pricing?
monday.com. Here's why: MS Project is very pricey. monday.com offers cheaper plans all around and lets you save with billing discounts and guest seats.
monday.com vs. Microsoft Project: Features comparison
Project management tools
The right project tool for your team should work with your preferred project management style. So consider project views, workflow automation options, and other project management features you may need.
And keep in mind that task management is just one part of managing projects. Maybe you want your project management tool to track time, budget, and other resources too.

Tasks are just one part of projects―you may want to track time, budget, and other resources
Feature details up to date as of 5/2/2023.
monday.com
monday.com has enough project management features for the average team. For instance, it includes lots of project views (including a Gantt chart and kanban board), simple task automation, and reporting dashboards.
Its design as a flexible work OS also means you can set up monday.com for cost and resource management too. You can even find templates to help. But you'll probably want the Pro plan, so you can use formulas in your boards.
Just understand that monday.com doesn't have a specific tool for budget or resource tracking. So if you have complex projects with lots of data, you may want a more specialized tool. Likewise, while monday.com includes time tracking on high-tier plans, the tool may be too basic for some teams.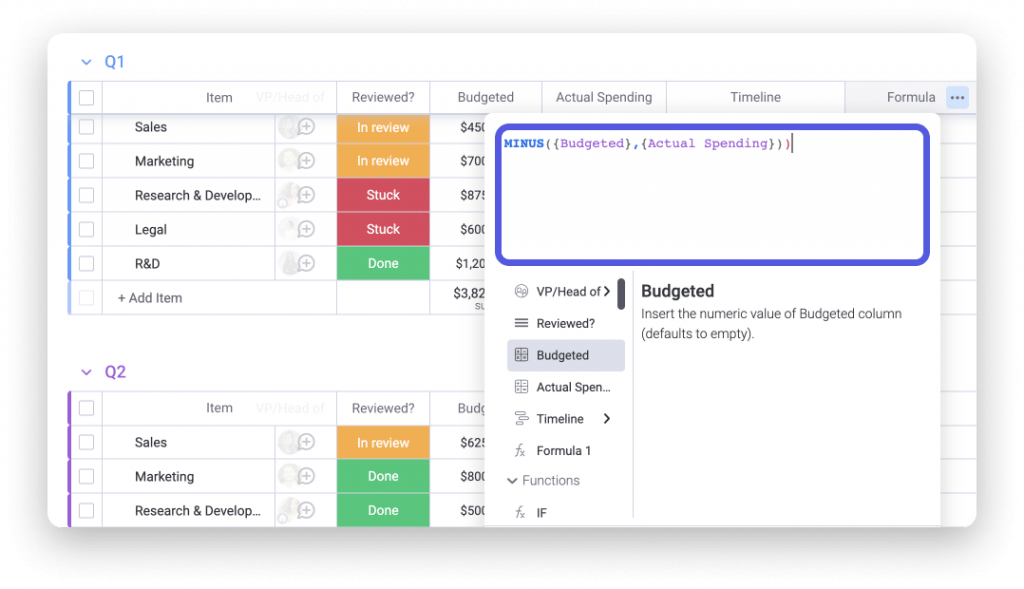 Microsoft Project
Microsoft Project has pretty much all the project management features monday.com does and then some. For instance, Microsoft Project includes auto-scheduling. When you create a project, set a start and an end date. Then MS Project will fill in due dates for associated tasks.
MS Project also includes true budget and resource management tools. It has more advanced time tracking and timesheets too. Your team can even put in planned vacations, and Microsoft Project will update due dates accordingly.
Plus, Project has an interactive roadmap you can use to track multiple projects at a glance. It's a powerful planning and reporting tool that makes Project perfect for portfolio management or complex, changing projects.
Which to choose for project management tools?
It's a tie. Here's why: Microsoft Project has more advanced features than monday.com, but Project's tools may be overkill for your team. Some project managers will prefer the simplicity of monday.com.
Setup
When you pick a new project management tool, you want to start using it right away. You need something you can quickly onboard your team to―and easily teach to new hires.
Of course, you can always pay a monday.com or a Project professional to set up your management tool for you. That can cost a lot, though, so it won't work for all team budgets.
Feature details up to date as of 5/2/2023.
monday.com
As we mentioned above, monday.com has pre-built products for different use cases, like marketing, portfolio management, and development. You can also build your monday.com boards from scratch, using templates to get started quickly.
monday.com also has a clean, modern design that makes it usable and learnable. Most users seem to pick it up quickly.
And if you or a team member gets stuck while setting things up or trying a new feature, all monday.com plans come with 24/7 customer support.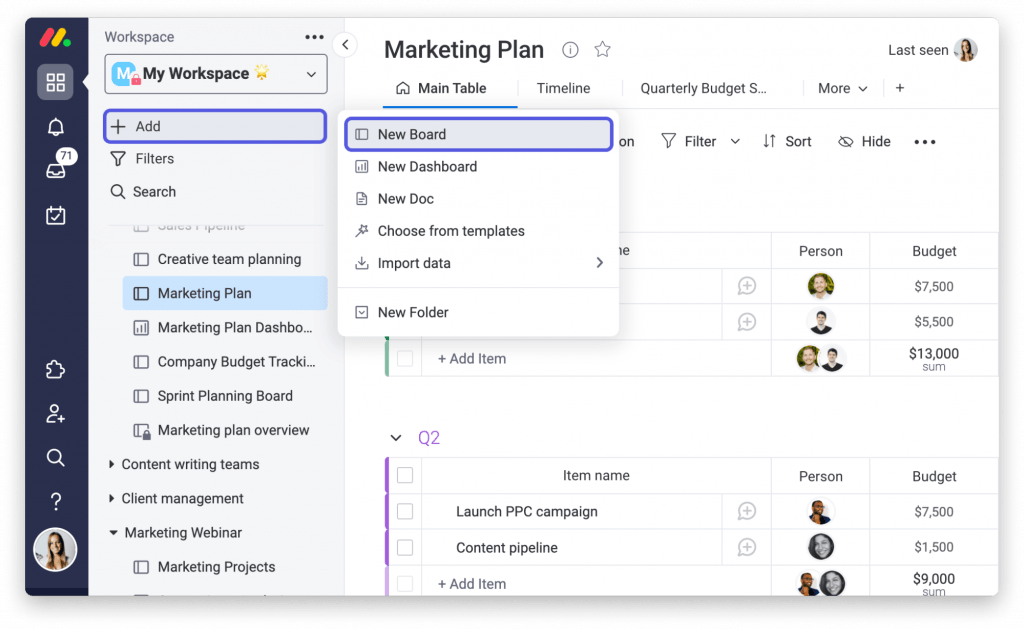 Microsoft Project
Microsoft Project does have a handful of templates you can use to get started, but you'll mostly build your project boards from scratch.
Lots of users report struggling to learn Microsoft Project. They say it doesn't feel intuitive, and you need to really dig in if you want to learn to use it well (not unlike Microsoft Excel).
Most Project plans don't come with professional support. And frankly, the self-help database is badly organized and light on details. You may need external help to really learn Project.
Which to choose for setup?
monday.com. Here's why: monday.com offers turnkey products and tons of templates. It also has an intuitive user interface (UI) most people can use easily. MS Project, on the other hand, has a steep learning curve and little help.
Software integrations
You probably have other apps that you'd like to connect to your project management software―whether that's because you use a team collaboration tool like Slack or your dev team insists on sticking to Jira software.
Software integrations let you link your project management tool to other software. Integrations can come in handy for workflow automation especially. You can do things like automatically send a message in Slack when a task changes statuses.
monday.com
Microsoft Project
More than 200 integrations
✔
✘
Integrations with Microsoft products
✔
✔
Easy automations with integrations
✔
✘
Try monday.com
Try Microsoft Project
Feature details up to date as of 5/2/2023.
monday.com
monday.com has over 200 integrations. Integration options include team collaboration tools, marketing apps, other project management software, and more.
Now, monday.com does limit how many integration actions you can use each month. The Standard plan gives you only 250. If you want more, you'll need to upgrade to the Pro plan, which gives you 25,000 actions each month.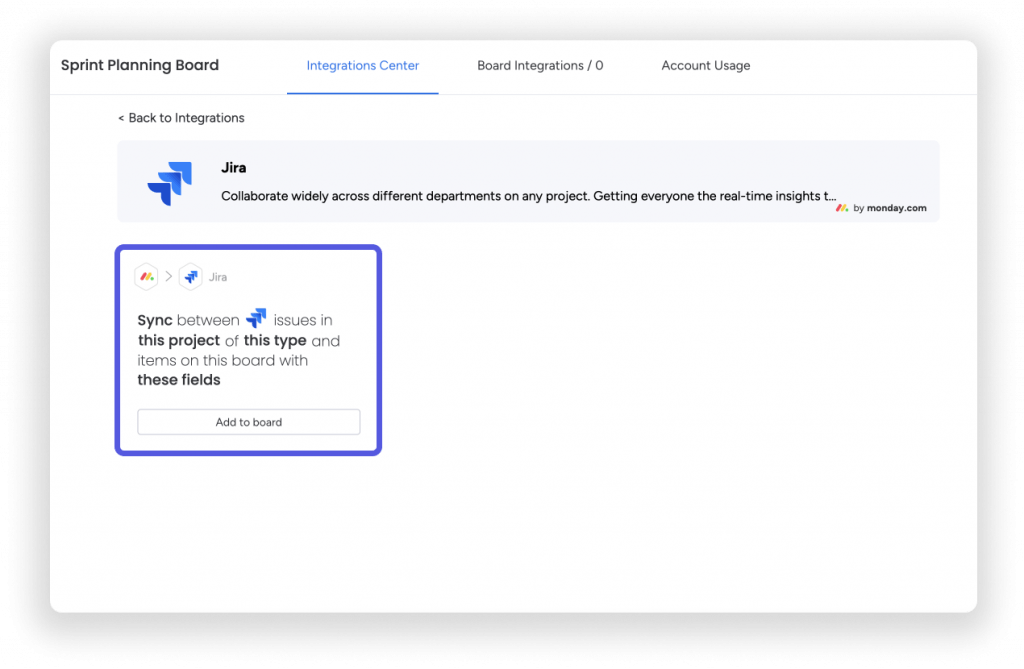 Microsoft Project
MS Project really just integrates with other software from the Microsoft Corporation. If you mostly use apps like Microsoft Teams or Excel, then you're all set. But many teams will find the lack of other integrations annoying.
You can use external apps like Zapier to create more integrations and workflow automations. That's an extra step, though, and can add more complexity to an already complicated software.
Which to choose for software integrations?
monday.com. Here's why: Microsoft Project is too limited with its Microsoft-only integrations. monday.com gives you way more options, and it offers easy automation recipes so you can make the most of those integrations.
monday.com vs. MS Project: Ready to choose?
Both monday.com and Microsoft Project have great project management tools, including some level of time and resource tracking.
monday.com is easier to set up and learn. It's also more likely to work with other software you already use.
Microsoft Project has more advanced features for project management and portfolio management. It's overkill for many teams, but great for complex projects.
If neither software seems right for your team, check out our Project Management Software Guide to find a suitable monday.com or Microsoft Project alternative.
---
---
Featured project management partners
1

monday.com
monday.com Work OS is the project management software that helps you and your team plan, execute, and track projects and workflows in one collaborative space. Manage everything from simple to complex projects more efficiently with the help of visual boards, 200+ ready-made templates, clever no-code automations, and easy integrations. In addition, custom dashboards simplify reporting, so you can evaluate your progress and make data-driven decisions.
2

Wrike
Wrike's top-notch workflow management software allows you to easily visualize priorities, boost collaboration, and maintain control of your projects. Bonus: you can move seamlessly between apps, without logging in or out. Wrike has more than 400+ integrations with popular platforms such as Google, Dropbox, Microsoft Office, and many more. Automation and AI features strip away time-consuming admin tasks so you can do the best work of your life.
3

Quickbase, Inc.
Big ideas aren't simple to execute. So we're here to help you tackle any project, no matter how complex. We're Quickbase.

Quickbase helps customers see, connect and control complex projects that reshape our world. Whether it's raising a skyscraper or coordinating vaccine rollouts, the no-code software platform allows business users to custom fit solutions to the way they work – using information from across the systems they already have.
Technology Advice is able to offer
our services
for free because some vendors may pay us for web traffic or other sales opportunities. Our mission is to help technology buyers make better purchasing decisions, so we provide you with information for all vendors — even those that don't pay us.