This is the final post in our preview series on Oracle OpenWorld 2015 — Oracle's legendary business and tech conference that will take place between October 25 and 29 in San Francisco.
The conference itself is already a fantastic opportunity to grow your knowledge and connect with other professionals, but if you look closely, you can find some ways to get plugged in even further . . . like the Oracle User Groups.
SEE ALSO: What CMOs Can't Miss at Oracle OpenWorld 2015
User Groups at OpenWorld are like campus clubs in college. Sure, you can get a degree without doing anything beyond passing your classes, but if you want to have a deeply engaging experience and build lasting connections, you join a group of like-minded students. If you aren't in a group already and haven't planned on participating in this portion of the conference, you're missing out.
What is a User Group?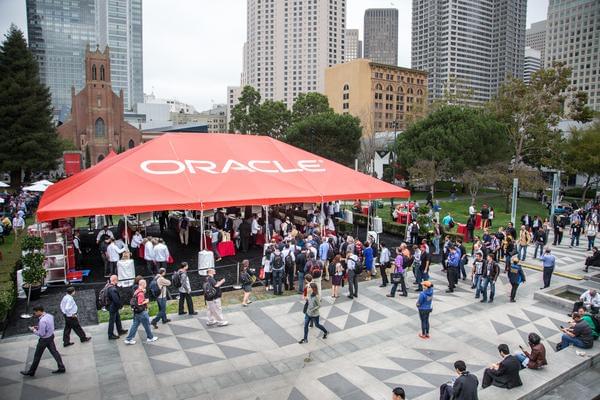 An Oracle User Group is essentially a place for customers to share information, experiences, and expertise about Oracle technologies, which could be anything from a database to a human capital management (HCM) suite or a customer experience (CX) cloud. There are hundreds of different user groups around the world that organize by region or by product line.
Here are the major groups participating in this year's event:
Asia Pacific Oracle User Group Community (APOUC)

EMEA Oracle User Group Community (EOUC)

Higher Education User Group (HEUG)

Independent Oracle Users Group (IOUG)

Latin American Oracle Users Community (LAOUC)

Oracle Applications Users Group (OAUG)

ODTUG (for Oracle Developers) 

Oracle HCM Users Group (OHUG)

Quest International Users Group  
At OpenWorld, most of the action will happen in the User Groups Pavillion (where you can meet with current members and learn about membership) and during the Oracle Users Forum on Sunday the 25th (where you can attend forum sessions and special interest group meetings). The Users Forum will be held in the South and West halls of the Moscone Center.
The Value of Joining a User Group
Beyond the obvious learning experience, there are numerous ways Oracle User Groups can add tangible value to your business.
Learn How to Optimize Oracle Products 
It's hard enough to implement enterprise technology, let alone get optimum use out of it. If you use one of Oracle's many software or database products, the User Forum is a chance to learn new tips, best practices, and techniques for growing your business through Oracle's solutions.
The learning sessions aren't just a gloss-over; led by Oracle experts and some of Oracle's power users, they offer practical advice for trade-specific topics. Here are a few examples:
Network with Other Users
As you talk and connect with other users in your industry, you might start to realize something: you have a lot in common. You'll meet a lot of like-minded professionals at Oracle OpenWorld. But if you really want to build relationships, you need to bump heads with leaders from your same industry, who face the same challenges, and use the same kind of technology to support the same kind of business goals.
User groups are the perfect place to do just that.
In fact, many groups offer a member directory, which gives you a shortcut for setting up new partnerships or learning opportunities. For example, if you're having trouble mapping out your sales funnel stages in Eloqua (marketing automation), you could reach out to a company that's been using Eloqua for years.
Gain Clout to Influence Oracle Product Development
That's clout with a C, not a K. Have you ever wished your business software had a certain feature or a different built-in workflow — something that would impact productivity or mission-critical business processes?
Instead of settling for workarounds, group membership gives you a direct audience with the Oracle think tank. Where do you think they get all of their great ideas? As a member of an Oracle User Group, you can "participate in . . . committees and initiatives that provide direct feedback and direction to Oracle's products and services."
Example: OUAG 
To give you a clearer picture, let's take a closer look at a specific group — the Oracle User Applications Group (OUAG). The OUAG caters to users of Oracle's e-business applications, such as CRM, customer service, HCM, and project portfolio management (PPM).
The group is designed to provide education, networking, and advocacy for their members. They offer an extensive knowledge base as well as conferences and webinars to help users in any line of business maximize their use of Oracle applications. As a collective unit, the OAUG also advocates for user needs by communicating development priorities and improvements directly to Oracle.  
*
Here's the short version: if you use any of Oracle's products, databases, or applications, you will directly benefit from joining a user group. If you aren't a member yet, stop by the User Groups Pavilion (Moscone South, Upper Lobby) to learn more about new programs and the benefits of membership. All full conference attendees will have access to SIGs and User Group Forum sessions. Check out the session catalog for a full list.
If you haven't signed up for Oracle OpenWorld 2015, there's still time. You can pre-register online through October 23, or on-site starting October 24. Need a little extra incentive? How about the list of keynote speakers Oracle just announced? Larry Ellison (CTOand Chairman, Oracle), Brian Krzanich (CEO, Intel), Mark Hurd (CEO, Oracle), Jim Fowler (CIO, General Electric), Randy Mott (Senior VP, CIO, General Motors), and many more greats.
Get your tickets now, and be sure to follow @oracleopenworld on Twitter for updates.