Today is the first day of IoT World 2016 — the largest and most widely attended "internet of things" event in the world.
If you're already present at the event, we don't need to tell you about the stunning (and frightening) possibilities offered by a global network of connected devices, vehicles, and buildings. 
With over 10,000 attendees, 350 speakers, 200 exhibitors, and nine conference tracks, IoT World is enough to make your head spin. It would be impossible to experience all the conference has to offer in three, short days. If you're experiencing some of that bewilderment, we've put together a few tips to help you get the most out of your time at the event, whether you're a technology vendor looking for prospects or an IT professional seeking fresh insight.
1. Pick a Conference Track
IoT World prides itself in being the most "comprehensive" IoT event in the industry, which means it covers a lot of ground in three days. As a single attendee and a representative for your business, not all of this information will directly benefit you.
Try to pick a conference track based on a specific IoT agenda topic, and follow it. Day one (today) will mostly be keynote speakers and panels. The track-specific sessions won't start until tomorrow, so you still have time to make a plan. Options include:
Future of connected cars

Smart cities

Transportation, supply chain, and logistics

Smart home

IoT architecture

Manufacturing

Healthcare

IoT analytics

Energy, environment, and agriculture

And more (for a complete list,

click here

)
2. Decide Which Speakers You Want to Hear
Did we mention IoT World will feature over 350 speakers this year? You won't have time to hear them all, so decide which are the most relevant to your job role, organization, and personal interests, and schedule your days accordingly. You can see a breakdown of the conference agenda by day and hour (with speakers listed) here.
A few noteworthy speakers you might want to check out:
For a complete list, check out the 2016 speakers page.
3. Map Out the Exhibition Hall
The technology exhibition is by far one of the coolest aspects of IoT World. It gives attendees a chance to learn about new tools and devices from some of the industry's leading developers. We're talking telematic sensors, wearables, connected cars, semiconductors, service platforms, and pretty much anything you can imagine. The exhibition is actually free, so if you're in the area but haven't registered for the full conference, you can still drop in to check out some new technology.
Luckily, event host Informa has provided a detailed map of the exhibition hall to help you plan your attack. The exhibition will take place from 10 a.m. – 6 p.m. on Wednesday and 10 a.m. – 5:30 p.m. on Thursday. Click the map below to view in full resolution.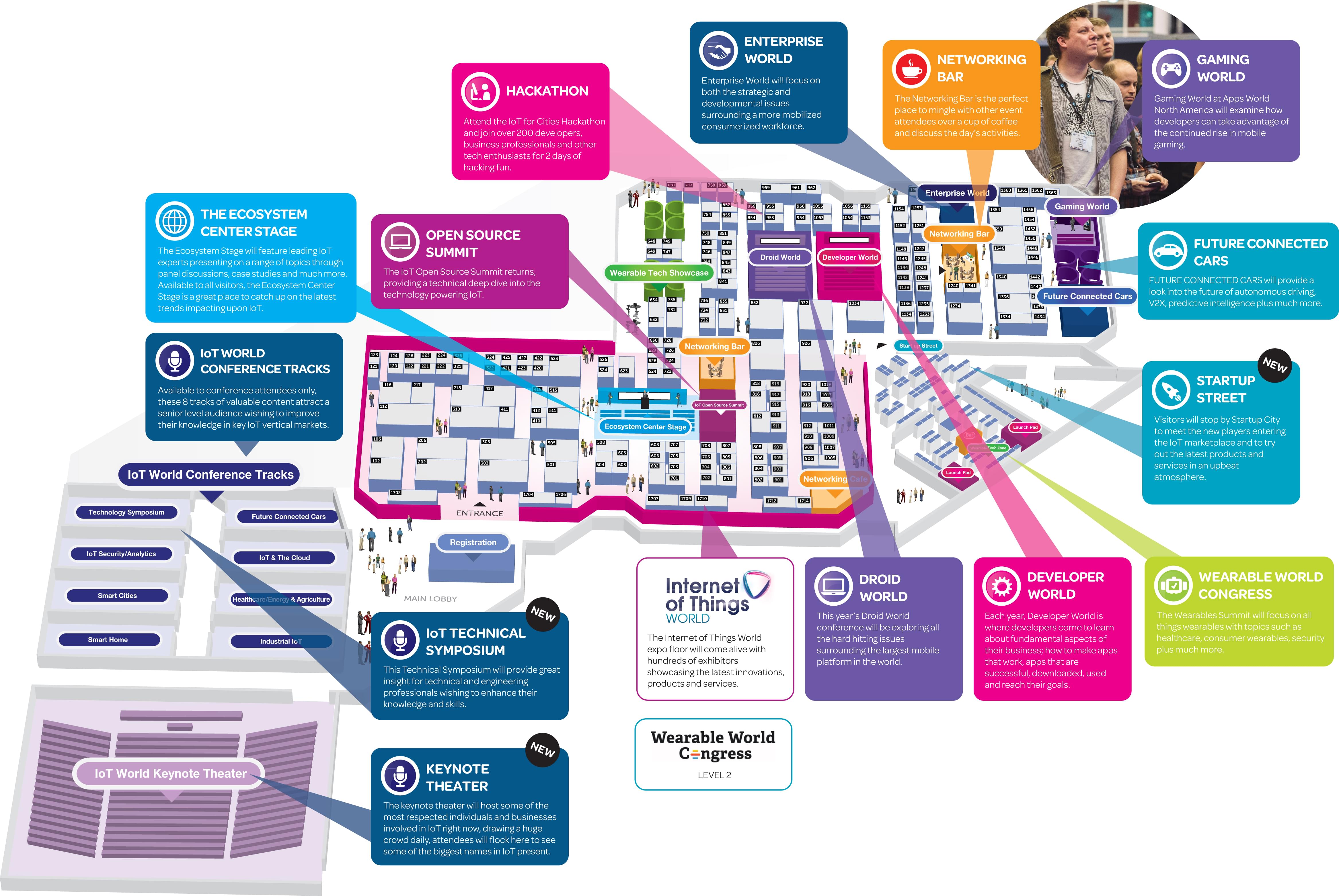 4. Don't Miss the Tech on Tap Afterparty
Every trade show and conference has some kind of after-hours networking event, and IoT World is no exception. Tech on Tap is a chance to unwind and connect with attendees, speakers, and even VIPs on a personal level.
Tech on Tap will be held Wednesday night, poolside at the Hyatt Regency Santa Clara. The official afterparty has limited space, so get there early, if possible. Fun fact: Lyft is offering $20 in credit to all IoT World attendees from May 10-12 traveling to and from the Santa Clara Convention Center. Just use promo code IOTLYFT.
* * *
Show up to a few keynote sessions, a few workshops and a few exhibit booths, and you're bound to learn something at IoT World. But if you plan your days wisely and focus on the opportunities that are relevant to your job, you'll go home with more ticket ROI and a much stronger takeaway. Stay tuned for more information and a post-conference review.