Gamification has been gaining awareness over the past few years, particularly in the business world. However, when you hear the term gamification, it could stand for a variety of different programs – including customer loyalty apps, digital sales-enablement programs, or interactive employee engagement software, just to name a few. In other words, gamification is a big market, and interested companies often need direction.
Although there are a few comprehensive platforms on the market that offer most of the functionality above, not all companies need (or want) a system that does it all. Your businesses may just need one product for a specific use – say, kickstarting your new employee wellness program, for example.
In order to help companies figure out how gamification software can benefit them, we took some of the proprietary data we use to recommend solutions and translated it into the decision tree below (click on the image to open it in a new tab). Of course, this is just a small sample of our extensive gamification database, so make sure to check out our Gamification Product Selection Tool to see the full capabilities of each product.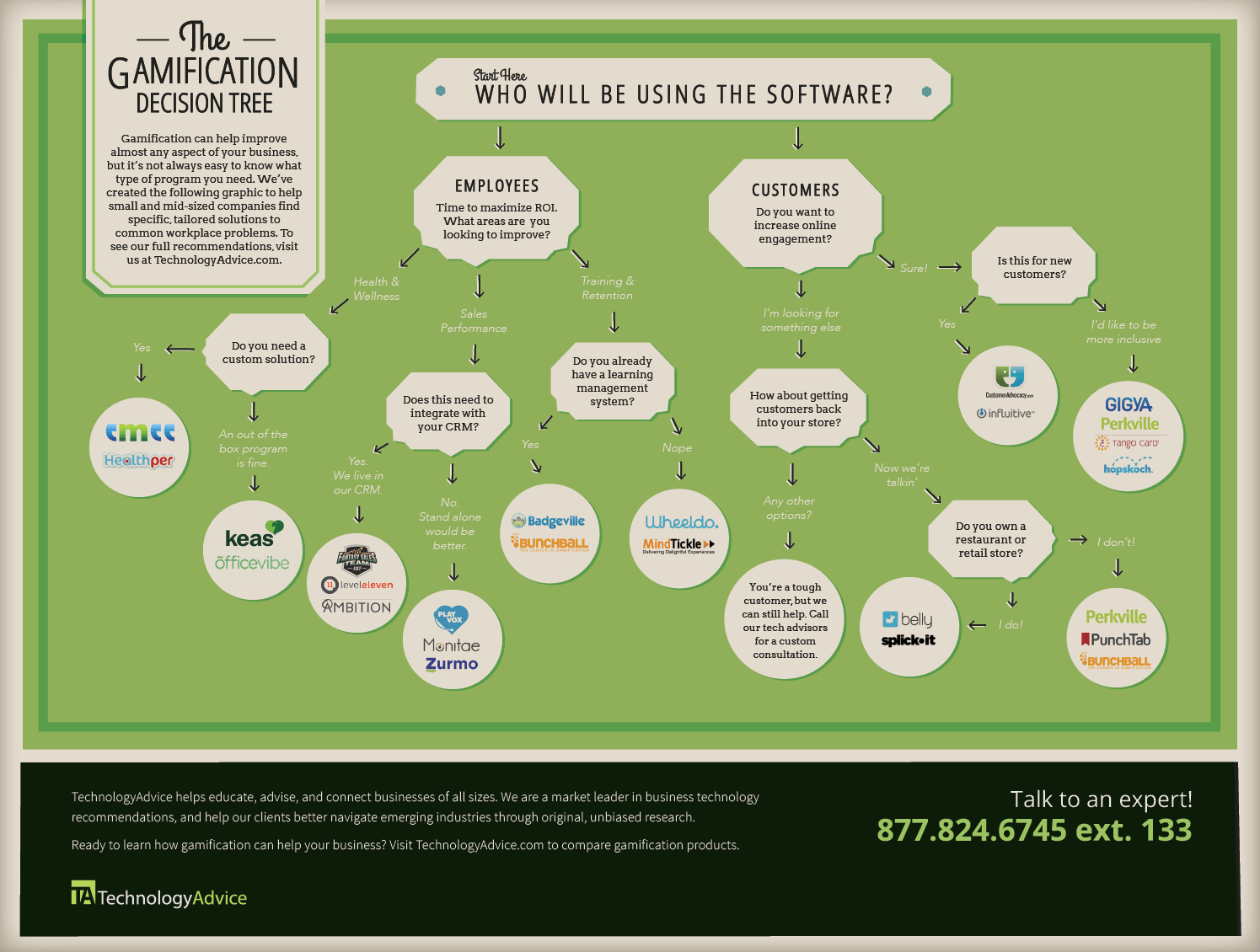 We suggest using this as a way to get started – but for a full evaluation of your company's unique needs, schedule a free 15 minute consultation with one of our in-house Technology Advisors. They will help narrow your options in no time. You can also download our gamification buyer's guide below to learn more about the industry.
Top Gamification Software Recommendations
Trivie is a Learning as a Service platform to measure, manage, and enhance knowledge. We do this by merging brain science, AI-based reinforcement learning, and robust analytics to help employees remember what they need to know to do their jobs more effectively while giving companies powerful analytics to measure and manage their knowledge assets.
Need a Little Help?
Talk with a software expert for free. Get a list of software that's great for you in less than 15 minutes.