In phase two of its bid for world domination, Facebook has launched Workplace, an enterprise messaging platform designed to foster team collaboration.
The announcement came from Workplace's office in London, which is both a far cry from Facebook's offices in California and close to home for some of the major companies that participated in the closed beta for the software — e.g. Booking.com in the Netherlands and Made.com in the United Kingdom.
While the distance between the Workplace and Facebook offices is significant, the differences between the two platforms is not.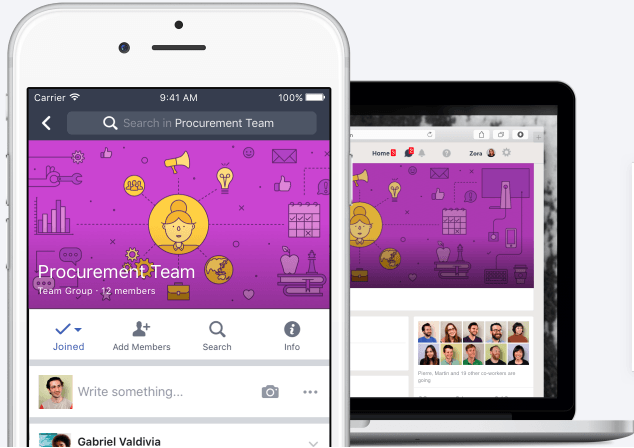 In fact, Workplace functions exactly like Facebook. But instead of posting selfies from that killer festival last weekend, you'll be posting updates on that new logo design, or in the worst cases, inspirational quotes from your favorite LinkedIn blogger.
Better Late Than Never
Call the software whatever you want — enterprise messaging, team collaboration, that app that all the millennials in the office post GIFs to — the market Workplace will operate in is crowded with formidable opponents.
Slack already has 3 million active users who use the software for around 10 hours each day. Even for the people who don't want Slack, there are plenty of strong alternatives, and that number is only growing. Even Microsoft has Yammer, so Facebook is particularly late to this game.
So what's special about Workplace? The fact that in the second quarter of this year, some 1.7 billion people around the world use Facebook. This is relevant, because, again, Workplace offers the exact same experience for users as Facebook.
Sure there are admin features to track usage statistics and manage security, but the News Feed, Groups, and Messenger features are all carbon copies of the social network that has a user base encompassing nearly 15 percent of the entire world's population.
In the shadow of that colossus, Slack's previously impressive numbers look paltry.
If user adoption is a problem with enterprise software, then Facebook is suggesting you solve the problem by introducing a platform with little to no learning curve for most of your employees.
Monthly Active User Pricing
Beyond replicating a user experience that nearly all millennials (and even older generations) share, Workplace could have another advantage over the competition: its pricing model.
Instead of taking the default SaaS route and charging customers strictly by the number of potential users or "seats," Workplace is priced based on the number of monthly active users — defined as people who use the software at least once in a month.
The pricing structure looks like this:
$3 per user, per month for the first 1,000 users

$2 per user, for the next 1,001 to 10,000 users

$1 per user, after 10,000 users
This structure is notable several reasons. First, it links usage of the software to pricing, which is rare for business software. Second, this pricing indicates that Workplace will target not only enterprises, but particularly large enterprises. That makes sense because although Slack is popular, it has yet to tackle the mega enterprise sector — a fact apparent by the slow rollout of Slack's enterprise pricing tier.
Like it or not, Facebook is coming to the office, so now instead of hate-scrolling political rants in your Newsfeed, you'll be hate-scrolling feedback on that new creative in your design group.