What & Who
Interop New York is an annual conference put on by UBM Tech geared towards IT professionals working in enterprise. The event is taking place at the Javits Center from Sept. 30 to Oct. 4 this year, and some of the main topics include BYOD security, emerging cloud technologies, SDN, and Apple in enterprise. In addition to the keynote speakers and exhibition, there are also full and half-day workshops covering such topics as private and hybrid clouds, navigating big data, and effective IT management. The event host, UBM Tech,  is a global media company that, along with putting on events, provides data and marketing services to IT enterprises.
IT professionals looking for insight into cloud, virtualization, or BYOD practices should have this conference on their schedule. In addition, those looking to hear established tech leaders share their thoughts on the emerging Internet of Things will find the keynote addresses and panels interesting. The Mac & iOS IT sessions on Sept. 30 and Oct. 1 should also be useful to any company currently implementing or using Apple devices in the workplace.
Why
Interop New York bills itself as the largest IT event in the city, while their keynote and panel lineups are packed with established names. Speakers include John T. Chambers, Chairman and Chief Executive Officer of Cisco; Dr. Angel Luis Diaz, Vice President of Software Standards for IBM Software Group; and Najam Ahmad, Director of Network Engineering at Facebook. In addition, Interop is hosting the InformationWeek CIO Summit on Oct. 2, where a panel of CIOs will address the current and emerging technology shaping business practices.
What to expect
Most days kick off with an 8am breakfast, and finish around 4pm. Between those hours, attendees are able to choose from multiple concurrent sessions, allowing them to focus on the most relevant events for their work. In order to simplify this, Interop provides an interactive schedule maker here, that can be filtered by track topic and pass type. Between the sessions, Interop has built in time for networking with short breaks throughout.
Why We're Excited for Interop New York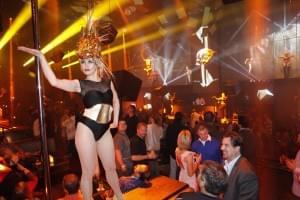 This is a massive conference, covering a wide range of topics and attracting tons of IT pros. The speaker lineup features big names, and the InformationWeek CIO Summit promises an informative discussion. The exhibition side of the event should be equally large, with big names vendors and VARS in attendance. Plus, judging by Interop's Flickr page, it looks like the conference after-parties aren't bad either.
Discounts & Pricing
Purchase Tickets Here! Technology Advice readers can receive a $200 discount off any All-Access or Conference pass by using the code "DITECH" during checkout through the link above.

All pass prices increase on Sept. 27th, so buy early to save.
The event is being held at the Javits Center in New York City.

You can check out the rest of the event's policies and FAQ here.
Want to see more events like this one? Check out our technology conference calendar!