Once, there was a Japanese man called Taiichi Ohno. He and his team worked hard every day at Toyota, but still, something was bothering him. Despite the hard work, Mr. Ohno had the feeling that he and his team were wasting a lot of time and resources. He was sure they could be more productive.
So he came with the idea to visualize all the work on a simple whiteboard. This is how Kanban was born, and it transformed the small Japanese car manufacturer Toyota into the world's biggest automotive company.
This may sound like a fairytale, but Kanban turned out to be one of the best tools for workflow management and for improving productivity and efficiency. This is why all types of companies and individuals currently use Kanban as their project management framework.
Productivity consultants and professional organizers, if you are not familiar with Kanban, in the following paragraphs you will discover a whole new world that can help you bring productivity to another dimension.
Let's discover what stands behind Kanban's success.
The Foundation of Kanban (Research Stands Behind It)
Kanban is a simple workflow management method that states that every task should be visualized on a board. This way, it becomes much easier for you to track your work and decrease the chance of losing or forgetting tasks. Actually, kanban is the Japanese word for "visual signal," which explains a lot.
Let's explore the 3 basic Kanban principles that can help you improve productivity levels drastically.
1. Visualize work.
This is as simple as it sounds. The main device of concept is the Kanban board. A board initially divided into three columns: "to do," "doing," and "done." Every new task should appear as a card in the first column of the board and finish in the last one, so you can track all of them. But how is that helpful? Well, there is a reason why we actually prefer to see things. Our brains process visual markers much faster than text. Different research supports this statement.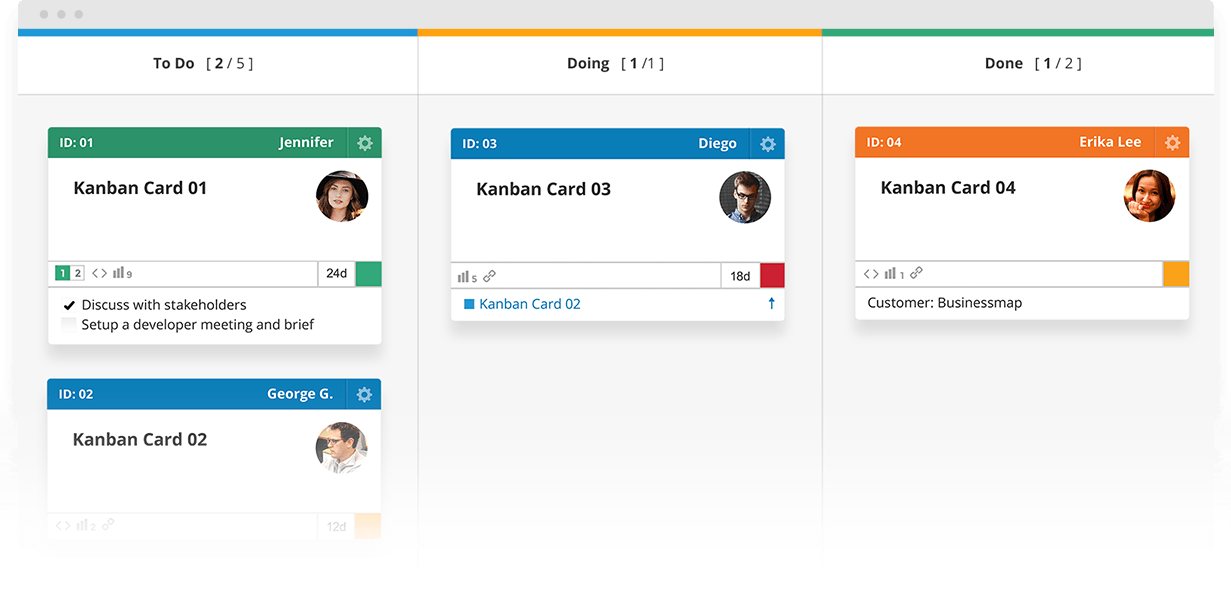 For example, according to HubSpot's social media scientist Dan Zarrella, tweets with images are 94% more likely to be retweeted than tweets without. Social Science Research Network found that 65% of people are visual learners. Last but not least, according to 3M, the company behind Post-it Notes, visuals are processed 60,000 times faster than text.
It seems obvious that visualizing your tasks may help you track work and measure performance in a much more convenient way. So why don't you start with a simple board where all your tasks are visible. You can start with a three column board and later add new columns that correspond to different stages of your workflow.
So far so good. But this is not enough.
2. Limit work in progress.
What strings are to a guitar, visualizing is to productivity. But here comes the interesting part – limiting work in progress. This is probably the most important principle that actually makes Kanban so efficient. Limiting work in progress actually helps individuals stay focused and finish more work. Contrary to the common beliefs that multitasking helps us do more, single-tasking (limiting work in progress) indeed helps us focus and be more productive.
Multitasking doesn't actually exist, but instead your brain engages in task-switching. When you multitask, your brain literally stops working on the current task and focuses on the new one. This involves a lot of context switching, and you waste a lot of time when you decide to go back to your previous work. Have you noticed that the most frequent question in these cases is "Now, where was I?"
By the way, there's a mathematical equation that proves we are slower when we work on multiple things at a time, known as Little's Law. Simply said, John Little (an institute professor at MIT) concludes that the work we can complete (throughput) equals the number of tasks in progress divided by cycle time (the time for processing tasks).
Throughput = Number of tasks in progress / The time for processing these cards
This is why limiting work in progress is of such an importance. Here is a good Kanban advice: stop starting and start finishing.
3. Improve
Now, you have all your work visualized and you can focus on finishing things. What else do you need? You need to improve. Indeed, continuous improvement is a main pillar in the Kanban philosophy.
But, what is continuous improvement? After you've mapped your workflow, you can start observing. The Kanban board will give you the chance to spot bottlenecks, blockers, cycle times, and so on. Based on these observations you will be able to take actions and improve the workflow. And you should do this on a regular basis, because there is always a place for improvement.
How Can You Use The Kanban Board?
The main idea of Kanban is communicating through visual signals (cards). This is why it can be used by any team or individual. It makes it much easier to track work and easily communicate with clients. All you need to do is to place all your tasks on the board and move them through the flow.
The contemporary online kanban solutions have the option of multiple users sharing the same board. You can even share it with your clients if you want to. So, next time when a client needs to be notified, you can just put it as a task on the board and mention the recipient to send them a notification.
Another feature that is pretty useful is swimlanes. These are the horizontal rows on the board. Swimlanes can be dedicated to specific types of activities (content, design, bugs, social media, etc.). If you are working with clients, for example, you create a swimlane called "clients" and put all client-related tasks there. This is a great way for differentiating your work and organizing it properly.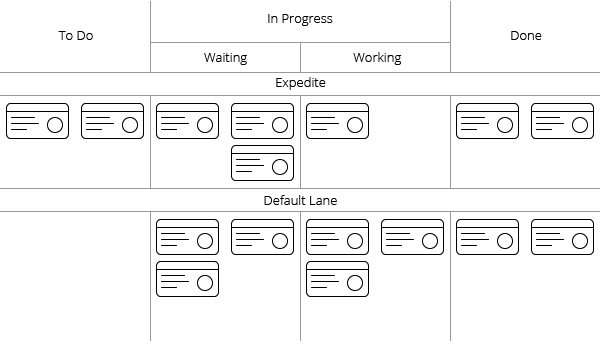 Pro Tip: Make a swimlane called "expedite" and put urgent tasks there. Usually, while working on an expedited task you stop dealing with everything else. But, be careful. Urgent tasks should be only these with significant importance. People often get confused and consider too many simple tasks as urgent. This way, other tasks get buried and you drag them on for too long.
If you are a project manager or a team leader, you know how important it is to make a connection between different work items because some tasks are interdependent. Using an online Kanban solution will allow you to link these kind of tasks and track them simultaneously. This way you may restrict a given task to be completed only if its predecessor (linked task) is being completed. Plus, you can attach files to tasks (cards) and include all information and documents that are vital for the completion of those tasks. Nothing gets lost, and you don't forget important details.
In order to meet certain levels of productivity we all know that deadlines are vital. Kanban gives you the opportunity to put a deadline on every task that appears on your board. When you open your board you can see if something is critical with a blink of an eye.
Last but not least, everything starts with building good habits. Kanban isn't magic, but it can help you build good project management habits. You have to use it. Everyday. First thing in the morning, open your board and quickly monitor the current state of work. By using the Kanban board to track your progress, it will help you communicate better, meet project deadlines and move work forward.
What Is the Bottom Line?
We are working and living in a dynamic environment. We receive a lot of requests via email, instant messaging, calls and so on. If we just rely on our short memory, sooner or later it gets chaotic. So, instead of trying to remember everything, you can just use this technique called Kanban. Its principles will help you put tasks in order, prioritize in a better way, and increase productivity on a personal and professional level. Currently there are a lot of online solutions based on Kanban that offer a convenient way to tame the chaos. All you need is an internet connection.
TechnologyAdvice can help you find the right project management software for your business needs. Try our Product Selection Tool for project management software, or click on the image below to get your free recommendations now. 
Pavel is a digital marketing expert at Kanbanize, a modern Kanban software tool that helps teams increase their productivity and efficiency. Previously, Pavel worked at Nestle, AWMedia and others where he found his passion for online marketing. Currently, he authors in-depth articles in various topics, leads link-building projects and PPC campaigns. He is a big fan of cooking and rock music.
Technology Advice is able to offer
our services
for free because some vendors may pay us for web traffic or other sales opportunities. Our mission is to help technology buyers make better purchasing decisions, so we provide you with information for all vendors — even those that don't pay us.