What if you could attend a tech conference that uniquely catered to your interests and skill set? Well, you can. It's the 2nd Annual DevOps World in London, taking place at America Square on November 2.   
This one-day forum shows you how to improve continuous business planning and bring customer feedback into your development lifecycle. The event is part of the Cloud Enterprise Technology series, a global series of events (Cloud & DevOps World, Cloud MENA, Container World and Cloud Native & Security) helping enterprises identify how the cloud is enabling a new wave of business opportunities.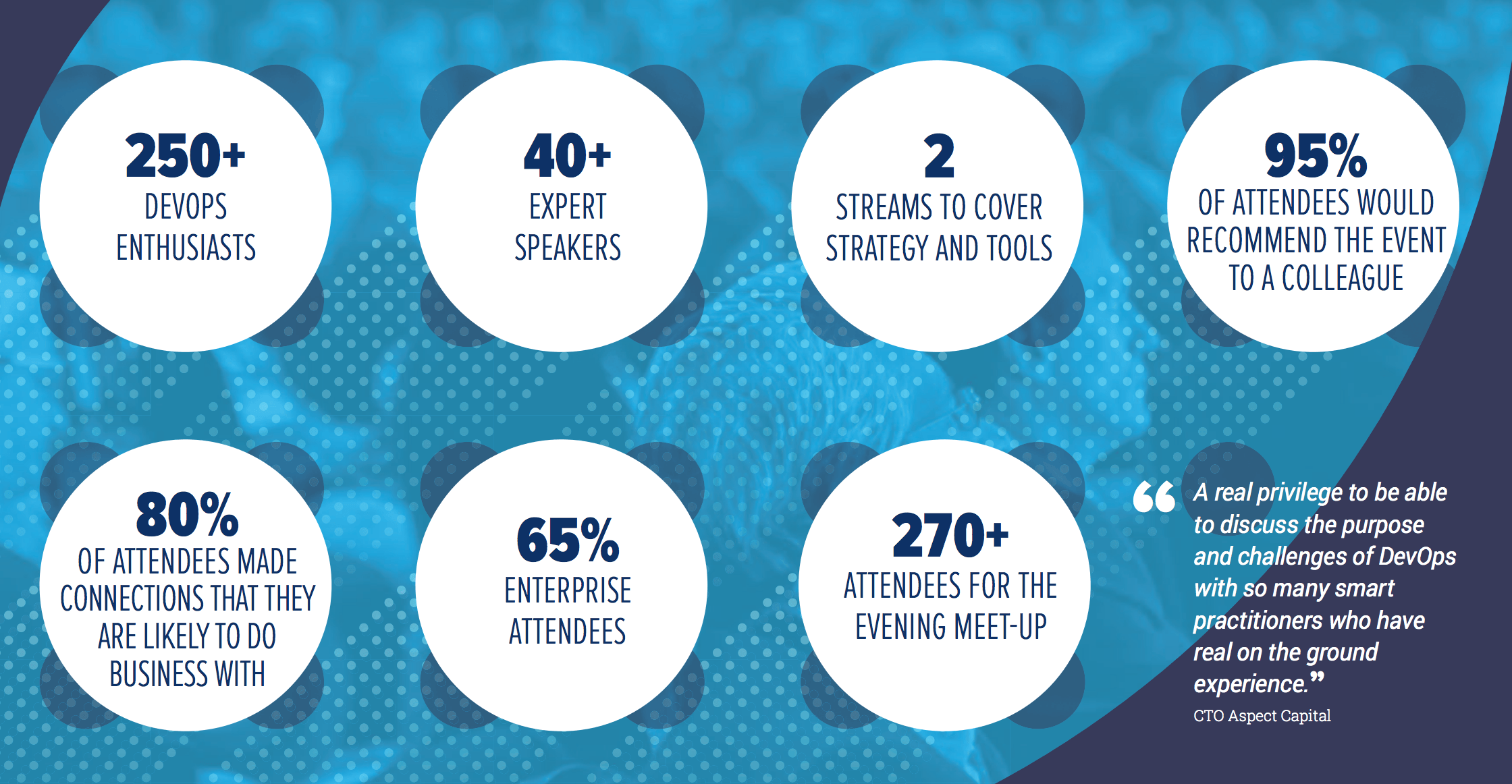 The objective of this event, and those like it, is to help companies looking for ways to deliver fast, scalable software. Learn from both high-level strategic discussions and technical case studies.
Here are a few of the topics on this year's agenda:
How Should Software Delivery Feel for a Business and Customer?
Hear from Jonathan Smart, head of development at Barclays Group, about speeding up time to market, minimizing the risk of costly failures, scaling complex releases and deployments, being innovative right now, and enhancing your customer experience.
One-Speed IT – Faster
Chris Turvil, Head of Cloud and Platform Agility at Trainline, will be discussing supporting agility and innovation at his company, balancing security and stability with DevOps, and effective governance at speed.
Game of Thrones Panel Discussion: Which is the Dominant Software Delivery Practice?
If you're in the mood for a Game of Thrones-themed panel discussion, you're in luck. Daniela Ortner, the head of enterprise applications at Ocado will be leading one. During this time, she will cover whether or not waterfall project management is dead, how agile doesn't mean "all over the place," Lean, Agile, Continuous Integration and Continuous Delivery.
Why Do Your Software Projects Fail?
Ever wonder why software projects don't go smoothly? Simon Fisher, solutions architect for the well-known IT automation company, Chef, will talk about innovation versus the traditional way of work, why some software projects are unsuccessful, and how to identifying gaps in your software development capabilities at the beginning of the process. He'll also cover different ways to identify and eliminate waste in the development process.
'Live Long and Prosper' Panel Discussion: Are Businesses Hitting the Continuous Innovation Goal Securely?
Should you be in the mood for a Star Trek-themed panel discussion, you can join this one to hear industry experts discuss what "cloud native" applications are and how "cloud native" technologies affect software infrastructure. Has DevOps has really proven it's permanent value? And what must IT teams do to bridge the gap between traditional IT and cloud native applications using open source development.
*
After a morning of keynote sessions, you can choose your own adventure for the afternoon. Track A presentations will focus on people, skills, and processes (e.g. how to standardize your deployment process), while Track B presentations will focus on tools and technical labs (e.g. why native cloud tech gives companies an edge).
Wrap up the day by attending a DevOps Meetup, where you can discuss the information covered throughout the day over beer and cocktails and have another opportunity to network.
This event is attended by more than 250 people, and an additional 300 during the evening meetup. According to last year's data, 80 percent of those attendees say they make connections with whom they're likely to do business. Don't miss out on this great opportunity to hear from industry experts and meet like-minded professionals eager to take their skills to the next level.
Visit the registration page to buy a pass and reserve your spot. Use discount code "TAM2242Tech" to save 10 percent at checkout.