For service providers and project-focused companies, keeping track of the lifecycle of customers in a comprehensive way can be difficult. Keeping internal and external customers up to date on their projects and deliverables has traditionally required a continuous passing of the baton between multiple systems and departments – departments that have limited visibility into each other's work.
That's no small wonder since the data is being kept in separate places.
Let's look at a home construction business, for example. The client's order request, sales history, and contact information are kept in the customer relationship management (CRM) system. But the data about the home you're building (project status, budget adherence, timeline, etc.) is being kept in the project management software, which might only be accessible to your engineers and contractors.
So, how can businesses provide the needed visibility into both their CRM systems and project management software? Bridging the two systems eliminates silos and provides greater visibility across the customer journey.
Benefits of Combining CRM and Project Management Software
This miscommunication between project teams and business units often causes confusion for customers – or worse, misinformation. Answers take longer and make less sense. The relationship becomes weaker.
Small businesses and enterprises alike are finding a solution in a customer relationship management system with integrated project management software. Bringing the two systems together eliminates silos and provides visibility to marketing, service, operations, and sales teams.
There are a number of strategic advantages to connecting CRMs with project management software:
Businesses can manage the customer lifecycle and multiple projects in one tool
Separate teams can collaborate on client initiatives and deliverables through unified task management, project pipelines, budgeting, reporting, and reminders
Customers' feedback and input are connected with ongoing projects
Greater overall ROI for software subscription and purchase, as you typically only pay for one tool instead of two.
Want to improve your project management processes? Learn more about the Most Innovative Project Management Strategies.
Best CRM Project Management Software
You'll see CRM project management software packaged in a number of ways. Some vendors provide customer relationship management software with out-of-the-box project management tools, meaning you won't need to purchase any separate add-ons or perform manual integration. Other vendors offer CRM/PM software modules that, while fully compatible, are sold and installed separately. We'll look at examples of both.
Insightly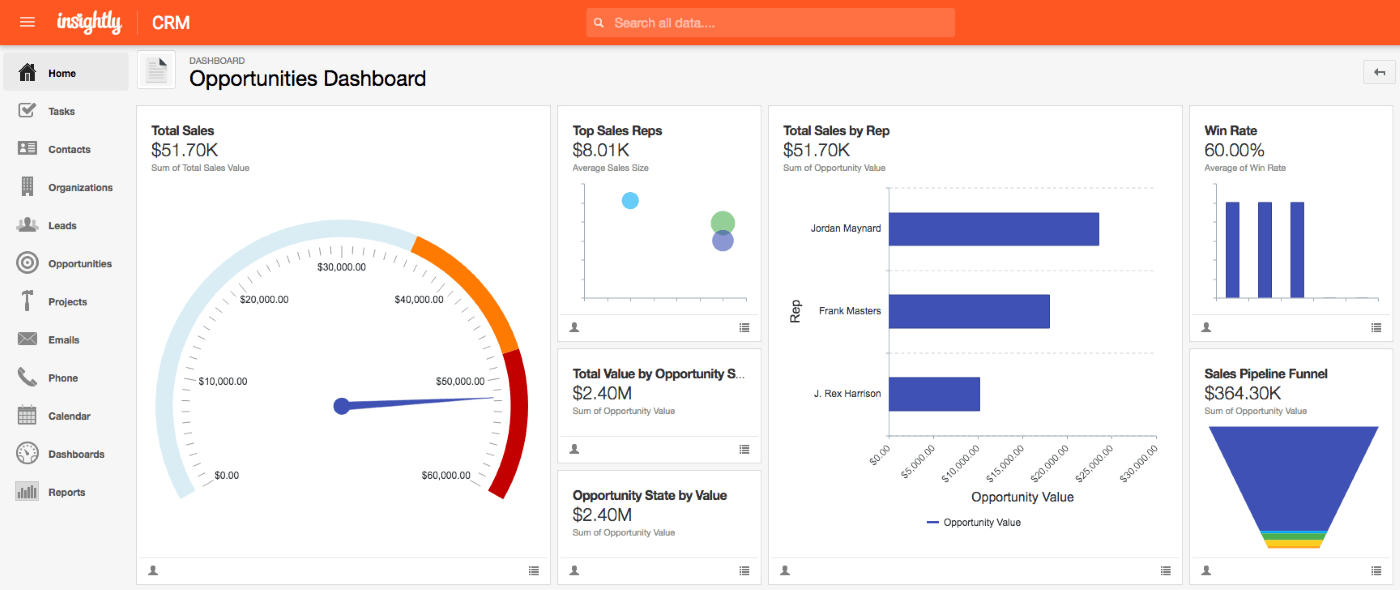 Average User Rating: 4/5
Although its features are less extensive than some competitors, Insightly is one of the few products that offer integrated CRM and project management software below market price. Because of its low cost and high flexibility, this platform is a great choice for small businesses in any industry, although they also offer a custom-priced enterprise edition.
Insightly's project management tool lets users create milestones, pipelines, and project tasks, receive automatic email reminders, customize contact roles, and view reports on project activity. Of course, you'll also have access to traditional CRM tools like address books, email integration, calendars, notes, and web forms.
monday.com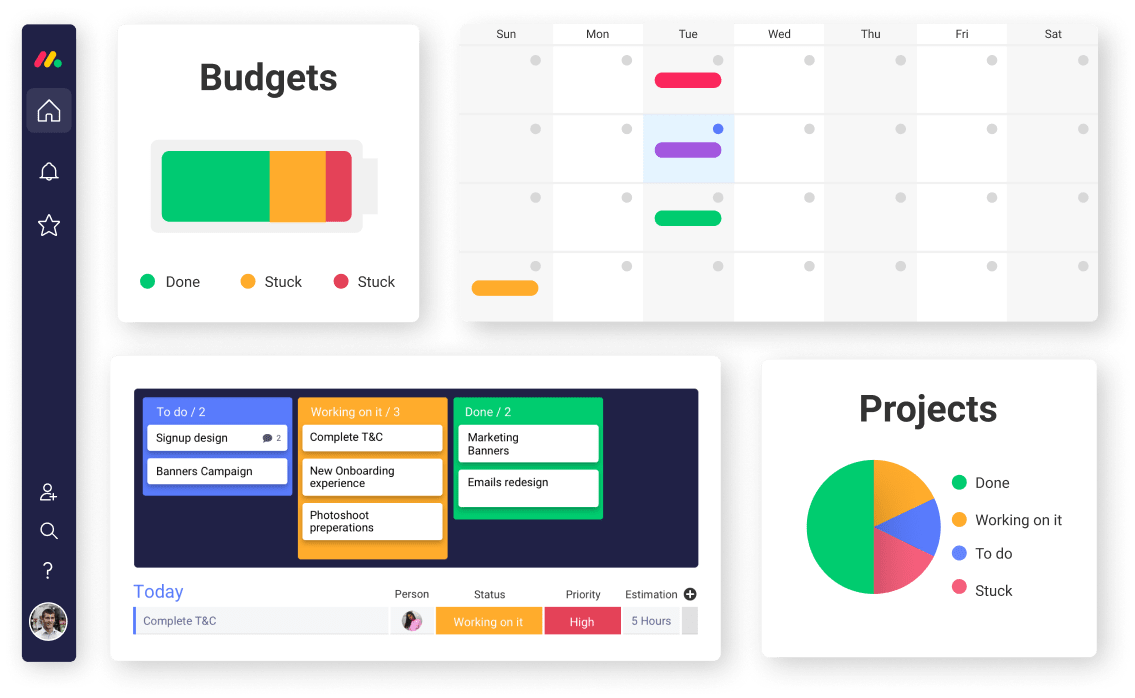 Average User Rating: 4.5/5
monday.com's work management platform allows for seamless integration between CRM software and PM tools, via preconfigured workflows like the monday.com sales CRM. All client information is stored in one shared board to avoid confusion between team members or customers. Sales requests, new client onboarding, and account tracking are some of the features of the monday.com sales CRM dashboard.
The dashboard itself is unique from other CRM tools because it's a user-configurable, visual board with color-coordinated tabs. The standard spreadsheet-style CRM doesn't fit every team, which makes monday.com a highly sought-after CRM alternative for task management and tracking customer data.
Reviews of this tool say that it's easy to understand and use. The color-coordinated dashboard provides a simple way to track progress, stages, and action items. This CRM feature is part of the base package; however, there are options to upgrade to higher packages with increased features and capabilities.
Zoho CRM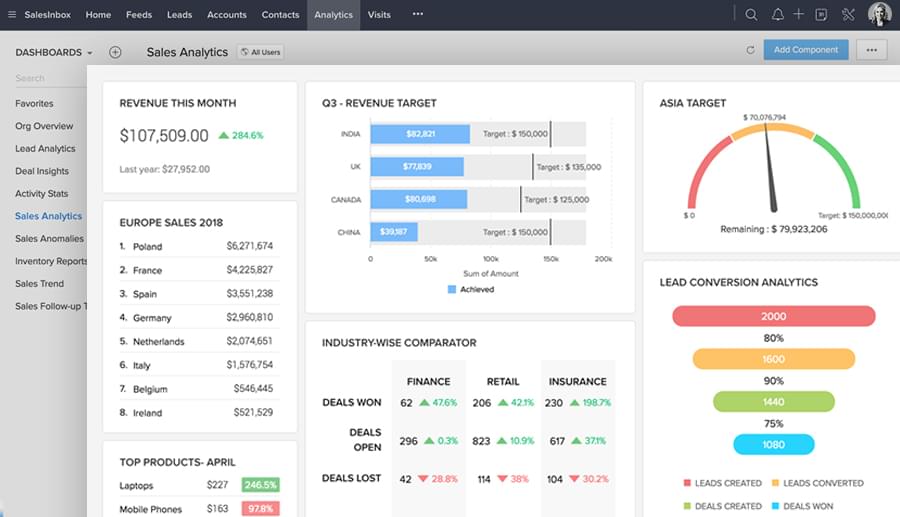 Average User Rating: 4.4/5
It's no mystery that Zoho makes a great CRM (so great that we gave them an award). Zoho is perfect for businesses with intensive software needs (deeper analytics, automation, etc.). Their Projects module is a free add-on that comes with Professional and Enterprise editions of Zoho CRM. If you already have one of these editions, you're one download away from having Zoho Projects.
The Projects add-on will give you access to some powerful abilities, including traditional PM tools such as Gantt charts, time-tracking, and milestones, but also a few more innovative ones, like Kanban boards for agile planning, detailed analytics, and the ability to create new projects directly from within customers' accounts. These project management solutions directly connect to the CRM as well, which will give your teams better visibility and control in both directions.
Note: Zoho also makes standalone project management software available for purchase without CRM; this is distinct from the "Projects" tool.
SugarCRM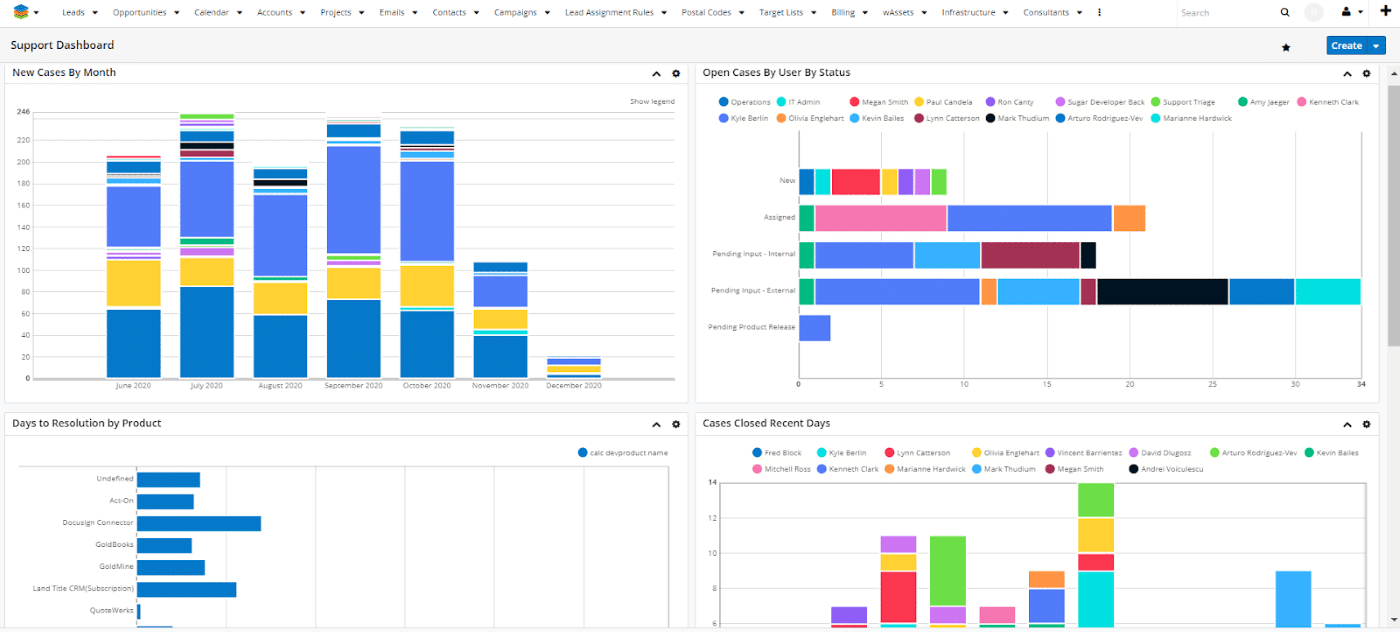 Average User Rating: 3.9/5
Sugar CRM is well known for its open-source software that packs innovative, user-friendly functionality into a flexible platform. Similar to Zoho, Sugar CRM started offering integrated project management software in 2007 with its Sugar Professional and Sugar Enterprise product lines.
The core product addresses the three main pillars of CRM software – sales force automation, customer service, and marketing automation. The project management tool allows customers to deploy and manage projects directly connected to campaigns, opportunities, customers' accounts, and cases. Users can share files, access project templates, view Gantt charts and collaboration history, and even export project data to external project management solutions like Microsoft Project.
HubSpot CRM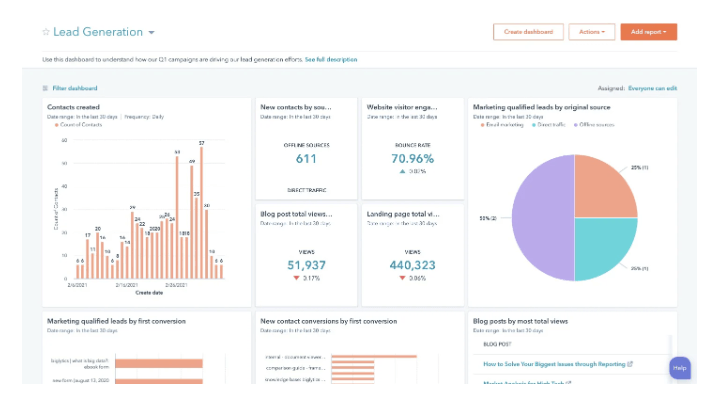 Average User Rating: 4.4/5
The HubSpot CRM platform works well for small businesses all the way up to enterprises. While the base platform is free, you'll have to pay if you want sales process automation or project management solutions. HubSpot can help businesses track customer interactions and make managing projects easier with nearly 1,100 native integrations.
HubSpot's customer service CRM system organizes communication with ticketing and live chat options to improve customers' satisfaction. Users can also create canned responses directing customers to the knowledge base for self-service options. Additionally, project teams get task management and customizable reports to track the business's most important KPIs.
CRM Software Needs Project Management To Be Effective
CRM solutions have come a long way since the 50 percent fail rate reported by Gartner in 2001. Cloud and mobile technology, crowdsourcing, and a wealth of third-party app start-ups have slowly but surely transformed CRM into a key component of business IT.
But there's still room for improvement. Ongoing development of project management software integrations is yet another way CRM is evolving and expanding its reach. Ostensibly, this move is about convenience and efficiency. But on a deeper level, it's about adding value to customers' experience by enabling a 360-degree view of each relationship your business maintains.
To find the perfect CRM project management software for your business, use our CRM Product Selection Tool. In as little as five minutes, you'll get a free list of software recommendations tailored to your organization.
But how do you know which CRM system is right for you? Check out our ProTips: How to Compare CRM Software Like an Expert.
Technology Advice is able to offer
our services
for free because some vendors may pay us for web traffic or other sales opportunities. Our mission is to help technology buyers make better purchasing decisions, so we provide you with information for all vendors — even those that don't pay us.