3 Vendors Offering Business Intelligence for Small Business
The paradigm shift has been happening for some time: the ubiquity of data means successful small businesses need access to business intelligence (BI) software to stay on par with their larger, enterprise rivals. As the industry continues to grow, it's not surprising that small businesses are using this technology with greater frequency.
Business intelligence refers to a software vertical that's actually pretty broad. The technology is primarily concerned with finding trends in disparate data sets and returning information , or intelligence , that businesses can use to make more informed decisions. Businesses can use their findings to identify their best customers, accurately forecast upcoming sales numbers, or better analyze their organizational efficiency , all without having to perform manual calculations.
Historically, the barrier to entry for BI technology has been quite high , until recently, the majority of BI users were large enterprises. Bigger businesses had access to the necessary prerequisites, such as financial resources for implementation, and in-house expertise to apply the software.
However, the emergence of cloud computing has disrupted this hierarchy. Now, according to a recent surveys, around 30% of small businesses have used BI software in the past three to five years, which exceeds the usage rate for medium-sized enterprises. Of the small businesses that use BI, more than a third are using software hosted in a public cloud. Only about 10 percent of large enterprises are using cloud-based BI solutions.
The BI market is pivoting to accommodate the needs of small business, with even vendor heavy-weights such as Microsoft and Intuit developing solutions that cater to more agile companies. These new BI solutions offer entry into the market through lower financial investments and functionality that doesn't require an in-house data expert.
Let's examine three products that can help small businesses better use their data and reap the rewards of smart analytics.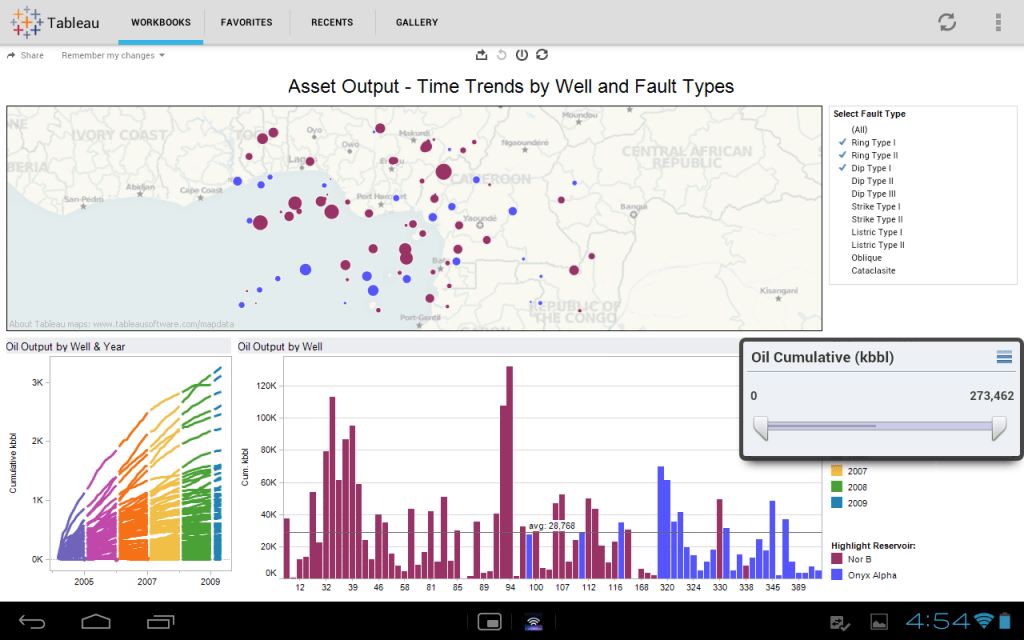 Developed at Stanford University in 2003, Tableau eliminates the need to silo data, meaning users can perform ad-hoc business analytics without any programming expertise. Tableau offers organizations impressive data visualization functionality, with users able to integrate documents, web pages and images into Tableau's dashboards to enhance the narrative behind data presentations. To make these visualizations even more intuitive, Tableau's VizQL allows users to filter data simply by dragging and dropping.
Tableau's dashboard quickly integrate multiple data sources, making drill-down a speedy process rather than a complicated one. For businesses searching for a low-cost solution, Tableau offers a free, cloud-based public version of its software. Users can access Tableau Public via their iPad or Android tablets, and can embed their data charts into websites just like they would a Youtube video.
To compare Tableau with one of its biggest BI competitors, check out our Tableau vs Spotfire post.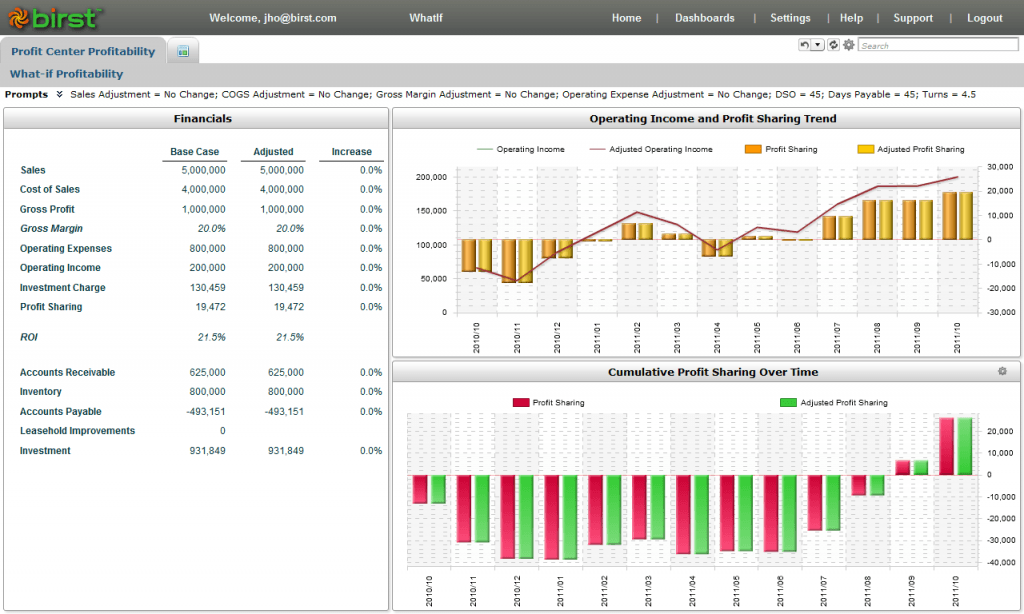 A comprehensive business intelligence platform, Birst subscribers gain access to a range of tools more commonly found in on-premise solutions. Birst automates much of the extraction, transform, and load process by simply requiring users to upload data into either data marts or data warehouses that are maintained by Birst as part of the subscription fee. Birst also offers customers some advanced analysis tools: users can create reports, visualize data with pivot tables, and drill deeper into trends, all without needing a dedicated in-house specialist.
With Birst Discovery, the organization's cloud-based offering, clients also gain all of the accessibility of the cloud. Users can access data from multiple sources and perform real-time analysis from the convenience of their iPad. Birst integrates with a number of major platforms, like Salesforce, Marketo, and NetSuite. Birst also makes sharing reports simple by converting them into a PDF, Excel, Powerpoint, or CVS file that can then be easily distributed through email.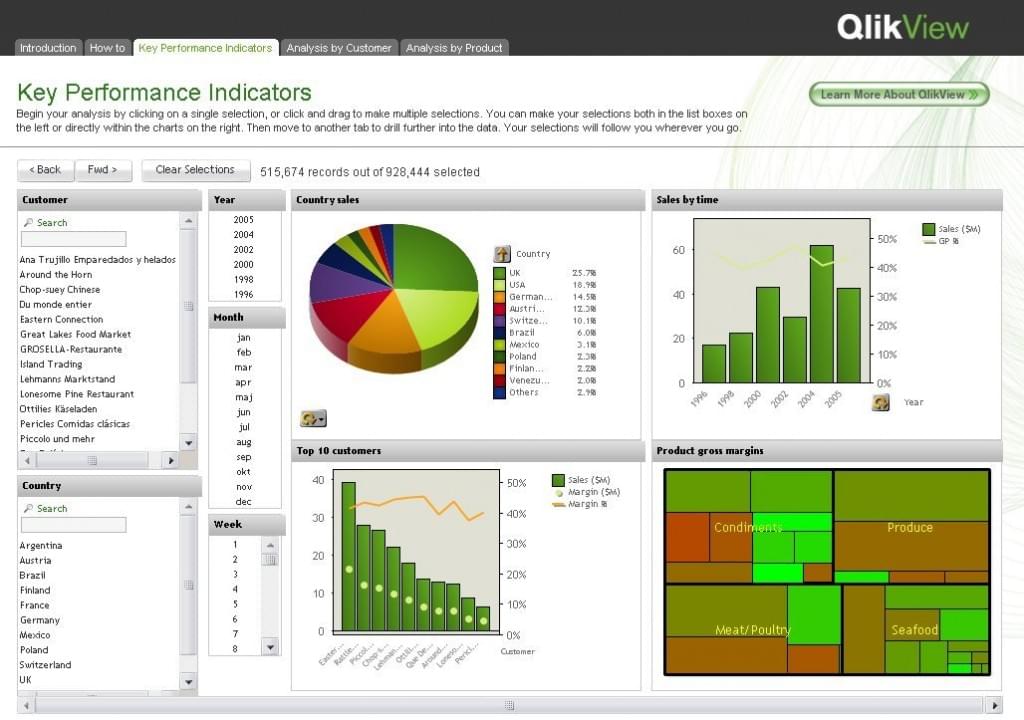 Another cloud-based BI platform that excels at data visualization, QlikView offers users self-service data capabilities along with the ability to scale as needed. It's a close contest between QlikView and Tableau for the most attractive data visualization models, but it's indisputable that both products have impressive capabilities.
In addition to producing attractive reports, QlikView also calculates aggregations using in-memory processing. This is faster than traditional Online Analytic Processing in terms of speed. In addition, QlikView features an inference engine that automatically saves the associations between data. This means that business users only need to load the proper tables to start finding connections between the data in their CRM, social media, and ERP.
Even though these are all user-friendly platforms, business intelligence remains an involved process. Small businesses should define the specific business need that a robust BI platform will solve, and then determine if they have sufficient operational data to draw from. However, data is the future — well really the present — so business intelligence is here to stay.
Looking to maximize your business's data? Find the solution that best matches your needs with TechnologyAdvice's BI product selection tool.
Top Business Intelligence Software Recommendations
Build a modern business, driven by data. Connect to any data source to bring your data together into one unified view, then make analytics available to drive insight-based actions—all while maintaining security and control. Domo serves enterprise customers in all industries looking to manage their entire organization from a single platform.
Yellowfin provides a fully white-labeled, embedded analytics experience for enterprise software applications using a single integrated platform, which includes action-based dashboards, stunning data visualization, automated analysis and data storytelling. Its low code UI, together with automated alerts and AI-generated insight explanations help make it easier for your customers to realize true self-service business intelligence.
Wyn Enterprise is a scalable embedded business intelligence platform without hidden costs. It provides BI reporting, interactive dashboards, alerts and notifications, localization, multitenancy, & white-labeling in any internal or commercial app. Built for self-service BI, Wyn offers limitless visual data exploration, creating a data-driven mindset for the everyday user. Wyn's scalable, server-based licensing model allows room for your business to grow without user fees or limits on data size.
Need a Little Help?
Talk with a software expert for free. Get a list of software that's great for you in less than 15 minutes.
Technology Advice is able to offer
our services
for free because some vendors may pay us for web traffic or other sales opportunities. Our mission is to help technology buyers make better purchasing decisions, so we provide you with information for all vendors — even those that don't pay us.