(Note: You can get access to all of our results – like average customer budget, implementation time, biggest IT concerns, expanded analysis and more – by downloading the entire report for free at the bottom of this article.)
For nearly every business, the concept of business intelligence is nothing new. Ambitious organizations have been searching for any type of data-driven advantage for some time now – perhaps for as long as they've existed. However, the historical use of competitive intelligence pales in comparison to the complex and powerful technologies now sweeping the business world.
Such business intelligence software is being touted as the next must-have technology. But while BI technologies like data analytics and predictive modeling can offer extraordinary business insight, many companies are still in the early stages of adoption due to uncertainty about a number of specifics of the technology. "Data confusion" is a term that's been used – albeit in sparingly — to describe many potential BI buyer's comprehension of their product options; though once the buyer market matures, large gains are expected to be made in terms of adoption.
To help alleviate data confusion and provide a more focused view of what BI buyers are looking for, we analyzed data from the past six months of user submissions to our product selection tool, as well as from phone conversations we've had with over 1,000 IT professionals in the past 12 months.
Some of our key findings:
61 percent of IT professionals are in the research phase for a business intelligence system
The biggest concern for IT professionals with business intelligence systems is monitoring and managing them
A majority of potential buyers have an expected user base of anywhere from 50 to less than 10 for their BI software
Real time analysis is the most sought after feature in business intelligence software, followed closely by a graphical user interface
The most common goal for a business intelligence project was to forecast sales numbers
The Buying Market is Very Distributed
None of the industries in our product database made up more than 10 percent of the overall group. The highest placed industries computers and technology and advertising/media/publishing both accounted for 9 percent. That computers and technology rank highly should be no surprise, since this industry most likely features the required talent to operate advanced data analytics software.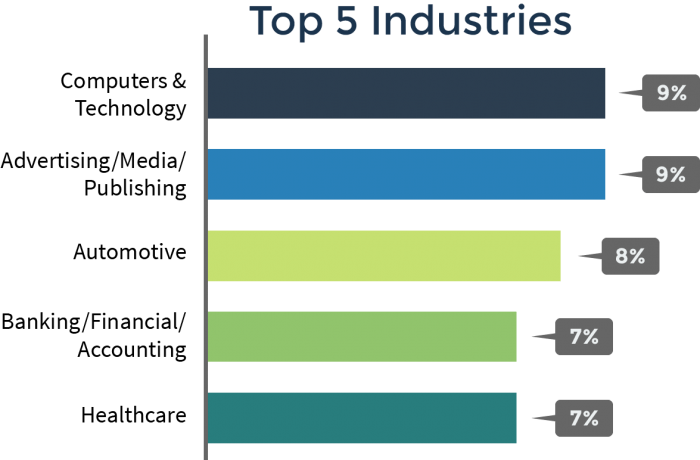 Advertising/Media/Publishing represents a more interesting discovery as this industry is surely looking to dig into data about customer behavior and use the subsequent insights to better target their communications.
The secondary group of industries features automotive, banking/financial/accounting, and healthcare. Of these, healthcare's high ranking deserves the most examination. While the adoption of information technology in this industry has been rapid over the last decade, implementing business intelligence technologies represents a different dimension.
It seems that healthcare is quickly reaching a point where basic infrastructure technologies like electronic medical records systems are generating enough data that the application of advanced analysis would yield promising insights. Through BI technologies, healthcare will be able to manage entire populations of patients much more effectively. So instead of relying on anecdotal recommendations or suggestions, healthcare providers will now be able to examine treatment patterns across an entire community, identifying casual relationships that may have been unnoticeable through less sophisticated measurements.
The Number of Expected Users Has a Great Range
Over 50 percent of potential buyers expect to have a user base for their BI software of 50 or less. These data could support the idea that SMBs are eager to leverage the data they're producing to gain a competitive edge, or it could indicate that more types of users are looking to include BI software in their suite of business applications.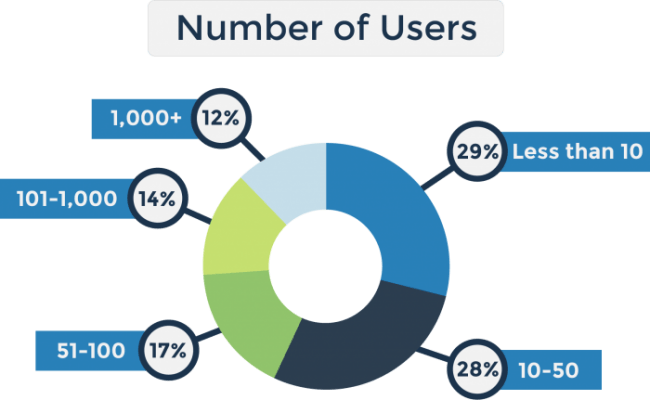 As visualization tools become more user friendly, business analysts and other employees with non-IT expertise are beginning to use BI solutions in their departments. This range could also represent a large market with significant variance in BI project sizes.
Forecasting is the Most Common Goal
When asked what they hoped to accomplish with business intelligence software, the majority of buyers said they wanted to forecast sales or marketing numbers. By using business intelligence to more accurately predict incoming revenue or the success of a marketing campaign, companies are hoping to make smarter choices in the present based on predictions of the future. Such predictive analytics can break down a business's marketing numbers by region or population as well as by purchase period.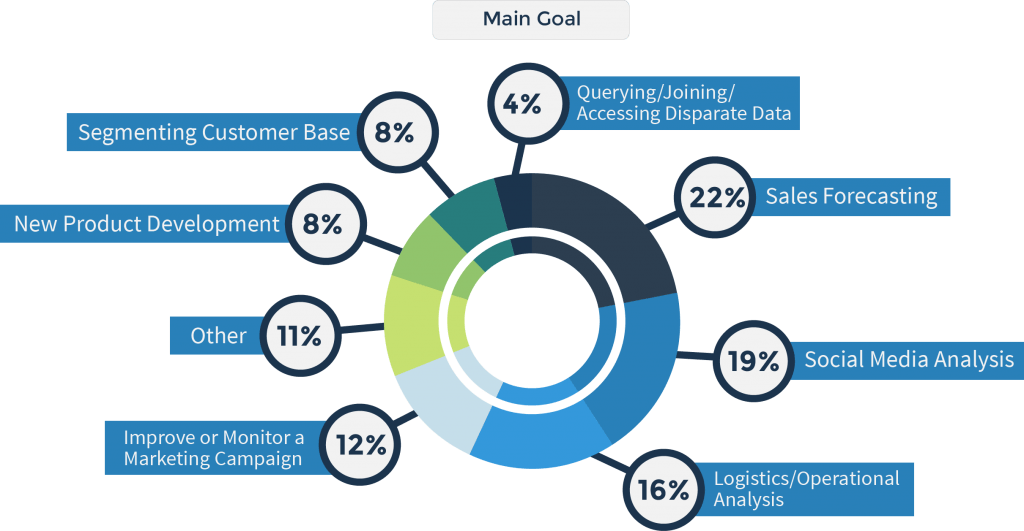 This type of information can be invaluable in a number of use cases, including gaining an accurate understanding of where the business's finances will stand in the not too distant future.
Comparatively, analyzing social media data was the second most pursued application with 19 percent. The need to analyze social media had had a substantial impact on business intelligence technology, as analyzing this type of unstructured data requires the use of natural language processing, otherwise known as text analytics. Social media also represents a revenue neutral medium which provides a significant  amount of data for businesses to analyze. Using text analytics to measure the sentiment of their customers, BI buyers could gain a new understanding of how their brand is viewed, not to mention identify new opportunities for improvement.
Real Time Analysis, Graphical User-Interface, and Data Warehousing are the Most Common Features
It was a close run race for the most requested BI feature, but real time analysis edged graphic user interface by a single percentage point. When combined with data warehousing, these three functions make up more than 60 percent of the features that BI buyers are looking for.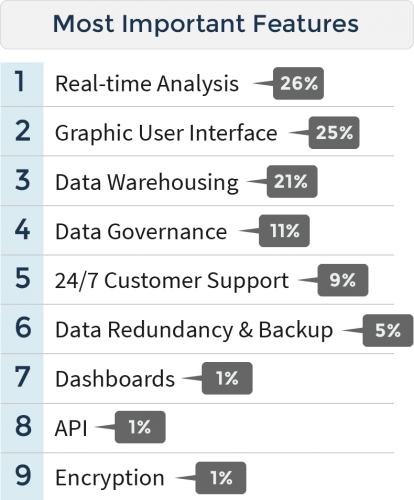 The focus on real-time analysis reflects the rising use of in-memory technology. By analyzing events as they happen, without the need to transform the data and load it into a data warehouse, real-time analysis can provide users actionable intelligence that they can apply to make immediate decisions. Investment banks, for instance, transmit stock information within seconds, which allows analysts to react with speed and precision to changes in the market.
A more common practice may be monitoring the behavior of website visitors. Should a visitor surf to a page where a purchase is possible, real-time analytics can inform a business user, who can then make the visitor an offer that could increase their chances of making a purchase.
Over 60 Percent of Respondents are in the Research Phase
In an additional survey of over 1,000 IT professionals, we found that 61 percent are in the research phase for a big data system. While the terms big data system and business intelligence software substantially overlap, it's worth noting the difference.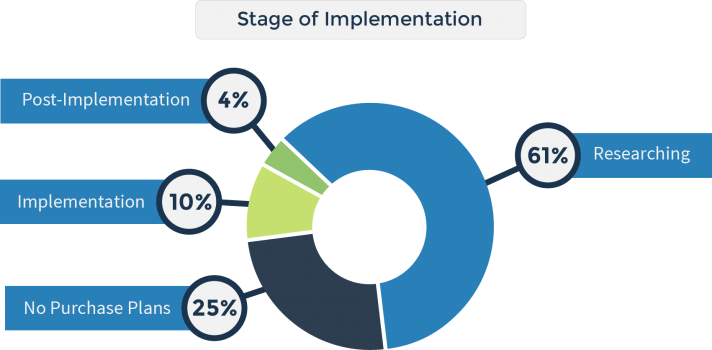 Only 14 percent of respondents were in either the implementation or post-implementation phase. Choosing and implementing a BI tool isn't simple, regardless of the size of the organization, so it makes sound business sense to take the added time to weigh and consider the appropriate options. Start-ups may be more willing to choose a solution faster, but even SMBs may be moving slower with this vertical due to the inherent complexity of the technology, not to mention the human capital considerations of who will oversee and operate the software.
Conclusions
Gartner has reported single digit growth in the BI vertical for 2013, but expects a significant rise in purchasing activity by 2017. With the vast majority of buyers seemingly still in the research phase regarding their next business intelligence tool, the industry holds great promise but will likely mature slowly.
For more information about this report, its methodology, and media inquiries, please contact our Media Relations Manager Keith Cawley at keith.cawley@technologyadvice.com