Box has already improved the tortuous process of enterprise content management, and now it's taking aim at an even deeper circle of hell: enterprise workflows.
Earlier this week, Box announced Box Relay, a workflow automation tool developed in collaboration with IBM, and a more in-depth presentation is expected at the company's annual conference, Boxworks.
"This is not a prop. It's a symbol of what we're trying to accomplish," CEO Aaron Levie said in a recent interview with CNBC. "It's all about how we dramatically improve the way people get work done with their enterprise software." 
Certain arcane operations within an enterprise are perhaps inevitable, but the inherent complexity is not — at least in Box's view. That's why the fundamental goal of Box Relay is to make complex processes used by large companies manageable.
SVP of Product Chris Yeh describes Box Relay's utility: "From processing invoices, reviewing and approving contracts, to on-boarding new employees, Box Relay makes automating these tasks a breeze. Box Relay allows anyone in your business to build, track, and manage workflows in real-time, resulting in a far more efficient and consistent process experience for every process."
Is This a Good Move for Box?
Yes. Even among small to medium-sized businesses (SMBs), workflows of any real sophistication require a degree of complexity. A bit of complexity can be warranted, but too often, complex processes rely on manual data entry. This yields titanic spreadsheets and piecemeal tracking mechanisms thrown together by business users, rather than IT.
A system of manual data entry not only drains resources and taxes a company's collective sanity, but due to the high error rate in spreadsheets, manual processes also perpetuate faulty data.
Increase the complexity I've just described by several orders of magnitude, and you'll get a good idea of why Box Relay makes sense for enterprises.
Workflow automation (or business process management, if you like) has already been pioneered at an SMB level by Zapier and IFTTT, so the demand exists for this technology. Box is essentially scaling this type of software for enterprise companies.
Box Relay builds workflows that pull in content from a range of programs selected by the user and centralize the resources in one dashboard. This linear view of the process automatically updates stakeholders as changes are made and helps identify bottlenecks.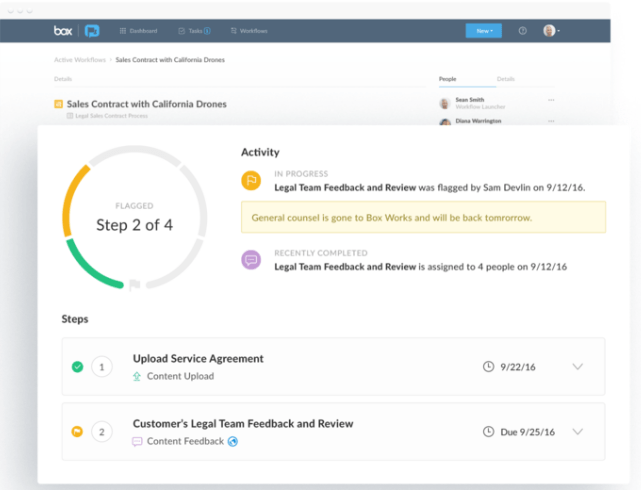 The idea seems simple enough, and I suppose that's the beauty of it all — Box Relay will allow teams to organize on a project level and create sustainable processes through automation without having to put in a support ticket to IT.
Imagine grabbing behavioral analytics from your marketing automation system, accessing the appropriate contract offer from Docusign, and pulling in on-boarding materials from Adobe or Microsoft Word — all with automation.
IBM reportedly agreed to help develop the product with the understanding that it would be sold under the Box Relay brand. Still, this makes sense for IBM to offer its customers.
Box Relay won't be available for wide beta until the last quarter of the year, and the full product is scheduled for release in 2017.
___