When you hear dashboard what's the first thing you think of? If your answer involves analytics, data visualization, drill-downs, or KPIs then you're likely part of the growing number of people who see data as a business opportunity.
In 2013, worldwide business intelligence (BI) and analytics software expenditure rose to a whopping $14.4 billion – with no signs of slowing down. As the industry continues to grow, so does the push for design-focused, user-friendly dashboards that communicate the most important information and metrics with clarity.
However, as vendors attempt to gain a competitive edge through their interfaces, it can be difficult to tell the bells and whistles from the necessities. This article features some of the best BI dashboard interfaces on the market, as well as what to look for when choosing a solution for your business. If you're not already familiar with BI software and its functions, check out our Guide to Business Intelligence to learn the basics.
Effective Dashboards are Relevant, Real-time, and Accessible
In the simplest terms, a good dashboard answers the question: How is my business (or a particular segment of my business) doing right now? In addition to providing concise and intuitive display mechanisms, each BI interface detailed below provides the following critical elements of effective dashboards:
Simplicity – Less is more. Choose metrics that matter.
Clear key performance indicators (KPIs)
Analytics – Businesses need high-level insights and the ability to analyze further.
User customization – not every person needs to see the same data
Maintainable, open architecture.
Real-time data. If you can't tell how your business is doing right now, then you're looking at a report, not a dashboard.
Now that you know the prerequisites for a good BI dashboard, let's take a look at some of the vendors that not only fit the bill, but also provide the best user experiences.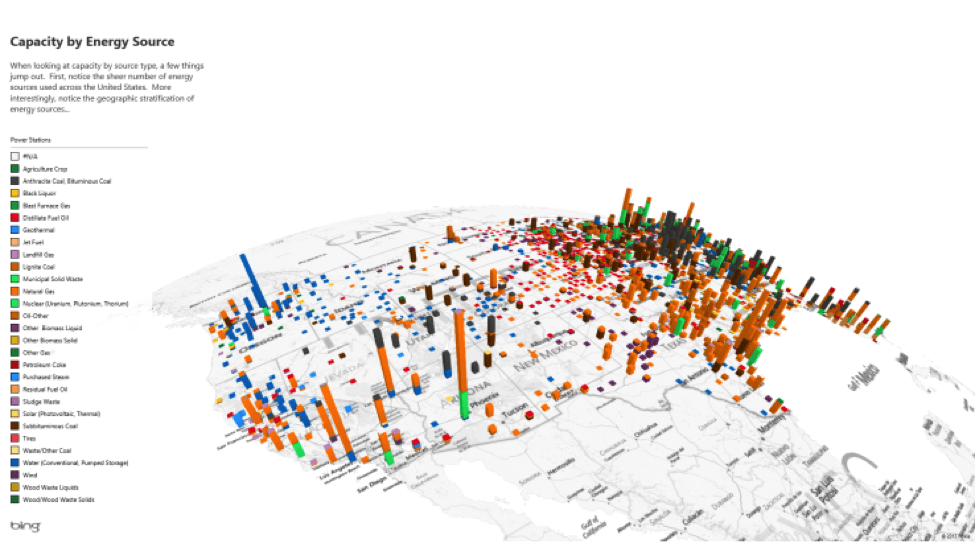 55 percent of companies use Microsoft for BI solutions, which gives them a huge slice of the market. Forrester also recently named Microsoft a leader in agile business intelligence, reinforcing the intuitive nature of the platform. Power BI, the company's new Excel-based platform delivered via Office 365, could potentially redefine self-service BI.
Power BI integrates with Excel and connects through the cloud to access and analyze data in different areas of a business. The dashboard is clean, easy to navigate, and offers a variety of ways to organize, categorize, and drill down data into understandable visualizations. For example, users can have an overview of their sales analysis and then explore by year, quarter, product category, or geo-location as needed.
---
Fastest Growing: Tableau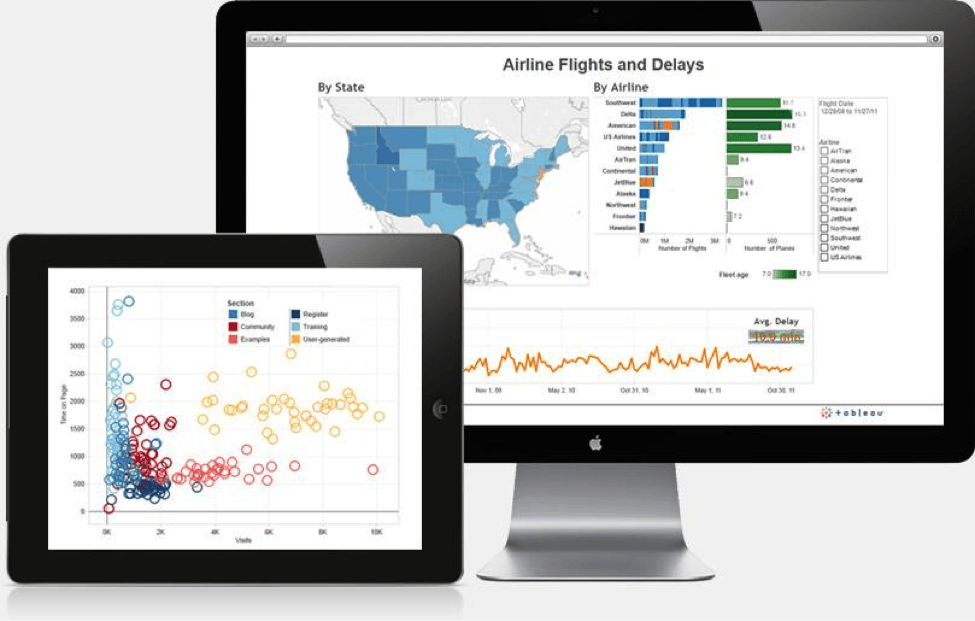 With a growth rate of over 80 percent for 2013, Tableau is the fastest growing BI software provider. Forrester not only cites the software's scalability and fast cloud deployment as reasons for Tableau's success, but also its highly intuitive data visualization:

"Tableau Software's differentiation goes well beyond technology: Its platform embeds most of the best practices that address the human psychology of visual perception to produce the most intuitive visualizations," writes analyst Boris Evelson.
Along with Tableau's usability and exceptionally designed dashboards and visualizations, customers report the system features below average costs and delivers above average performance. To compare Tableau with one of its biggest BI competitors, check out our recent post, Tableau vs Spotfire.
---
Cloud Frontrunner: GoodData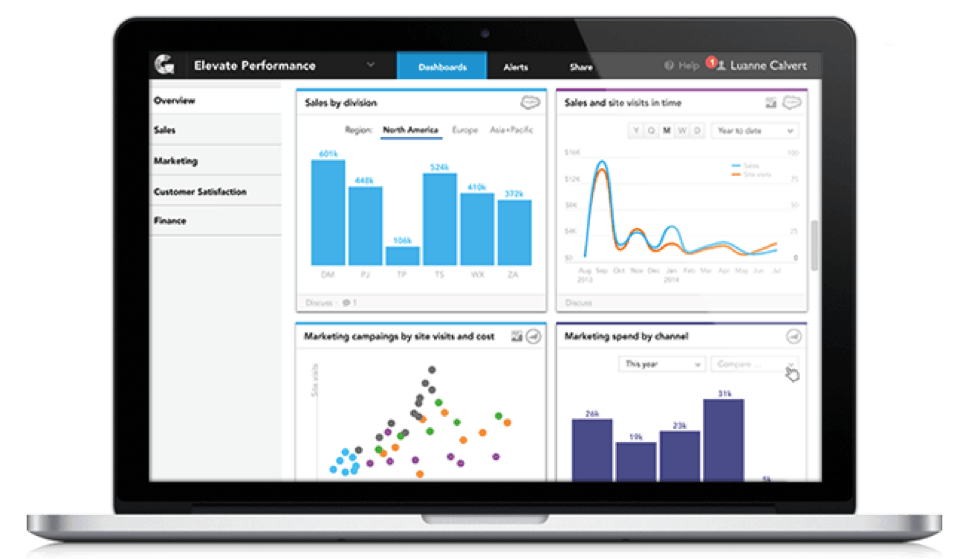 GoodData earned a place in Gartner's Magic Quadrant for Business Intelligence and Analytics Platforms for its specialization in cloud deployment. This platform offers a wide range of front-end BI capabilities and analytic applications. According to a variety of online reviews and reports, customers choose GoodData for its functionality, ease of use for end users and developers, and ability to embed BI content.
GoodData ranked in the top 10 for functional dashboards and above average for interactive visualization and collaboration capabilities in Gartner's report. Additionally, GoodData was chosen as Best Business Intelligence/Analytics Solution by the 2013 SIIA CODiE Awards, proving that great aesthetic doesn't have to come at the cost of core function.
---
Innovative Game Changer: Yellowfin
Yellowfin offers a user-friendly BI platform and great functionality. Though some very large companies also use Yellowfin, research indicates it's a popular choice for SMBs – of which 64 percent consider it a go-to BI platform.
Yellowfin continually receives awards and recognition for its mobility, design, and functionality, but its most unique feature is a timeline that records a user's specific activities and interactions in real time. Called "Facebook for BI," the timeline is a searchable, chronological catalog of an individual user's activity. According to Gartner's research, Yellowfin's customers reported using its collaboration features more extensively than did those of most other vendors.
The power of a good dashboard is invaluable. When done well, BI dashboards showcase the fundamental drivers of your business. While it's true that not all BI solutions are great to look at, many vendors across the board are noticing the importance of a well designed interface. Companies need to be able to see, understand, share, and act on their data quickly, making well designed business intelligence software essential.
Top Business Intelligence Software Recommendations
Build a modern business, driven by data. Connect to any data source to bring your data together into one unified view, then make analytics available to drive insight-based actions—all while maintaining security and control. Domo serves enterprise customers in all industries looking to manage their entire organization from a single platform.
Wyn Enterprise is a scalable embedded business intelligence platform without hidden costs. It provides BI reporting, interactive dashboards, alerts and notifications, localization, multitenancy, & white-labeling in any internal or commercial app. Built for self-service BI, Wyn offers limitless visual data exploration, creating a data-driven mindset for the everyday user. Wyn's scalable, server-based licensing model allows room for your business to grow without user fees or limits on data size.
Finding it difficult to analyze your data which is present in various files, apps, and databases? Sweat no more. Create stunning data visualizations, and discover hidden insights, all within minutes. Visually analyze your data with cool looking reports and dashboards. Track your KPI metrics. Make your decisions based on hard data. Sign up free for Zoho Analytics.
Need a Little Help?
Talk with a software expert for free. Get a list of software that's great for you in less than 15 minutes.
Technology Advice is able to offer
our services
for free because some vendors may pay us for web traffic or other sales opportunities. Our mission is to help technology buyers make better purchasing decisions, so we provide you with information for all vendors — even those that don't pay us.