For smaller organizations, employing a minimalist version of customer relationship management (CRM) software can work. Smaller companies generally receive less email, and have less leads keep track of. However, once your organization begins to find sustained success, the amount of leads coming in can become overwhelming.
That's when it's time to find a platform that scales with the needs of your organization. CRM software helps your organization stay, well organized. Along with managing customers, many CRMs now include marketing automation features, along with enterprise resource planning, and even business intelligence tools. That means choosing a new CRM platform has become a much larger undertaking.
To help guide your decision, we've listed some of the top solutions on the market for growing businesses and enterprises.
For Growing Sales Teams
For organizations making the transition from start-up or small business to the mid-market arena, finding a CRM that maintains the intuitive nature of simpler programs can be difficult. Here are three solutions capable of supporting large sales teams, without sacrificing usability.
Branding themselves as the "Post-PC CRM," Base's dedication to usability could make one think it was designed with smaller and medium sized businesses. But with clients that include Stryker, Xerox, Wells Fargo, and General Electric, it's clear that Base performs for businesses transitioning to a larger stage, and even enterprise level organizations.
Here's a quick intro:
It's clear Base has done their market research as usability is the emphasis throughout the video. Automation complements the slick interface design and eliminates much of the mundane work that can make CRM adoption difficult. For example, Base captures client information over the phone or through email and automatically populates profile fields. Base also automatically analyzes data captured within the CRM to produce sales reports that help managers identify opportunities for improvement.
The enterprise edition of Base includes a mobile app for iOS, Android, and Windows phone from which users can make calls, track emails, and even send texts. To top it all off, the platform includes an open-API so developers can create custom apps to integrate with the system. They also have a really cool geolocation feature, which you can read about in this post.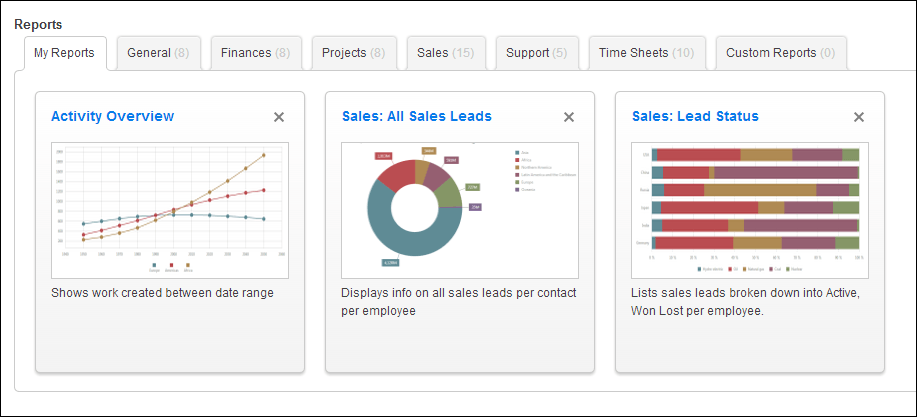 When you're expanding your sales team from a tight-knit group to a large department, it's a struggle to keep a collaborative environment. Work[etc] solves this problem by supplying businesses with one of the most expansive platforms on the market. Equal parts CRM, project management, billing, help desk, and marketing automation, Work[ect]'s design makes it simple to maintain communication and collaboration between departments.
Though the platform may be more expensive compared with to a standalone CRM, the total cost of ownership will usually be significantly less than the cumulative cost of deploying a platform for each of the aforementioned applications. Training will also be simpler, and integration is much less of a worry.
But the expansiveness of this product does not reduce its depth of features. To better manage the life-cycle of a customer, you can view every interaction a customer has had with the organization through a keyword, activity, or employee interaction search. Lead management and sales pipeline functionality are also available, and users can make customer sales workflows for different products, industries, or even customer types.
In additional to other standard CRM fare, Work[ect] also dabbles in business intelligence by producing detailed reports that factor in data from across your organization.
It may be a cliché, but Work[ect] very nearly does it all.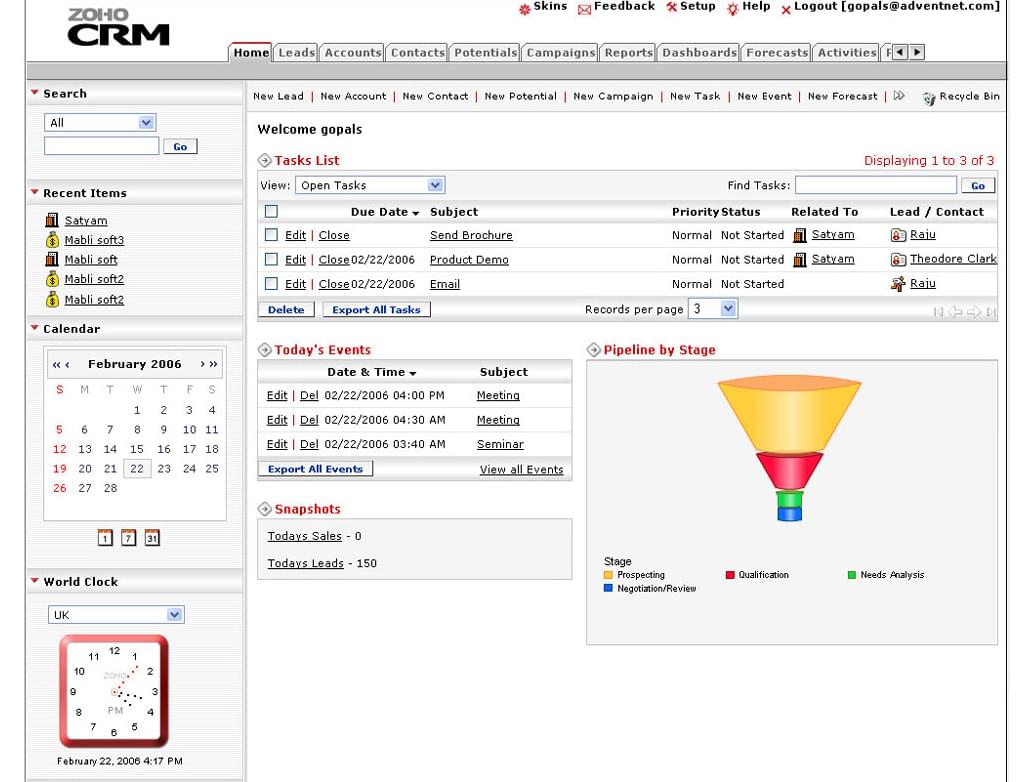 Once targeted at smaller businesses, Zoho has recently added features to its CRM software that make it more appealing to larger organizations and sales departments. The two most prominent new additions are a territory management feature and an increased support offering. Zoho also makes its API available for developers, which increases its appeal to larger organization that can create custom apps.
Zoho also has the expected CRM features: contact management that shows funnel position, contact history, and deal size; forecasting functionality based on opportunities in the funnel; and internal document sharing. One of the features that sets Zoho apart is its integration with Google apps, including gmail, and Google Docs.
Zoho's marketing automation powers remain limited, though the platform does integrate with most social media channels.
For Enterprise
While the previous products work well for growing sales departments, enterprise organizations may want to look at vendors with large customer support operations, in order to ensure that everything continues to run smoothly.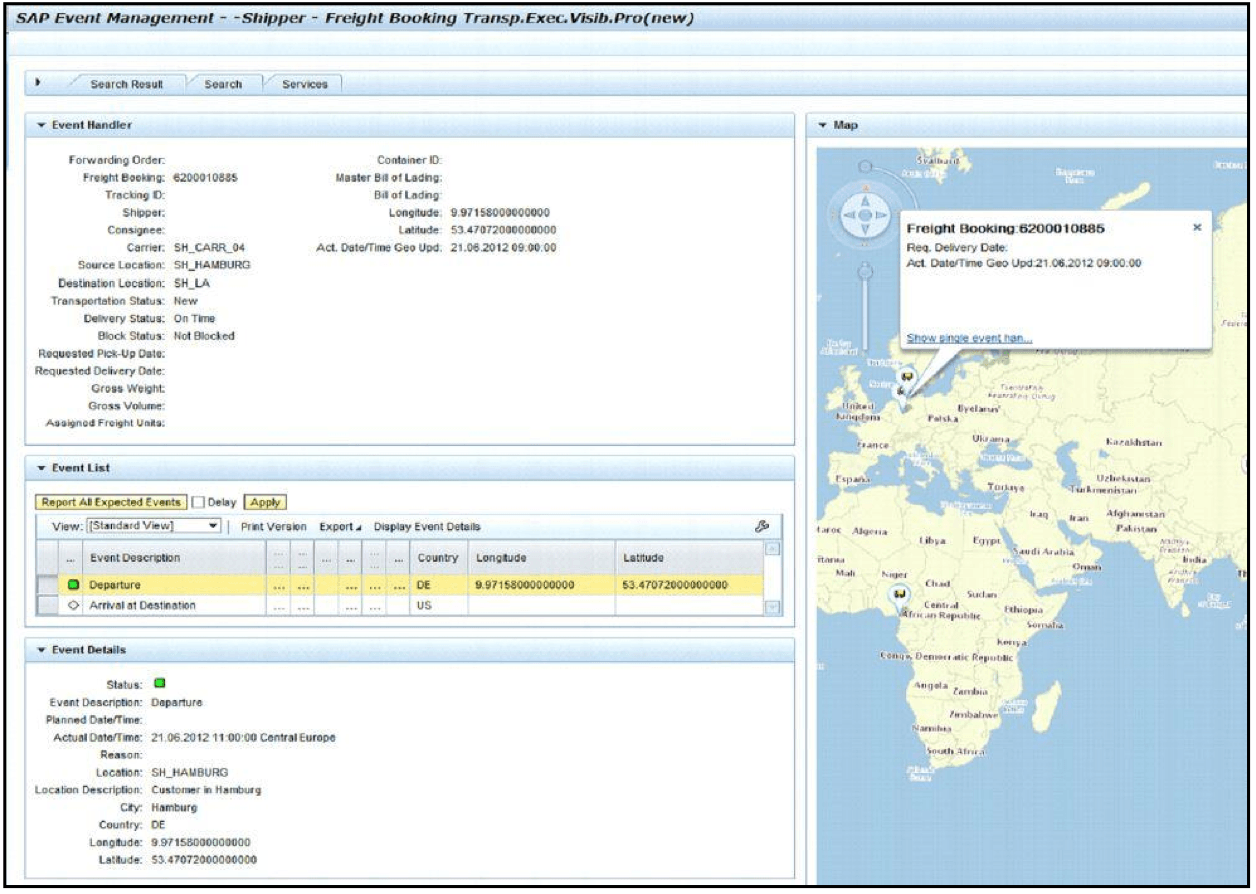 One of the oldest players in CRM, SAP pushed its first CRM product to market in the 1990s, where competed with Braan and Oracle. Like Oracle, SAP has remained relevant throughout the following two decades and now commands nearly 13 percent of the CRM market, second only to Salesforce.
Like other large enterprise solutions, SAP products offer customers significant integration capabilities. Using its CRM ensures integration with its enterprise resource planning platform, its business intelligence product HANA, and its social media platform Jam, among others. SAP's customer service also has an excellent reputation, which is a selling point for enterprise.
Some of SAP's features include: sales, marketing, forecasting based off business intelligence, in-depth pipeline management, and more. SAP also regularly updates its products, recently making several large changes to its platform.
SAP's system offers clients so many options however that setup can be difficult, and SAP consultants can be hard to come by. If you're already using SAP applications, then SAP CRM stands out as the logical choice. If not, another option may better suite your organization.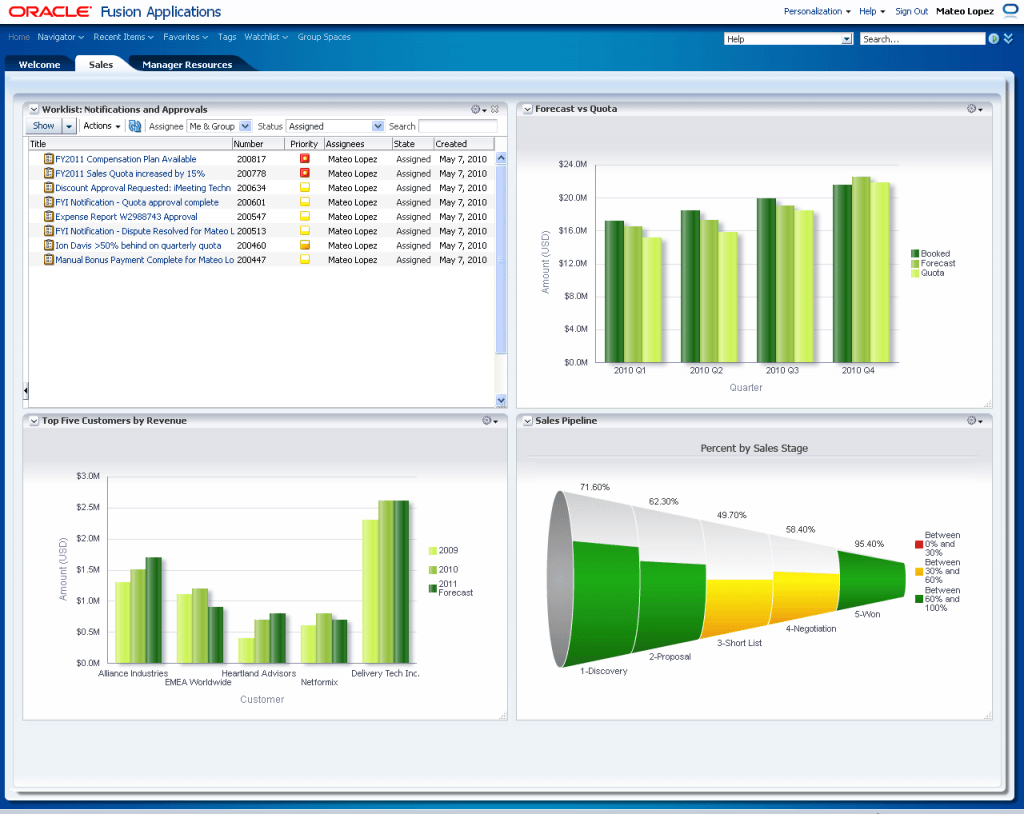 Along with SAP, Oracle is one of the most well known CRM providers around. Currently, the company finds itself in the midst of a shift from license-based pricing to true Software as a Service applications , a deployment model that made up some 40 percent of CRM sales in 2012. Oracle's On Demand CRM didn't garner rave reviews, but the company's new Sales Cloud offering marks a move in the right direction.
Although implementation can be complex, Oracle has revamped the user interface and deployed easy to use mobile apps for Android and iOS. Territory management features help companies scale, and real time analytics supply users with the ability to create reports and drill down on employee performance.
Fusion CRM's integration with Oracle's business network also makes it easy to expand functionality to other departments, such as marketing.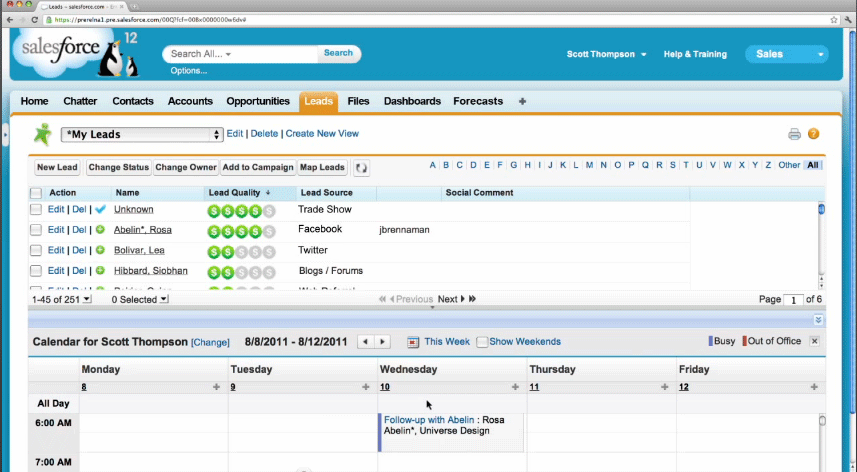 Salesforce's Sales Cloud is the current leader in SaaS CRMs. This solution works well for businesses of nearly any size thanks to the tiered SaaS delivery model that it helped pioneer. It offers enterprise features such as opportunity tracking, lead scoring, pipeline management, email marketing, and an email template library. Sales Cloud also offers customizable dashboards, and sweeping integration capabilities via an API. Salesforce even has its own app store so enterprises can benefit from the work of previous Salesforce users.
The actual interface of the platform has remained quite intuitive , no small feat considering the sheer amount of features available. However, Salesforce's greatest strength can also be its greatest drawback: sometimes the amount of functions can be overwhelming. On a smaller scale this solution can certainly serve as a plug and play option, but on an enterprise level, it will be necessary to train users on the software's capabilities. For a more detailed look at Salesforce Sales Cloud, check out our review post.
Making the transition from a SMB to a large business is difficult for a number of reasons, and choosing CRM software can seem like just another growing pain. However, the stakes are higher when selecting software that your entire sales team will use, so careful consideration is required. This is especially true, given the expanding set of features many of these large applications offer.
Top CRM Software Recommendations
Insightly is a unified customer relationship management (CRM) platform for growing businesses across all industries, including manufacturing, professional services, health & wellness, media, education, retail, construction, and others. With more than 1.5 million users worldwide, Insightly is the world's most popular CRM software for Google and Office 365 users.
Really Simple Systems CRM helps you work smarter by managing and tracking your sales leads and customers, letting you get on with growing your business. Designed for growing teams B2B, our CRM is super-easy to set up and simple to use - with exceptional customer service. There's a customizable Sales CRM, plus options for Marketing and Service tools and external app integrations - so everything is in one place, enabling great team collaboration and customer relationships that drive sales growth.
HubSpot is an intuitive CRM that makes managing your sales pipeline a breeze. Everything you need to track important metrics, set up time-saving flows and automations, manage clients seamlessly, and grow your business is available in one tidy dashboard. Plans are available for businesses at every stage of growth, starting at 100% free. Start taking the guesswork out of business management today with HubSpot CRM.
Need a Little Help?
Talk with a software expert for free. Get a list of software that's great for you in less than 15 minutes.
Technology Advice is able to offer
our services
for free because some vendors may pay us for web traffic or other sales opportunities. Our mission is to help technology buyers make better purchasing decisions, so we provide you with information for all vendors — even those that don't pay us.