There is a middle eastern market near my house that I visit frequently enough to be recognized, but not frequently enough to not be considered a regular. The other day, I brought an armful of merchandise to the counter only to discover that I'd forgotten my wallet. Before I had a chance to re-shelve the items, the owner insisted I take everything home and pay later.
ALSO READ: 4 Zoho Alternatives That Might Make You Upgrade
Small business owners will recognize this kind of relationship — the kind where you treat your clientele like family. With warm customer service as your primary goal, it can be difficult for a small business owner to make the move to a seemingly heartless technology solution for customer relationship management (CRM), let alone a commercial CRM platform.
But the reality is, the right small business CRM will enhance your customers' experiences, not detract from them. A CRM can help you keep up with each of your customers on a personal level, ensuring that even as your business grows, you won't forget a thing — from upcoming birthdays to outstanding account balances.
In this article, we'll look at the top four customer relationship management systems for small business owners, whether your priority is saving money, growing quickly, maintaining relationships, finding something simple to use, or all of the above.
Salesforce: Best For Scaling Up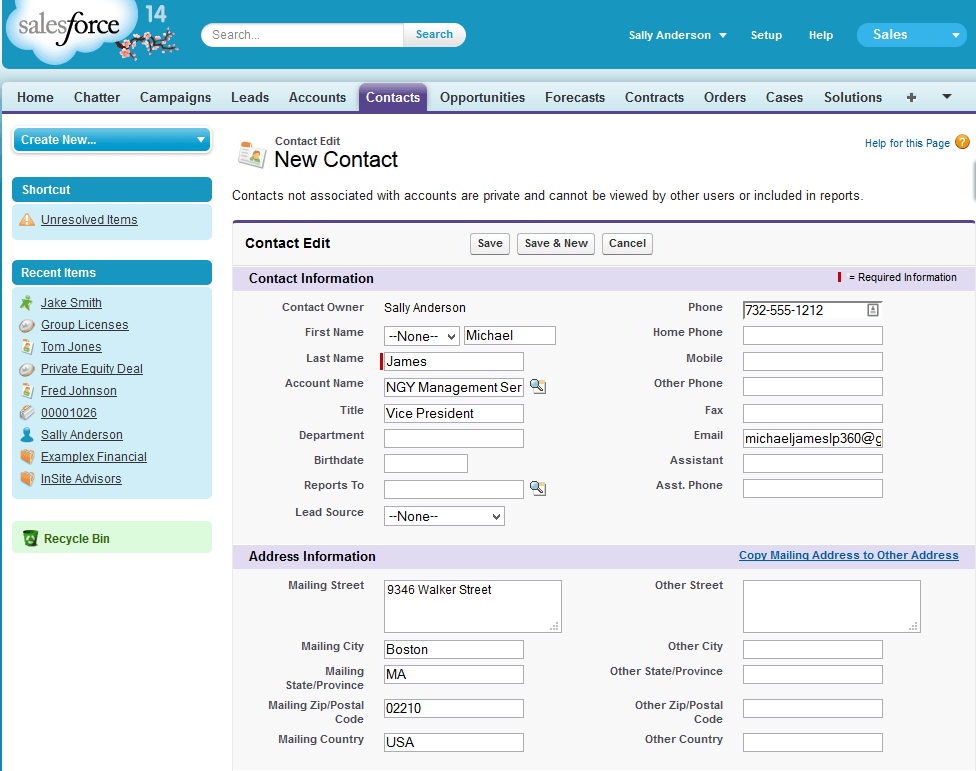 When you think of CRMs, Salesforce is probably one of the first brands that comes to mind. It's a goliath in the CRM world, but despite its size, Salesforce remains a solid choice for small business owners.
Like other CRMs on the market, Salesforce comes with the standard lead and contact management, task tracking, customizable reporting, and email integration. One of the biggest things that sets Salesforce apart from its competition (and makes it the best pick for a fast-growing company) is its simple integration with thousands of third party apps. With Salesforce, you can integrate everything from email automation to e-signatures, direct mail, app building, and marketing automation. This makes it simple to add features as your business expands, without the need to train your staff on or migrate to a new system.
If running your small business keeps you in many places during the week (and wearing many hats) Salesforce's 100-percent cloud-based platform and accompanying mobile apps let you access vital customer information on the go. That means lightning fast lead tracking and the ability to connect with every customer at just the right time.
Salesforce does have a couple of drawbacks. It's user-friendly, but more difficult than other CRMs to set up on the backend. Depending on your skill set, you may require premium technical support. It's also one of the more expensive CRMs on the market, though their new packages for small business owners start as low as $25 per user per month.
Apptivo: Best for Easing In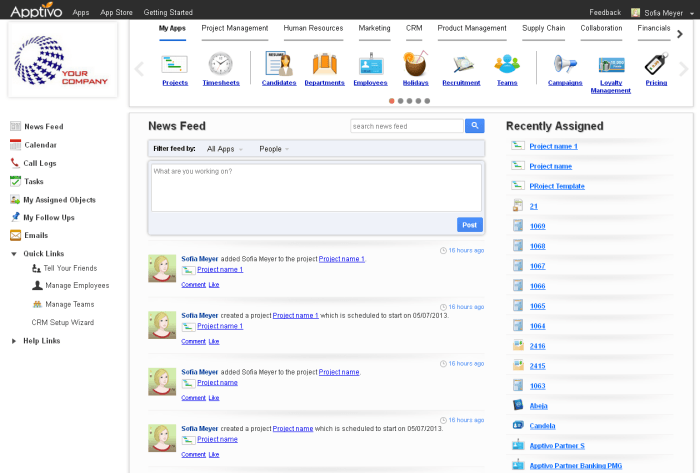 If the idea of implementing a CRM overwhelms you, Apptivo's modular setup may be the solution you need. As the name implies, Apptivo works through an app system — each part of its CRM is a separate app that you can add or exclude based on your needs. This allows your user interface to remain clutter-free while you work on the reporting, management, and searching tools you need.
Apptivo is also budget-friendly, offering a free version with limited apps for up to three users, then bumping up the features list for a starting price of $8.33 per user, per month. You can pay a little extra per month for a month-to-month billing plan on that same package. This is a great way to feel less tied into a system for a long contract term.
Apptivo offers fewer third party integrations than other CRMs on the market (like Salesforce), but the flexibility that extends from the desktop version to the mobile app makes it worth considering.
Insightly: Best for Simplicity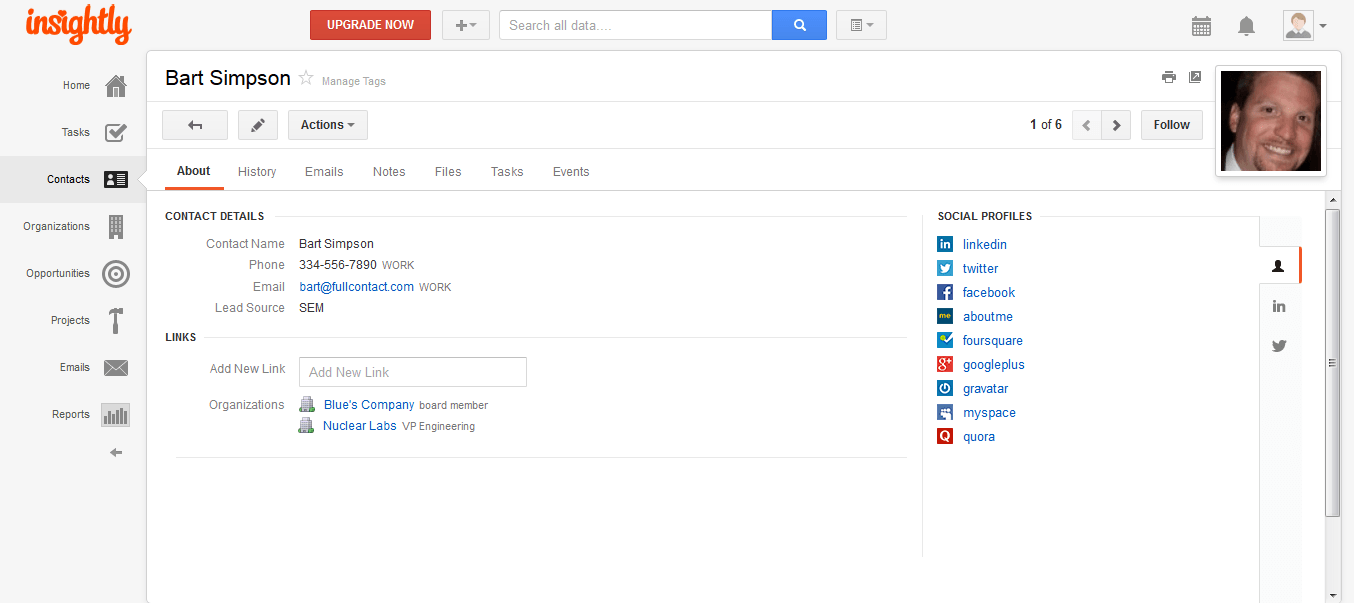 If you're the type of person who likes to try before you buy, check out Insightly's free package (for up to two users), and you're sure to get hooked on their refined user interface. Like its competition, Insightly will help you keep track of leads, customers, and every point of contact — whether a phone call or marketing campaign. What makes Insightly stand out is how simple it is to set up (no tech genius required) and how intuitive it is to use on a daily basis. Prominent tool bars and plainspoken call-outs make it easy to learn Insightly's features in no time.
As easy as it is to use Insightly, the CRM also scores points for its highly-rated customer service. Not many small business owners are lucky enough to have their own IT departments, so having a high-quality support team a phone call away is a valuable tool.
Where Insightly falls short is in its less expansive reporting options (at least, compared to a platform like Salesforce) and its relatively short list of native integrations.
Zoho: Best for Your Budget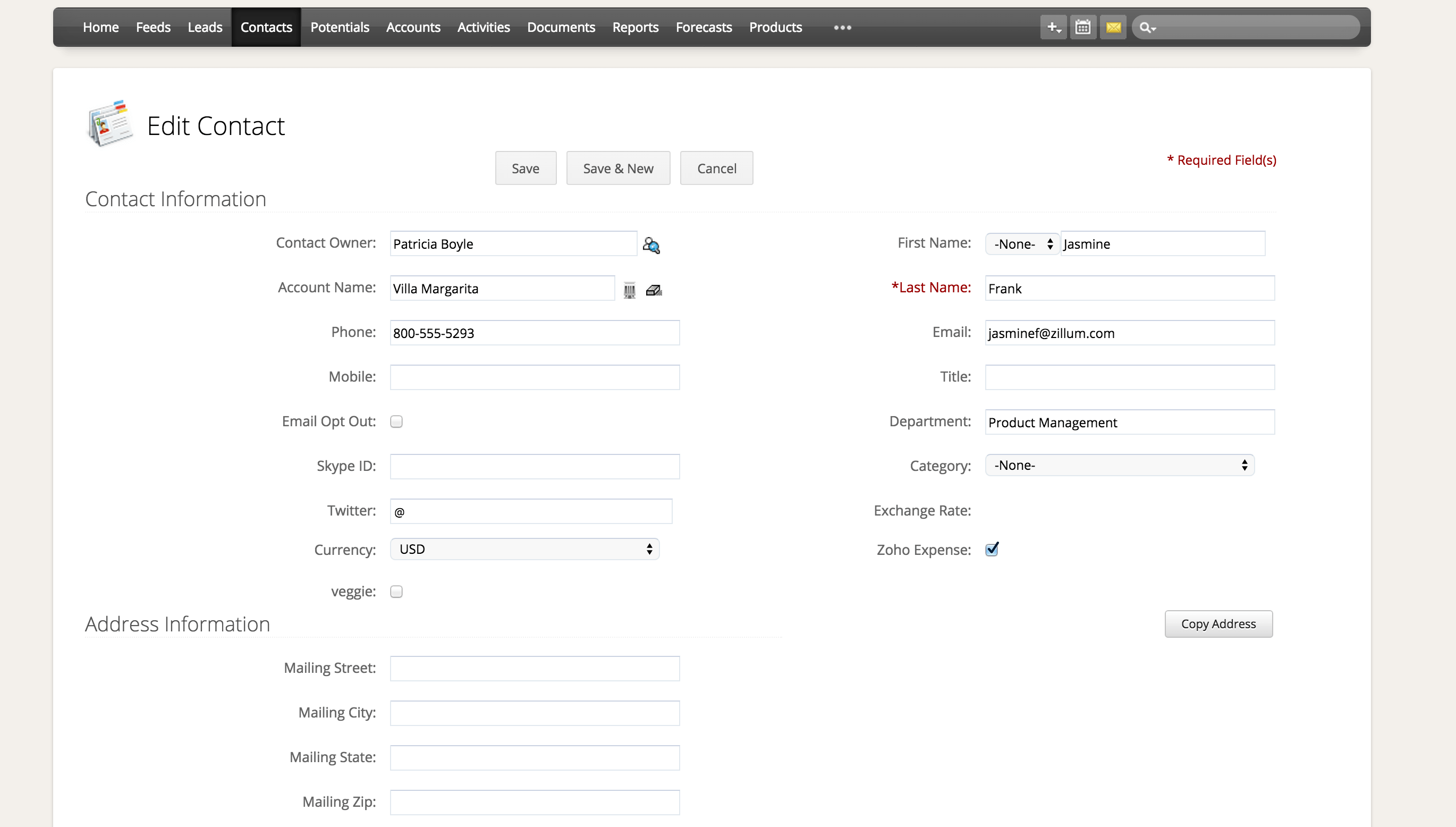 Commitment-phobes can find their port of call in Zoho, which grants access to lead, contact, task, and opportunity management for free for up to 10 users — making it one of the best CRMs out there for a limited budget. The lowest paid plan (which adds forecasting, marketing campaigns, and extra email templates) bumps you up to just $12 per user, per month.
If you're willing to pay the price, Zoho's more advanced packages include a robust automation program that breaks leads down by certain criteria to assign them to team members, campaigns, or contacts.
Zoho is an office suite. Beyond its CRM, you'll find tools for accounting, human resources, customer support, and even business email, all of which integrate with each other. Every addition is an upcharge, of course, but it's an excellent option if you're looking for more than one solution to support your growing business.
* * *
Choosing the right small business CRM will help you stay on top of sales, customer service, and contact management as you continue to grow.
Salesforce, Apptivo, Insightly, and Zoho are just a few of the CRM solutions for small business owners on today's market. To compare more options and get a custom recommendation for your business, use our free Accounting Product Selection Tool.
Top CRM Software Recommendations
Insightly is a unified customer relationship management (CRM) platform for growing businesses across all industries, including manufacturing, professional services, health & wellness, media, education, retail, construction, and others. With more than 1.5 million users worldwide, Insightly is the world's most popular CRM software for Google and Office 365 users.
Really Simple Systems CRM helps you work smarter by managing and tracking your sales leads and customers, letting you get on with growing your business. Designed for growing teams B2B, our CRM is super-easy to set up and simple to use - with exceptional customer service. There's a customizable Sales CRM, plus options for Marketing and Service tools and external app integrations - so everything is in one place, enabling great team collaboration and customer relationships that drive sales growth.
HubSpot is an intuitive CRM that makes managing your sales pipeline a breeze. Everything you need to track important metrics, set up time-saving flows and automations, manage clients seamlessly, and grow your business is available in one tidy dashboard. Plans are available for businesses at every stage of growth, starting at 100% free. Start taking the guesswork out of business management today with HubSpot CRM.
Need a Little Help?
Talk with a software expert for free. Get a list of software that's great for you in less than 15 minutes.
Technology Advice is able to offer
our services
for free because some vendors may pay us for web traffic or other sales opportunities. Our mission is to help technology buyers make better purchasing decisions, so we provide you with information for all vendors — even those that don't pay us.