For the last four years, Stack Overflow has polled users on issues that concern the software development community. Stack Overflow is considered one of the most trusted resources for developers on the web, where developers go to ask and answer tough questions about code, search for jobs, and talk about development.
ALSO READ: How an SQL Beautifier Can Ease Your Coding Pain
This year's survey had over 64,000 respondents (all developers) with 51,392 partial or fully completed surveys for use from 213 countries. The overwhelming majority of responses came from the U.S. and India. 
Overall, the survey confirmed already-established trends in the industry, including the growth of demographic diversity, a willingness to integrate learning and education with work, and trends toward JavaScript and away from other complicated or frustrating technologies. 
Diversity
Although women are still a minority in the profession, their presence is growing with the percentage of women surveyed skewed towards those with less than 4 years of experience. This may signal that programs promoting women in tech are working, and more women are choosing development careers, although it may also reflect a growing trend of women with more experience leaving the profession.
Although more than 88 percent of respondents said they value diversity in the workplace, women of all ethnicities value diversity more than men, on average. This isn't much of a mental leap; when you're in the minority, you tend to be more aware of the need for balance and have empathy for those in a similar situation. 
Education
Roughly 77 percent of developers hold a bachelor's degree or higher. Most undergraduate majors are in science and technology fields, but there's also a strong showing in humanities — including, strangely, a high number of psychology majors. Not sure if this is due to the similarities between psychology and development or because of the lack of well-paying jobs in the psychology field.
Other key findings:
32 percent of respondents say formal education is not very or not at all important to success in the field.

A whopping 90 percent say they're somewhat self taught. 

73 percent say on-the-job and open-source contributions have been instrumental in their learning.

The will to direct one's own learning is also reflected in the factors developers look for in a new job: opportunities to learn ranked highest, above even healthcare and compensation.
The survey also found that formal training, in the form of boot camps is popular for developers of all skill levels, not just beginners. Nearly 46 percent of boot camp attendees already had a job as a developer before they joined. Stack Overflow attributes this to the need to gain new skills at work and stay relevant in the job market.
JavaScript is King
The overall growth of JavaScript, NodeJS, and Angular as languages and frameworks folks want to work in mirrors the growth of JavaScript across the development community. JavaScript is the most popular language across all job descriptions except desktop developers, where it takes a close second to SQL.
Job Satisfaction and Income
Job and career satisfaction are fairly high, in the 8/10 range. Stack Overflow reports that job satisfaction jumps when developers have over four years of experience. Relatively few developers are actively looking for a new job, although most (59 percent) are open to new opportunities. Job satisfaction is higher among those who work remotely, but only by a point or two: 7/10. vs 6/10.
When it comes to measuring their performance, developers prefer customer and management satisfaction with their work above other metrics, including commit frequency and lines of code. As a whole, developers prefer to be judged on the quality of their work over less informative metrics that count how fast they can code and commit. This focus on quality is undoubtedly related to overall job satisfaction.  
Although the stats on pay vary widely between geographic areas and job type, most developers bring home well above the median household income. Over 70 percent feel they are "somewhat underpaid" or "neither overpaid or underpaid." Similar to job satisfaction, pay tends to increase with work experience.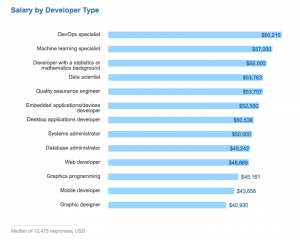 Fun Stuff, Questions, and Reactions
2 percent of respondents say that they pronounce "GIF" neither with a hard or soft G sound, but "some other way." I would like to know what this is.

A full third of respondents say they agree with a ship-it-and-optimize-later mentality.

Tabs vs. Spaces opinion remains almost evenly split at 40 percent. That leaves 20 percent who say both (HOW CAN YOU HAVE BOTH?).

53 percent of developers think it's okay to use a noisy keyboard at the office. 24 percent say absolute quiet is the ideal development environment, while 42 percent prefer music — probably because they have to work with that guy who uses the mechanical keyboard.