Hiring for an open position takes 42 days and costs $4,700 on average. Having the right job search platform is therefore crucial to shorten the hiring process and save money, all while finding the right person for the role.
ZipRecruiter and LinkedIn Jobs are two of the most well-known hiring platforms available today. Though they have similar capabilities for posting jobs, sourcing candidates, and managing applications, there are unique benefits and drawbacks to using each platform.
What is ZipRecruiter?
ZipRecruiter is first and foremost a job board with an impressive searchable database of 36 million resumes. It helps companies make their job posting highly visible and identify qualified candidates.
However, ZipRecruiter lacks the networking aspect that LinkedIn has. And it does not offer a full suite of applicant tracking functionality for hiring managers.
What is LinkedIn Jobs?
LinkedIn started out as a professional networking platform. However, it has grown over the years to include professional development services as well as job posting services now known as LinkedIn Jobs.
While LinkedIn serves a variety of other functions, its pricing plans don't allow for much customization, and its premium tools can add up in terms of cost.
Feature Comparison: ZipRecruiter vs LinkedIn Jobs
ZipRecruiter and LinkedIn share similar job posting, candidate sourcing, and application management capabilities, but each job search platform approaches them differently.
Job Posting
Job posting is the primary functionality of both platforms, so let's compare how they approach this crucial first step of the hiring process.
Templates
Both ZipRecruiter and LinkedIn Jobs offer customizable templates to accelerate the hiring process, so managers or HR professionals don't have to write each new job ad from scratch. While LinkedIn Jobs has over 130 templates, ZipRecruiter has more than 500, making ZipRecruiter better for niche roles.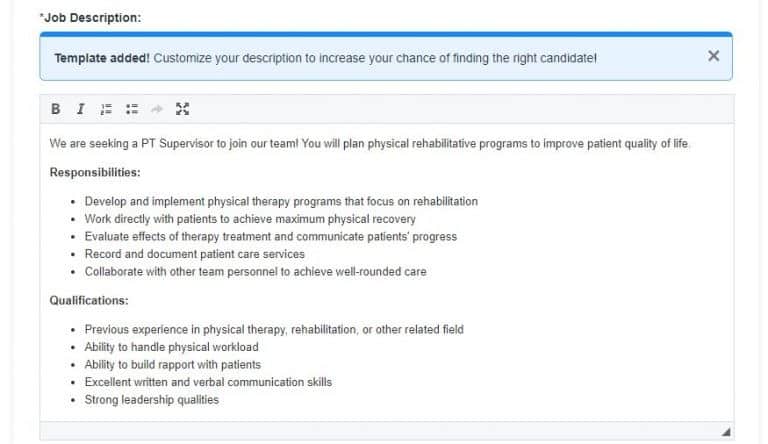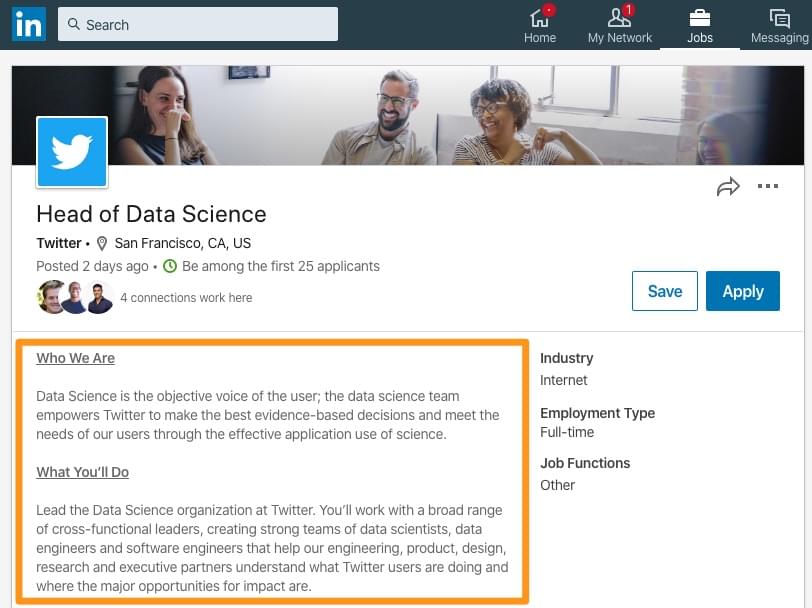 Posting
ZipRecruiter and LinkedIn Jobs are different in their approaches to how and where jobs get posted.
With one click, a job posting appears not only on ZipRecuiter's job board but on more than 100 other job boards. Some of the syndicated job boards are quite specialized and may come with an added fee.
For instance, ZipRecruiter cross-posts to job boards for veterans, Veteran's Job Exchange, or job boards for seniors, Seniors Flourish. ZipRecruiter's wide network of job sites helps your job posting reach audiences it might not have on LinkedIn. However, posting to a veterans job board requires paying an extra fee.
ZipRecruiter also offers TrafficBoost credits that promote a job listing by maximizing visibility to qualified candidates. Each credit gets a company up to 100 unique visitors to its job posting and puts the ad at the top of daily email alerts that go out to a targeted segment of ZipRecruiter's 25 million active job seekers.
LinkedIn does not syndicate job postings to third parties. Instead, job postings reside on a company's LinkedIn job site, making it visible and searchable to LinkedIn's 830 million members.
LinkedIn Jobs allows hiring managers to post only one free job ad at a time. Otherwise, the user must set a budget for each job post. In exchange, the job ad is more likely to attract applications from qualified candidates because it appears in:
Users' search results
Top search results if you "promote" the ad
Search results of candidates that search for jobs that match their profile
Qualified candidates' mobile alerts and push notifications
Pricing: ZipRecruiter
With ZipRecruiter, employers can choose from three options: Standard, Premium, and Pro.
Standard: This tier allows users access to a user-friendly dashboard, instant job postings to 100+ job sites, and AI features to proactively contact candidates.
Premium: This plan includes all of the Standard version's features, plus:
access to ZipRecruiter's resume database
AI features that gather, score, and rank matches based on job seeker profiles
Pro: Pro includes all Standard and Premium features, plus:
TrafficBoosts for urgent and hard-to-fill jobs
Integration with your external applicant tracking software (ATS)
ZipRecruiter does not list detailed pricing information on its website, but users should expect to pay at least $299 per month. ZipRecruiter works with larger companies and those with more specialized needs to create a customized plan based on these factors:
Number of job postings needed
Number of users in the organization
Industry
Company location
Pricing: LinkedIn Jobs
LinkedIn Jobs runs on a cost-per-click model determined by an algorithm that accounts for job location and level of competition. The benefit of LinkedIn Jobs' pricing is that the customer is in control of the daily or monthly budget they want to allocate toward job ad promotion, so there is no confusion or surprise.
Users have two options: pay-as-you-go or set-amount budgeting.
Pay-as-you-go
One option is to pay-as-you-go. That is, the more the company contributes to its budget, the higher its job posting will be advertised in job searches. And the ad stays live until the company pauses or removes it.
As an example, a company may start at $10 per day for one job ad and run the ad for five days. If the company decides it would like even more of a visibility boost, it can increase its budget to $15 until it garners applications from qualified candidates. If they hire quickly and decide to close out the post after day 30, they will have paid a total of $425 for that ad—$50 for the first five days and $375 for the remaining 25 days.
The pay-as-you-go option resembles ZipRecruiter's usage plans, but LinkedIn Jobs offers an alternative that is much easier to navigate compared to ZipRecruiter's monthly packages.
Set-amount budget
LinkedIn Jobs offers the alternative of setting a total budget from the start, and the ad will close automatically when that set amount has been reached. So, a company that is willing to pay $300 total for a job ad runs the ad until the entire amount is used. The company can replenish that amount if it chooses to.
Regardless of which option a company chooses, both vendors' plans can be modified at any time.
Read more: LinkedIn Job Posting & Cost
Candidate Sourcing
Candidate sourcing is ZipRecruiter's primary feature. ZipRecruiter allows companies to set up pre-screening questions like "How many years of relevant experience do you have?" or "What are your salary expectations?" These questions can even be set as "deal breaker" questions to eliminate candidates that do not provide a desired answer. This saves hiring teams a lot of time by presenting them only with qualified candidates.
Depending on the plan, a company can do some of its own searching through the 36 million resumes contained in ZipRecruiter's database. Users should check directly with the vendor to get accurate resume view information for each price tier.
While recruiters are hard at work, ZipRecruiter is too. It sends pre-written messages to encourage qualified candidates to apply for jobs and utilizes AI to match candidates in its resume pool to job postings.
LinkedIn Jobs has skills assessments that employers can embed within their job posting in order to gauge an applicant's skillset. It also takes a more comprehensive approach to candidate-job matching by looking not only at the candidate's resume but also the company, its job ad, and data from member profiles.
If LinkedIn identifies a member whose profile matches your job posting closely but has not applied, it sends a message to that candidate, encouraging them to apply.
Application Management
ZipRecruiter presents hiring teams with qualified candidates based on their answers to the optional screening questions. The hiring team can then utilize ZipRecruiter's Candidate Dashboard to review resumes and applications of those that made it past the initial screening.
ZipRecruiter allows users to organize applications with labels according to their stage of the hiring process. Hiring managers may label an application with the "call back" or "potential interview" labels and filter applications based on those labels to easily call up the candidates that advance to the next phase. Applicants never see these labels; they function purely as a back-end organization feature for ZipRecruiter users who are on the hiring side.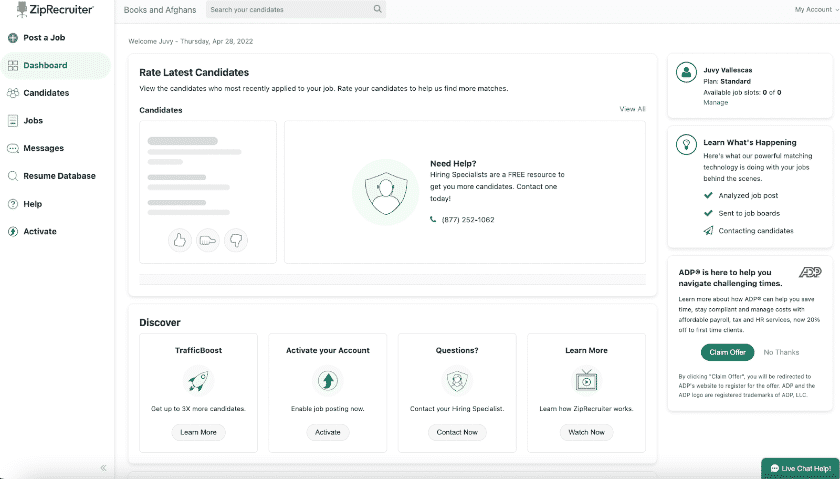 LinkedIn Jobs collects submitted applications and helps hiring managers stay organized with sorting, filtering, and rating functionalities. LinkedIn's algorithm learns from this behavior to get better at assessing which candidates might be a good fit for a company's future job postings. So when a hiring manager rates an applicant as a "good fit," LinkedIn uses that information to recommend your job post to other similar candidates.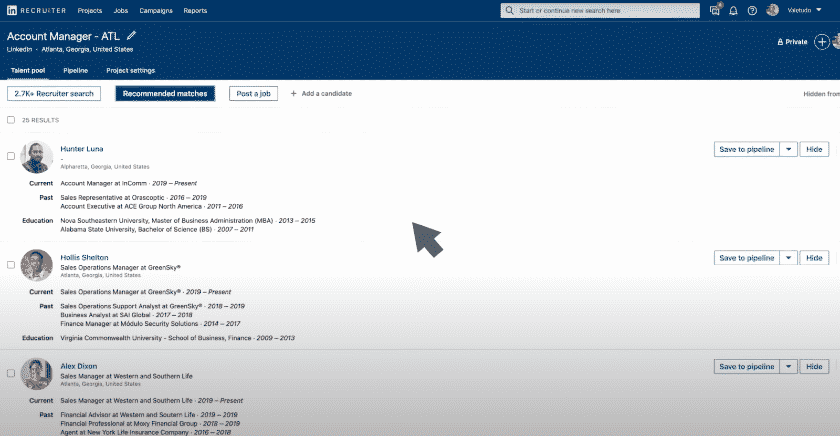 Companies that are actively hiring for a long list of open positions may find it necessary to leverage an external applicant tracking system to make sure no candidate slips through the cracks. While ATS software integration is only available with ZipRecruiter's advanced pricing tiers, LinkedIn allows all customers to integrate their ATS with its jobs platform for free. This helps to create a more seamless, end-to-end hiring process, especially as it comes time to interview the top candidates.
ZipRecruiter vs LinkedIn Jobs: Which Job Search Platform is Right For Your Business?
Choosing the right job platform doesn't have to be a mutually exclusive decision. To cover the most ground, it never hurts to combine these and other solutions to take advantage of their respective strengths.
However, each solution comes with various levels of cost, and not every company has the time, staff, and money to scour talent populations on more than one platform.
ZipRecruiter is great for companies on a budget that are looking to cast a wide net and find suitable candidates quickly. However, ZipRecruiter's pricing plans can get expensive pretty quickly, so look further into this job board platform to:
Gain immediate visibility across several job boards with one click
Fill a role quickly
Hire for a specialized niche role
LinkedIn Jobs, on the other hand, is more suitable for companies that are more exacting in their hiring process, especially when filling a high-ranking executive role. Use LinkedIn if the hiring strategy focuses on:
Building long-term relationships with professionals for passive recruiting
Filling executive-level roles
Taking time to carefully evaluate and select candidates
Flexible, no-hassle pricing