Video is powerful.
It grabs your attention and entertains. Want proof? Look no further:
See?
One minute ago, you didn't even know you wanted to watch a bunny wash her face. Now here you are, engaged and wondering how bunnies relate to recruiting.
Video is a big opportunity to improve hiring and sourcing efforts. But if you don't already know that, then you likely need more than a cute bunny to convince you to start recording.
Why Use Video Recruiting?
Video can be used to delight candidates throughout the hiring process. 300 hours of video are uploaded to YouTube every minute. Here's why:
Wasn't that more compelling than simply reading that users spend 100 percent more time on web pages with videos? Or that 85 percent of viewers are more likely to purchase a product after watching a video?
That's one of the benefits of video — it's engaging.
Video communicates messages quickly and simply. It entertains, impresses, and is more likely to be shared. Most importantly, it's persuasive.
Video compels action, which you can leverage in your recruiting efforts.
There are two main ways to use video during the recruiting and hiring process:
Talent acquisition: Use video to strengthen your employer brand. Video allows candidates to "see, feel, and hear" what life is like at your organization. Applicants will have a clearer picture of the company, and be able to better decide if it's a match for them. Use video correctly, and the right talent will think "I need to work here!" while those who lack the skills or culture fit will filter out, which saves you the effort of doing it later.
Interviewing talent: Once you've used video to source candidates, leverage it to communicate with potential employees. This could be a confirmation email with a video that explains what to expect next, or the use of recruiting software that facilitates video interviews.
Examples of Video Recruiting — Done the Right Way
To see the benefits of video recruiting in either application, you'll need to balance both technology and strategy. But rather than simply telling you how, we're going to show you.
Brand Videos
Imagine you're in a movie theater: ice cold soda in one hand, warm popcorn in the other. The first preview starts rolling — and within 10 seconds you're already making plans to go see it.
Brand videos are a preview for your company.
Use them to capture your target candidate, then convert them into your next top hire. Brand videos highlight the company, and drive people to learn more about your organization.
Take the following Adidas video as an example. It's sensational, it features real employees, and if you're not applying to their company two minutes after pressing play, then you're clearly not their ideal employee.
Another company that nails the informational approach is Harley Davidson. Their video is less dramatic, but still theatrical and targeted. They feature testimonials from their workforce, which is clearly comprised of passionate motorcycle enthusiasts. Not only are you meeting potential coworkers, but you even get to see the environment you'd work in and the tools and technology you would use. Harley Davidson showcases the company, the factory, and how the employees "export freedom around the globe." Because they don't explicitly state they are hiring or that you should apply, the video works as a branding tool.
Both videos above are tailored to a specific group of job seekers. They provide facts and insight about the company, as well as details about working for the company, without boring you.
But recruiting videos don't have to be high budget or showstopping. Entertaining, creative, team produced videos will also help you attract the right candidate — like the Twitter video below. As one commenter says, "It's so bad, it's good."
Why does Twitter's video work? Because it shows everything that's wrong with recruiting videos and all the reasons you should work for Twitter. It's easy to see they want to attract employees who take their jobs seriously, but not themselves.
These three brands showcase the power of video. Each video will likely be viewed and shared by applicants and fans, which increases brand recognition. This sharing helps extend your reach, and attract candidates in new networks.
---
Career Site Videos
Candidates like to know as much as possible about a company before applying. While recruiters fact check and call references, recruits are busy sleuthing your organization's social media accounts, website, and career portal. Make it easy for them to envision working at your company.
Shopify's quirky video does a great job of showcasing the company culture and work style, while still focusing on how much the company is growing. Their video is honest and works well for a career page, since it lets you meet each team.
Zendesk's recruiting video is a great mix of informational and fun. It introduces you to the company and offices all over the world before focusing on their headquarters. Their dry humor is charming, and they provide a 360 degree view of their office, San Francisco, and even the people who would greet you each morning and evening. It feels like a friend is giving you a tour of the office, and by the end it's easy to imagine coming to work each day, volunteering with the company, and victory dancing.
---
Team or Job Specific Videos
According to CareerBuilder, job postings with video icons are viewed 12 percent more than postings without video. On average, CareerBuilder customers receive a 34 percent greater application rate when they add video to their job postings.
While you can add branded videos to job posts, another option is to share more detailed videos.
AdRoll is a great example of this approach in action. Their recruiting video below is filmed from a first person standpoint, which shows what it's like to come in, grab a snack, and get to work. After a short overview of what the company does, they get nerdy. They mention all the techy things a potential developer would want to know before joining the team, then highlight each developer's unique background.
Lastly, if you want to showcase a specific role within your company, use videos that feature one employee or job description. This works well for a large enterprise that often hire for the same position, or any company that wants to effectively communicate company expectations for a particular position. In the video below, Cancer Treatment Center of America highlights what it's like to work as a physical therapist. This video would compel any physical therapist searching for a rewarding job to apply.
---
Video Interviewing
Once you've hooked a candidate with video, you can also use it to the reel them in during the interview process. Video screening and interviewing is increasing in popularity, because it saves time and money during the recruiting process. Jobvite explains how it works in the video below:
Video interviews make it possible to pre-screen or interview long distance candidates. Interviews may be conducted live with a team, or asynchronously with pre-recorded questions. One of the biggest benefits of video screening interviews is the ability to compare two candidate responses at the same time. According to recent Aberdeen research, video interviewing helps improve key recruiting metrics, such as time spent sourcing, cost per hire, and satisfaction rates: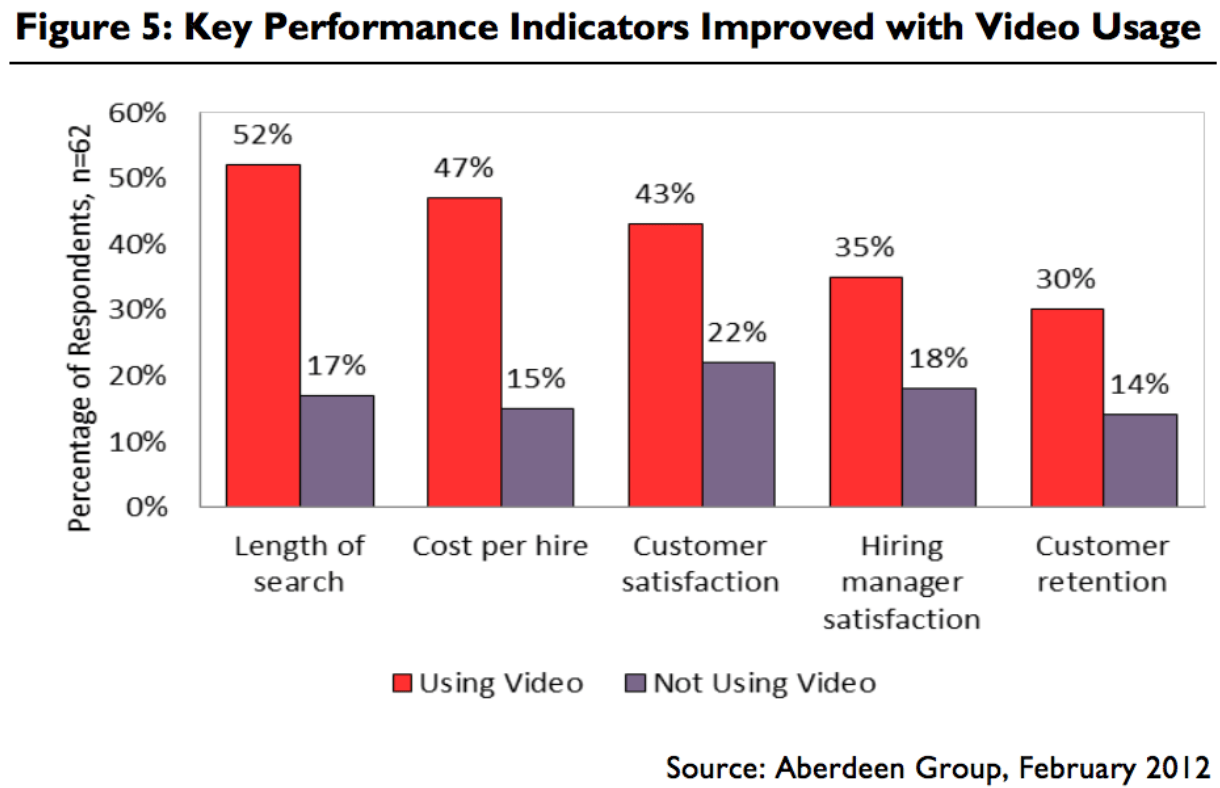 Executives are plagued by talent acquisition issues. Recent Bersin research found 58 percent are currently revamping or considering changes to their talent sourcing and recruiting strategies.
With so many ways for businesses to leverage video, refusing to incorporate it into your recruiting process is one of the biggest mistakes you can make.
Video has the power to transform the candidate experience, as well as improve recruiting metrics. It makes it easy for employees to share information about the company and refer others to join. Candidates are enjoying video on the web. If you don't delight them with a compelling visual argument for your brand, then they'll turn to a competitor who does.
Top Human Resources Software Recommendations
Rippling is the #1 Rated All-In-One HR Platform. You can onboard new hires in 90 seconds, and easily manage your company's payroll, benefits, HR, and IT -- all in one, modern system. It brings all of your employee systems and data together, and helps automate your busy work. Take onboarding, for example. With Rippling, you can click a button, and take care of a new hires' I-9, offer letter, payroll, health insurance, and more -- 100% online and paperless.
Processing routine HR tasks by hand and entering data in multiple systems can be time consuming and risky. That's why leaders depend on Paycor for a modern, adaptable, and unified system for all things HR. From engaging employee self-service, mobile push notifications and company updates to unlimited workflows, reminders, and notifications, Paycor's HR software helps you get out of the weeds so you can focus on bigger priorities like attracting, retaining and developing employees.
Designed for mid-market organizations (100+ employees). PeopleGuru develops and supports cloud-based Human Capital Management (HCM) software to help mid-market organizations attract, retain, and recognize their people and streamline back-office HR and Payroll functions. PeopleGuru HCM is a cloud-based, agile solution residing on one database that includes: HR, Payroll, ACA, Benefits Management, Time & Labor, Recruiting, Onboarding, Performance, Learning, Analytics, Salary.
Need a Little Help?
Talk with a software expert for free. Get a list of software that's great for you in less than 15 minutes.