The complexities of running a staffing agency can mean that your team puts off even thinking about upgrading your staffing agency software for fear of downtime or lost data. At some point, however, the pain of working in an outdated or inadequate system will threaten to overwhelm your team, and by then it's too late.
ALSO READ: 5 PeopleSoft Alternatives That Will Restore Your Sanity
Whether you know you need software upgrades or you're hoping you'll never need to change your software ever again, it doesn't hurt to know your options. This list of staffing agency software upgrades includes recruiting, performance management, and HR analytics. 
You'll also want to investigate candidate screening software, HRMS, and other ancillary products like payroll, document signing, or time tracking tools in your quest to build the ultimate staffing agency software stack. For a more complete list of options, browse the software categories on our site.   
Top Recruiting Solutions
In addition to all the standard recruiting software features, UltiPro's interactive resume uploader lets candidates update their information and add or request recommendations from others even after they've submitted their data. You can add online assessments including job fit, personality, and cognitive capabilities to the usual resume upload process as well. A flexible recruiting workflow means you can tailor the steps to the needs of different departments or positions.
iCIMS is an industry leader in recruiting software, thanks to its social recruiting and job posting features. They connect to over 300 social networks, and you can post job openings to existing employees' profiles to increase your reach. The software can create a dedicated Facebook mini-page for your job postings, and Twitter cards let you expand beyond the normal 140 character limit. Connections to job boards allow for automatic job posting when a position opens up. The integrated iCIMS applicant tracking system (ATS) helps your team organize and update recruits as they move through your application program.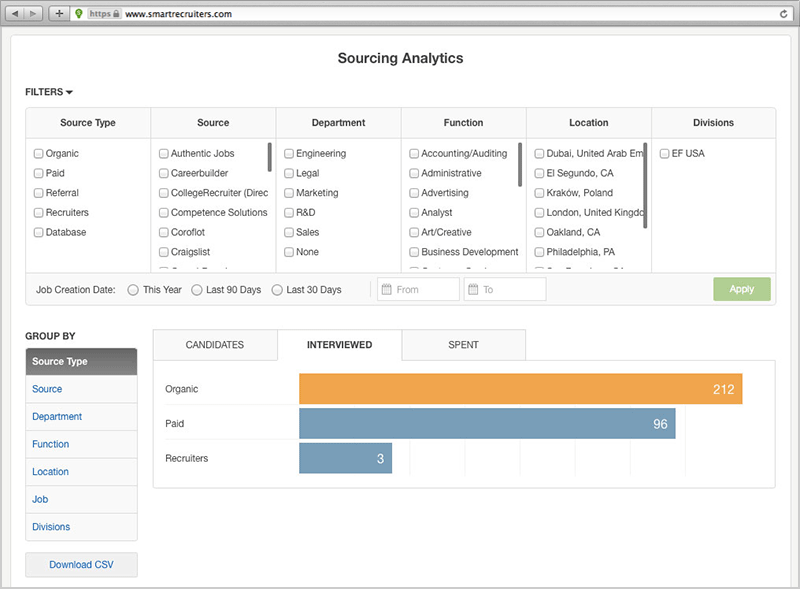 SmartRecruiters provides users with an applicant tracking system (ATS) that integrates helpful recruiting services like connections to job boards, dedicated career and application pages, and analytics that provide visibility into the hiring process. You can access the entire software suite on your mobile device, letting team members stay in touch with hiring professionals, even on the road.
Top Performance Management Solutions
Halgoen's performance management software guides you through the process of building and implementing an ongoing workforce improvement plan. The software includes coaching, guidance, goal setting and benchmarking, and reporting features that give your teams insight into existing processes and improvements. Halogen even provides your team with accessible support content to increase productivity and effectiveness.
ADP Workforce Now is an integrated HR, time tracking, and benefits administration system. HR tools include recruiting and performance management, with goal setting, compensation budgeting, and record keeping. This particular solution is popular because of its broad scope, as it can follow an employee through all the steps in the process — from recruitment to retirement.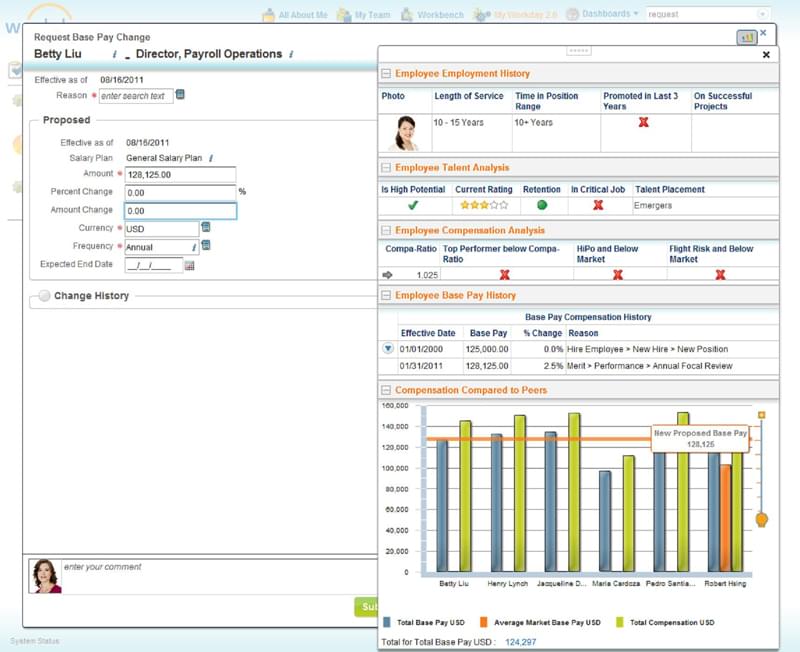 Workday combines analytics and reporting tools with its talent management software to help agencies identify and grow top performers and coach those who need help. Goals, performance reviews, and benefits factor into reporting schemas so you can track employee growth. The software can also help your teams identify flight risks so you can reduce turnover and plan future succession.
Top Workforce Analytics Solutions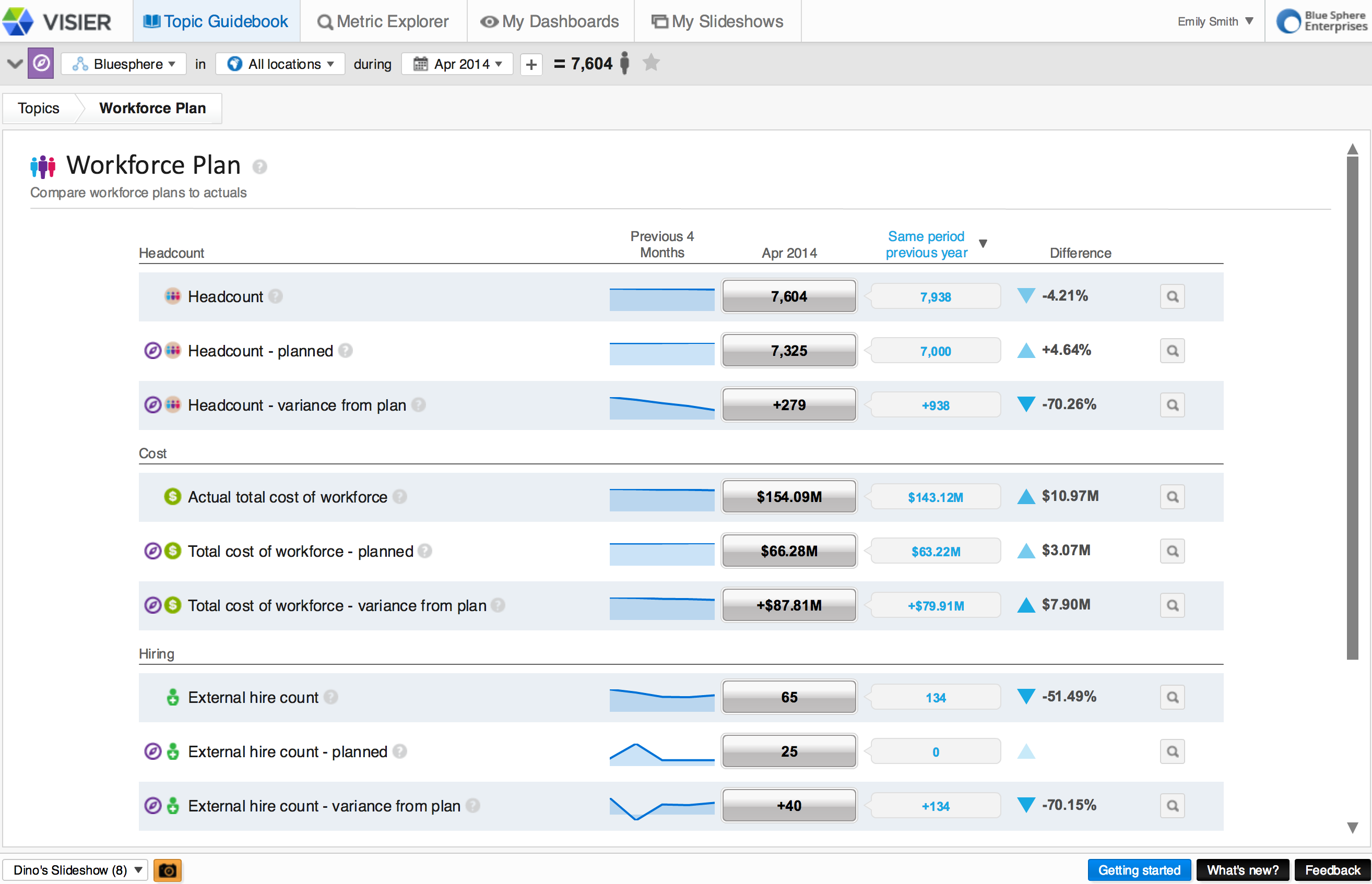 Visier combines HR and business data to give your team insight into the total picture of how your staffing affects your business. Track employee uptime, overtime, business cycle changes, and more against your budgeting and business data. All of this is available without the need for IT to build you a data warehousing program. Visier promises fast onboarding and time to insights at under 90 days.
SAP acquired SuccessFactors in 2011 and has since developed the workforce analytics tool into one of the most powerful in the industry, especially when combined with the larger SAP HR solution. SAP brings together the analytic power of SuccessFactor with over 2,000 industry and global metrics for benchmarking. The service also provides HR consulting and community forums for easy education at anywhere in the process.
Cornerstone OnDemand is a flexible solution for global workforce analytics and planning. The View module provides leaders and analysts with visualizations and reports for insights into current and future workforce needs or bottlenecks. Compare the relative retention risk and succession impact of both individuals and groups. User permissions let you decide who has access to your most important and sensitive data.
* * *
It's never easy to upgrade a software stack; implementation challenges, downtime, and cost burden are all real obstacles. With the right strategy, the tools on this list should overcome those challenges and offer your staffing agency increased productivity and deeper workforce insights.
Looking for other staffing agency software options? Visit our Product Selection Tool to compare over 150 HR software options, or contact a Technology Advisor today for a free consultation.