It's the end of the work day on Friday. I think it's safe to say that most businesses are ready to close up early and head out.
Not at TechnologyAdvice.
This past Friday after leaving work, about two-thirds of the company headed to the Best Buddies Gala and Casino Night downtown at the Nashville Convention Center. We had dinner and drinks, bid in the silent auction, and gambled away all the poker chips (or "fake money" as we called it) that we were given.
Best of all, we got to do all this in support of a great cause, Best Buddies (if you haven't heard about them, check out their website). Best Buddies empowers disabled people by matching them with a friend, and helping them find employment and leadership opportunities. The fun and learning that takes place is life changing. Our CEO, Rob Bellenfant, generously supports this cause by sponsoring their annual Gala, and inviting us all along to take part in the philanthropy.
This isn't the only time we've left work in order to give back to the community. In December, we took off a Friday afternoon and spent several hours shopping for Christmas gifts for one hundred children in Youth Villages. I was amazed to find that we were the second largest donator to their Holiday Heroes drive. Earlier in the year, the team went to a Youth Villages home and repainted the inside during the work day.
Rob makes a point of involving the team in these opportunities for service. We don't just watch him write a check. In fact, he doesn't accept many excuses for staying at the office during one of these projects. We're always encouraged to team build, and these trips have a little more purpose than a regular outing.
Corporate giving has become increasingly important to large companies over the past few years. However, a lot of the time individual employees don't get to directly take part in those donations. My favorite part about our contributions at TechnologyAdvice is that the whole team gets to do hands-on work.
We may be a small business, but we don't act like it. We give back in a big way.
We also get to know each other better as we contribute to local charities. The involvement really solidified my interest in working here, and I know it has for others as well. If you'd like a job that rewards you with more than just money, take a look at our current openings.
Also check out our photos from the Best Buddies Gala below: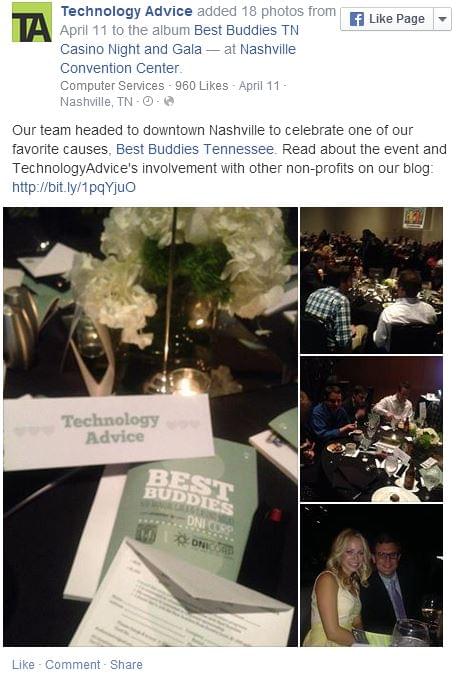 Top Human Resources Software Recommendations
Rippling is the first way for businesses to manage all of their HR, IT, and Finance — payroll, benefits, computers, apps, corporate cards, expenses, and more — in one unified workforce platform. By connecting every business system to one source of truth for employee data, businesses can automate all of the manual work they normally need to do to make employee changes.
Discover how recognition improves employee engagement and productivity.
Meet Bob, the modern HR platform for modern business. With Bob, HR teams get everything they need to operate efficiently and engage employees in one HRIS. Use automation and workflows to save hours on HR admin time. Connect employees from anywhere with a social media-like homepage that drives culture with communications, kudos, and recognition. Centralize all people data in one place for a holistic view. Share accurate reports for stronger insights and better decision-making.
Need a Little Help?
Talk with a software expert for free. Get a list of software that's great for you in less than 15 minutes.
Technology Advice is able to offer
our services
for free because some vendors may pay us for web traffic or other sales opportunities. Our mission is to help technology buyers make better purchasing decisions, so we provide you with information for all vendors — even those that don't pay us.