Recruitment marketing is a fast-growing discipline in the talent acquisition space. Now more than ever, hiring teams are using marketing tactics such as social media, nurturing, SEO, branding and web optimization to attract and hire the best candidates.
ALSO READ: 11 Hiring Strategies to Help You Find Amazing Employees
As these two schools of thought become more intertwined, it's important for your business to understand how and when to use recruitment marketing tactics. In this article we'll look at four of the most important:
1. Social Media
Social media is more than a place to post what you had for lunch; it can be an outlet for social recruiting, referral programs, and brand amplification. For many marketers, social media is a place to build brand awareness and exposure by promoting thought leadership pieces, blogs, and interactive media.
HR leaders have taken notice and are following suit, with over 94 percent of recruiters reportedly using social media as a sourcing strategy. To keep your recruitment marketing game strong, stay active on the big three: LinkedIn, Twitter, and Facebook. A company's social media account is a snapshot of the company as a whole. If an applicant likes what they see on social, they will be more inclined to take the next step and fill out an application.
2. Persona Messaging
A persona is a representation of the goals and behaviors of a group of users. Many marketers build personas to better orient their messaging, tactics and promotions. With the competitive talent market, it's important for recruiters to break through the noise and target their candidate pool by using personas. This tactic will make your job postings appeal to your intended audience, and not the masses. To develop persona messaging, try profiling your different job openings by:
Demographics

Firmographics
Once you've fleshed out these details, sketch out the persona to deliver more relevant and useful information to your intended audience. Here's an example from Buffer: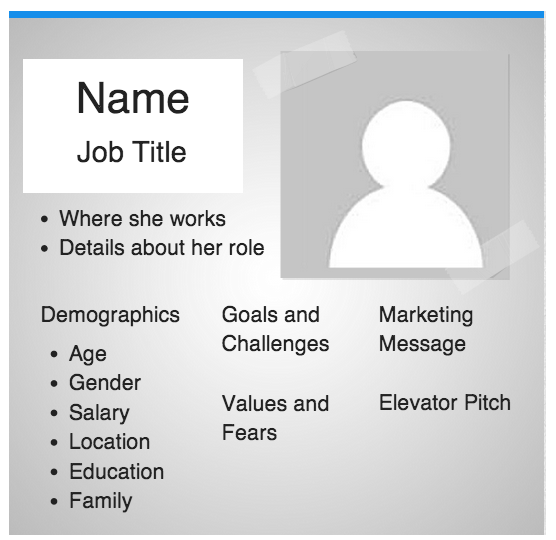 3. Employer Branding
Reported as one of the top recruiting trends of 2017, employer branding is an essential component of every hiring process. To attract and retain great candidates, your company must clearly, consistently, and authentically develop your brand presence, from your social media handle to your careers page.
A great way to define your employer brand is by answering the question, "What is my employee value proposition?" This is an important area to flesh out and one of the main reasons a candidate would want to work for your company. If you're having trouble defining your value proposition, here are some factors to consider:
What makes your organization unique?

Why do your top performers enjoy working at your organization?

What is your company's overall mission and/or vision?
Once you've firmed-up your employee value proposition, make sure it's clearly communicated across your digital assets.
4. Nurturing
Candidates are like consumers. In order to appeal to their unique interests, you need to create targeted messages that speak to their individual needs throughout the candidate journey. Think of it like the standard marketing funnel:
Each stage of the funnel is categorized by your candidates action. The top of the funnel is where your candidate gains general information about your company and expresses a casual level of interest. They may visit your website, view a video, or follow you on social media.
The middle of the funnel is where more engaged candidates are located. They have likely dug deeper into your company's brand by downloading a whitepaper, sharing tweets on social media, liking your company's status updates, or reading reviews on third-party sites. If you're putting out the right messages and have a stellar brand, your candidates will make it to the bottom of the funnel, where they convert into applicants.
* * *
As HR continues to evolve and innovate, it's important to stay ahead of trends like recruitment marketing so your organization remains competitive. If you don't already have a recruitment marketing strategy in place, don't feel overwhelmed by its complexity. There are plenty of tools out there to help you get started. Many lean SMBs rely on applicant tracking software to produce and optimize their end-to-end strategy, while others use a combination of social media outlets and review tools like GlassDoor and Great Place to Work to highlight company culture.
Whichever path you choose, keep in mind that hiring is a journey, and strategies like recruitment marketing are there to guide you in the right direction.
---
Amanda Groves is the marketing manager at JazzHR. JazzHR is powerful, user-friendly, and affordable recruiting software purpose-built to help growing SMBs exceed their recruiting goals. For more information, visit jazzhr.com.
Top Applicant Tracking Software Recommendations
Attract, hire, and onboard the right people with Pinpoint—the modern applicant tracking system designed for internal talent acquisition teams that care about flexibility, candidate experience, and want to spent less time on repetitive admin.

Simple, intelligent software and unlimited help from the Pinpoint team means you'll attract the right candidates, select the best, and wow your new hires from the moment they say 'yes'.
Tracker is an Integrated ATS, CRM and Recruitment Automation Software. We help staffing & recruiting firms save hours and place candidates quicker in our all-in-one platform so they can increase revenue while cutting operational costs.
Trakstar Hire is best-in-breed HR hiring software that improves candidate experience, streamlines timelines, and ensures you get the candidate you're looking for. With Trakstar Hire, you can find the best talent from a pool of remote, hybrid, or in-person applicants with automatic job opening postings, filtered candidate profiles, interview scheduling, 360-degree feedback gathering, and communication automation for hiring managers and teams.
Need a Little Help?
Talk with a software expert for free. Get a list of software that's great for you in less than 15 minutes.
Technology Advice is able to offer
our services
for free because some vendors may pay us for web traffic or other sales opportunities. Our mission is to help technology buyers make better purchasing decisions, so we provide you with information for all vendors — even those that don't pay us.