Whether you're recruiting for an enterprise, small business, or agency, recruiting technology can make your life easier. It provides a central location and database for all recruitment efforts, which streamlines your candidate search and fills jobs faster.
The demand for hiring software is huge and steadily growing. Talent acquisition just may be the most important part of HR, which is why it makes up a $120+ billion worldwide market. This huge software market boasts over 400 competitive talent acquisitions solutions for hiring, and continues to show growth of 10-12 percent. The market for corporate recruiting software alone is now over $1.5 billion in size.
Recruiting Software 101
Technology recruiting solutions are so popular because they are a key aspect of a company's talent acquisition strategy. Online databases for candidate profiles have replaced paper applications of yore. A recruiting hub now makes it easier than ever to collect, organize, parse, search, and filter candidate information.
Hiring managers can save information, customize their workflows, automatically parse and screen applications according to previously determined keywords, apply filters to searches, and ensure they are in compliance with federal employment and anti-discrimination laws.
Many systems even integrate with team calendars to automatically coordinate interview scheduling. Offer letters and other document templates can be created to save time, and some systems may also provide background checks or verify paperwork during the onboarding process.
A modern recruiting solution will offer the following core functionality:
Workforce Planning: creating pools of internal and external candidates
Sourcing: career sites, job posting management, advertising, social media promotion
Candidate Acquisition: referrals, screening, assessments, and selection, automated resume screening, ranking, and e-mail notifications.
Applicant Tracking: interviewing, background checks, candidate communication
Onboarding: meetings, orientation, training
Analytics: a paperless recruiting provides you with reporting and metrics embedded throughout the entire hiring process, so you can pinpoint bottlenecks in your hiring process, track your sourcing efforts, and manage advertising campaigns.
In addition to these basic features, you made need other functionality, such as workflow customization, website integrations, document collaboration, event management, rules and permissions, or integrated marketing automation. Some vendors will include these as standard features, while others may be purchased as add-ons. Below is a side by side recruiting software comparison from our buyer's guide, which details how functionality can vary among vendors: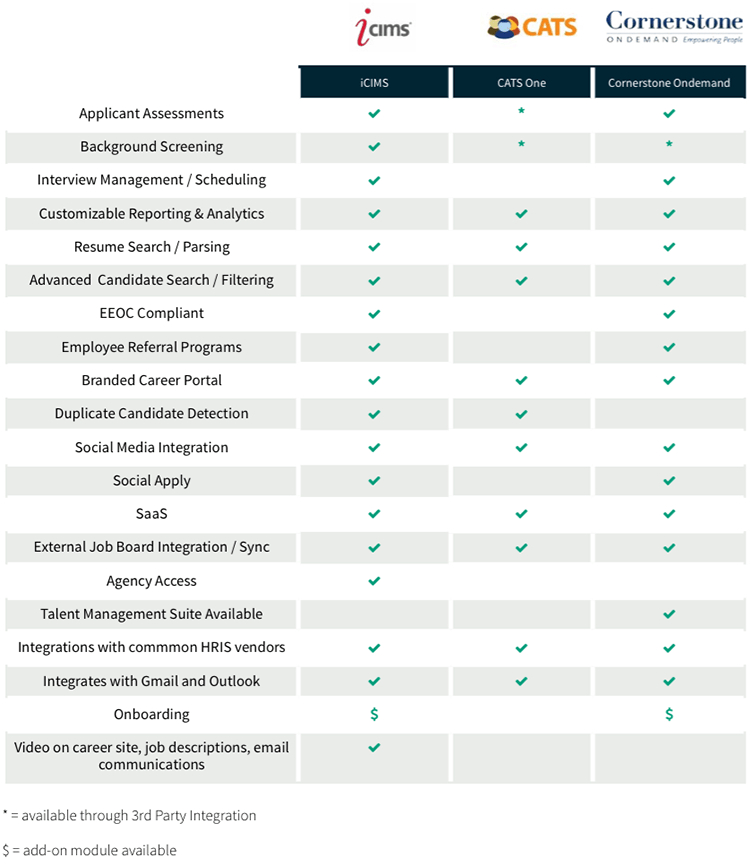 Biggest Recruiting Technology Benefits
A collaborative system that aligns with your company's internal hiring process will bring big benefits. Streamlining the hiring process increases efficiency by screening out unqualified applicants, reducing administrative burden, and providing analytics about the entire process.
The most cited benefits include:
Reduced time to fill: Since recruiters can collaborate on one central platform, everyone is on the same page. Hiring managers can comment on candidates for quick feedback, and automating repetitive tasks (such as emails and paperwork) moves candidates through the hiring process faster.
Improved quality of hire: Many recruiting systems provide an all in one system for background checks, knowledge tests, and skills assessments, which ensures each applicant goes through the same process and is qualified for the position.
Lowers cost per hire: Higher quality hires can reduce training costs and employee turnover. Coupled with an initial reduced time to fill, and recruiting technology can actually save money.
Overcoming Adoption Obstacles
Though comparing HR software is complex, gaining buy-in for an HR technology purchase is often the most difficult part of the software adoption process. Let's examine some common recruiting technology hurdles and how you can overcome them.
Cost
Investments in technology are frequently thwarted by a limited budget. But if you haven't shopped for recruiting software in awhile, you'll be pleasantly surprised to learn there's a solution out there to fit any budget.
Yes, even a $0 budget.
Most vendors offer cloud recruiting solutions with tiered pricing, which often includes a free version for small businesses or teams. Though these systems have limited functionality, they are a great way to gain a small proof of concept. If the free or low priced version can improve your recruiting efforts, it's logical to assume upgrading to get specific features will be worth it down the road.
Complexity and Usability
Many organizations operate under the "ain't broke, don't fix it" business model. These companies assume that technology will be more complex than their current methods. But recruiting solutions are built with best practices in mind, which focuses on automating the tedious work so you can focus on strategy. Creating one job opening and then automatically publishing it to job boards and viewing analytic is substantially easier than posting each listing one at a time, manually tracking them, and sorting resumes via email.
And don't worry if you're not tech savvy. As software vendors focus on providing consumer grade experiences, it's getting easier and easier to learn new systems. Take Breezy HR for example; their visual, Kanban-inspired hiring solution couldn't be simpler:
Applicants are in the left column. As they progress through the recruiting process, they simply move to right. You can immediately see how many candidates you have and what hiring stage they are in.
To make sure you don't get lost in a recruiting system, take advantage of free trials and demos. Once you test drive a vendor, you'll know immediately if it fits your needs.
Security
Many IT departments prefer to host confidential data on-premise within their own firewalls. However, modern cloud recruiting software can be just as secure as on-premise systems. The major difference here isn't security, it's actually control (or the feeling of control).
Security risks associated with SaaS are overblow. Most solutions offer comprehensive security features, and many vendors have even obtained independent security certifications (that are likely more rigid than your own IT department policies). Vendors that don't offer cloud technology are sometimes responsible for anti-SaaS propaganda, so be sure to vet vendors by seeking out unbiased technology advice and ensuring vendors policies are compliant with your standards.
Recruiting Software ROI  
In our guide to recruiting software, we detail several companies that transformed their business  with recruiting software. You can download the full guide below, but here are the highlights:
Pierpoint International adopted iCIMS Recruit and hired 100 percent of their goal in just 5 months, which amounts to 30 hires per month. Using iCIMS resulted in the company reducing their time-to-fill, improving their metrics, and impressing their leadership team.
uShip was able to cut their average hiring cycle time by 400 percent with The Resumator.  Their analytics enabled the company to efficiently hire more performers by tracking sourcing data, as well as supporting customized reports. In one year, uShip nearly doubled in size. Angie, uShip's recruiter, says, "There's no way I could have done that without the reporting, branding, and communication tools in The Resumator."
_____
Don't let your business suffer through the recruiting process. Download the recruiting software guide below to get started, or use our product selection tool to get personalized recruiting software recommendations. Recruit the right people, faster.