"I've worked for a Fortune 100 company, and I've worked for a startup of five people. I love TechnologyAdvice because it's the feel of the startup with the stability of the Fortune 100 company."
No description of TechnologyAdvice brings me more joy and more pride than this quote from our senior developer, Thomas Vaughn. This is exactly what we aim to be as a company: successful and stable, yet always forward-thinking. We push the limits by approaching problems with a startup mindset.
That mindset and stability keep us open to new ideas — including being more open in our office.
One day last summer, I walked into the office to find my five-person management team sitting alongside three relatively new entry-level hires in an open area of our office designed to hold roughly four or five people. Four of these five managers had nice, cushy private offices, but had all agreed those walls between them had slowly eroded the effectiveness of their communications.
For one quarter last year, this is what they did to fix it: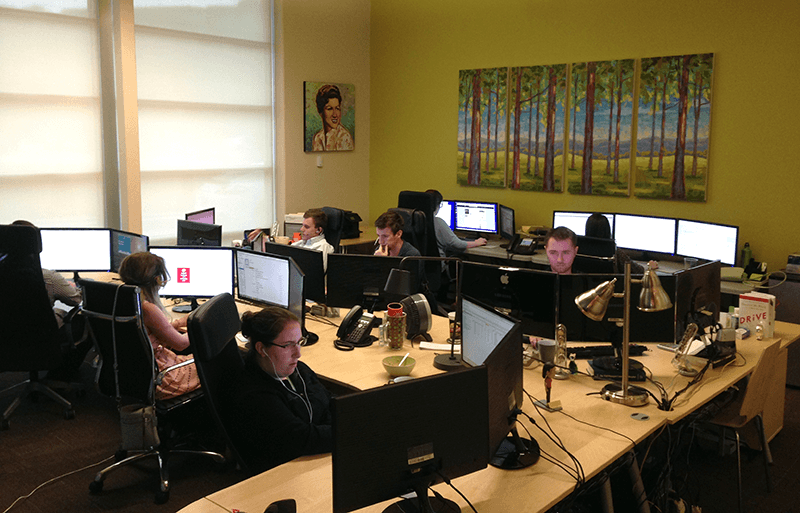 Now, there's been plenty of knock-down, drag-out fights over the productivity and quality of work that comes from an open office environment — much of it incredibly negative. For example, did you know open-plan offices were devised by Satan in the deepest caverns of hell? Yeah, me neither.
Recent research from the Harvard Business Journal indeed shows a majority of employees find open offices to be too noisy and distracting. Employees can't control what they hear, nor who hears them. On the other hand, many case studies have revealed these environments increase daily communication about concrete aspects of work, such as project schedules and assignments, and can provide huge boosts in trust, collaboration, and organization.
We found both to be true in our experience.
There were two huge positives that all eight team members reported from their three months spent together:
Improved communication and more trust in each other, which led to a greater understanding of roles/responsibilities, and workflow organization.
The opportunity for more collaboration fostered more creativity, leading to better and faster solutions to problems.
"Many people didn't know when to communicate 'what' to 'whom' as our staff and business grew. Working together in one room made each department more transparent in its tasks and process, which helped everyone learn what is most important to each team member and how they like to operate," said our CIO, Evan McCutchen, who was one of the five managers in the room.
That transparency was invaluable for the three new hires who participated. They experienced first-hand how each department relies on the other and how each member of those departments prefers to work, which developed better working relationships in a short amount of time.
"It was incredibly helpful to see the dynamics of how the teams interacted.  I was able to quickly understand the workflow and where certain responsibilities fell," said Zach Jones, who was in his sixth month as director of business development when the experiment started. "I think it's a great way for new team members to understand the business and the personalities of the people around them."
It wasn't all hugs and high-fives, though.
Noise was the chief complaint. Most of the team members who participated spend a good portion of their day on the phone, so eight separate conversations happening at once can make it tough to focus. Without a door to close, they were all also open to more distractions from people walking through or stopping by for a quick chat.
By the end of the quarter, each team member (especially the management team) was relieved to retreat to their original offices and desks. After all, I don't know if I could give up my huge windows and plush office furniture for too long either. But while patience may have occasionally been thin, and a few ear plugs were requested, the overall productivity and efficiency between their departments received a huge boost.
It's a tactic we're likely to try again as we continue to grow and add new team members — just over a shorter amount of time. Most involved felt they could have broken up the setup after six weeks or so, but they made a commitment to three months and they stuck to it.
We're sure glad they did.
Have you ever tried anything like this at your office? I'd love to hear your feedback and experience. A collaborative culture is a big focus for us, and we make every effort to keep our team engaged at work and excited about coming back.
If this sounds like a place for you, be sure to visit our careers page and check out our openings. You may just end up sharing a room with eight of your colleagues, or even an office with myself, to learn and grow as a member of our team.