Update: As of January 28th, 2022, Kronos seems to be operational again after a six-week outage.
Thanks to a recent cybersecurity incident, Kronos Private Cloud is currently unavailable and likely will be for several weeks. Coming right before payday, this Kronos outage left a major gap for many businesses as they attempt to recreate timesheets and payroll records that are suddenly just gone. Luckily, organizations scrambling to replace Kronos have quite a few options that won't take nearly as long to implement as the HR giant.
Because Kronos is a full HRIS, you'll likely need several standalone solutions to replace everything you're missing. However, these will be much easier to get up and running than trying to find a replacement suite, and because they're SaaS, if you want to return to Kronos after the outage, you can cancel your subscription without much trouble.
Choosing a Kronos replacement
Best payroll alternatives
Payroll is probably the most important process you need to replace right now, so consider these standalone options that all have fairly quick implementation times. And if you decide you like them, many have additional features and modules you can add on later to create a full HR suite.
Also Read: ADP vs Paychex: 2021 Comparison
QuickBooks Payroll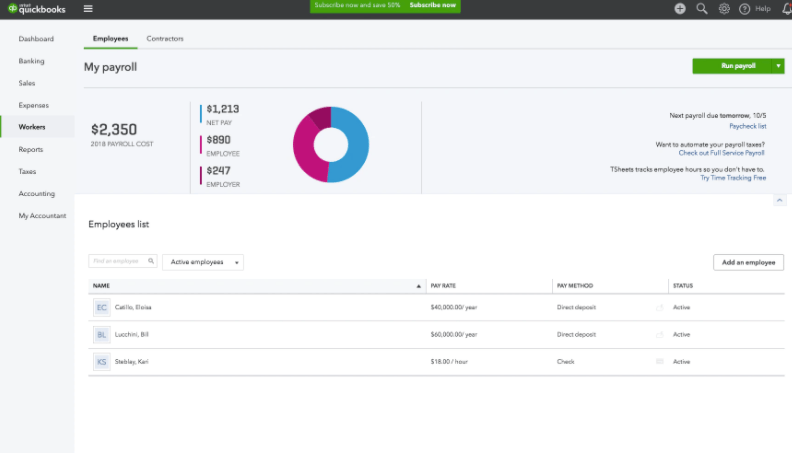 QuickBooks Payroll is one of the easiest options to implement, especially if you already use QuickBooks for accounting. The number of tutorials and knowledge bases available makes it easy to self-serve without help from support, and it automatically runs payroll to reduce manual errors. QuickBooks also includes a time tracking system that automatically transmits timesheets into payroll for easy management. However, the platform can be fairly expensive compared to similar products, and same-day direct deposit isn't included unless you upgrade to a second or third-tier plan.
Paychex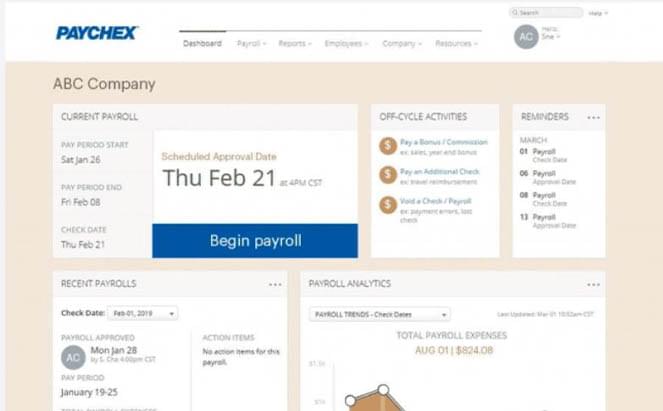 Paychex offers 24/7 support for their payroll customers, which can help speed up new implementations for businesses making the switch from Kronos. It offers payroll solutions for businesses of any size and has modules available for benefits, time and attendance, and other HR needs if you want to add them. And enterprises have the option for a full HRIS, complete with learning management, performance management, and retirement. There are over 160 report types to choose from, and you can add custom fields. Paychex also includes backup and recovery to avoid data loss.
ADP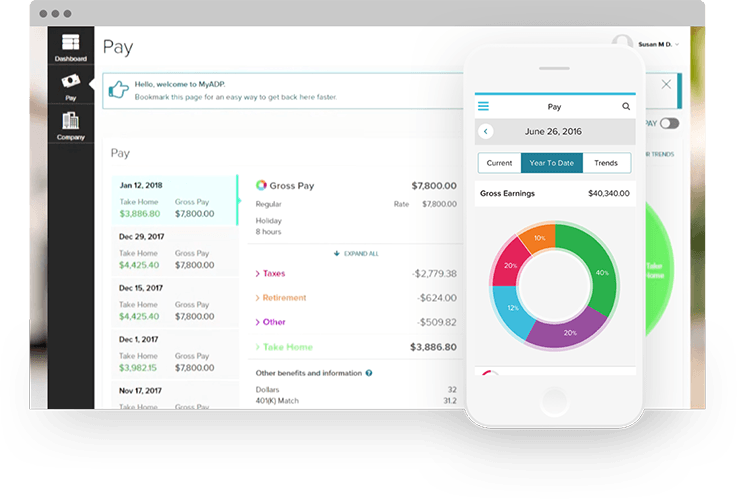 Likely knowing a lot of Kronos users are desperately looking for a new payroll solution, ADP is currently offering a 4-month free trial for new users. Businesses can choose from several payment options, including direct deposit, paper checks, and debit card payment, which could help affected businesses get payments out to their employees faster. There are a variety of automations available to simplify workloads and reduce human errors. And the platform is scalable with different pricing tiers and additional HR features like time and attendance, recruiting, and performance management.
Best time and attendance tracking competitors
With the Kronos cloud unavailable, businesses also need to replace their timesheets from the last two weeks and put a plan in place going forward. These solutions can help offset some of that work.
Rippling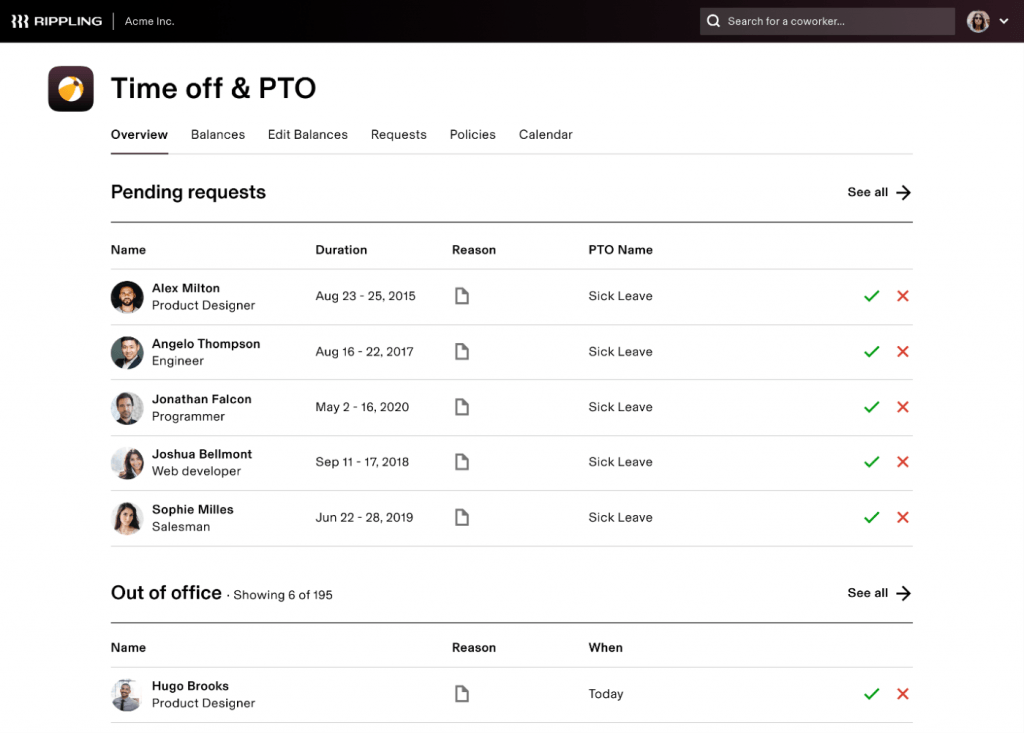 Rippling automatically tracks employee hours to avoid manual errors and missed time. Employees can clock in and out using a mobile or desktop app, or companies can set up a tablet kiosk where everyone shares a time clock. HR administrators can also write rules for the system, like overtime procedures or break times, and the system will send alerts to employees and managers if the rules are broken or approaching a threshold. In addition to time and attendance, Rippling also offers payroll, benefits administration, learning management, and more.
Timesheets.com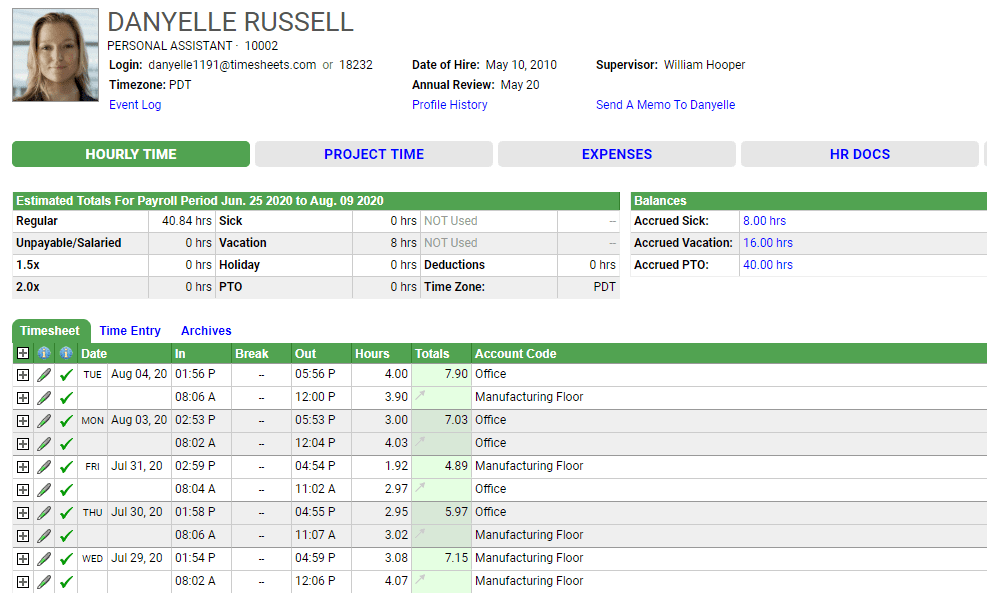 Timesheets.com offers a free time tracking system with paid upgrades to consolidate timesheets for larger businesses. Managers can customize settings for each employee or employee type, simplifying the process for businesses that employ full-time employees, part-time employees, and contractors. Plus, audit trails help businesses track changes to timesheets for better security and compliance. The dashboard provides a real-time view of who has already clocked in and who's off that day. And at the end of each pay period, the system automatically sends a payroll report to ensure accurate payments. 
Deputy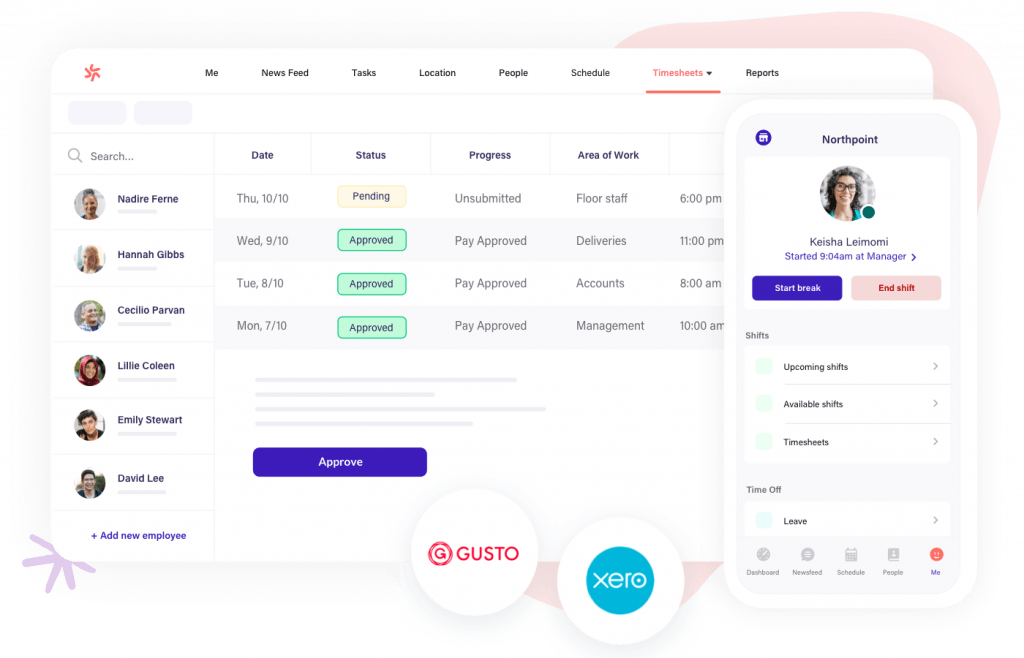 Deputy is a scheduling and time tracking system that integrates with a variety of payroll and HR systems for easy and accurate payroll. The user interface is intuitive and simple, guiding both managers and employees through the process of submitting and approving timesheets. It provides automatic wage calculations to avoid human error in payroll and encourages employees to take appropriate breaks for both a healthier team and better compliance. The timesheet app will also flag missed breaks to keep managers in the loop, and it provides a real-time look at attendance. 
Best Kronos alternatives for employee scheduling
For shift-based businesses and those with a lot of part-time employees, standalone employee scheduling software can save managers scheduling time while providing records for payroll. 
Also Read: 3 Employee Scheduling Software Hacks for Major Time Savings
Shiftboard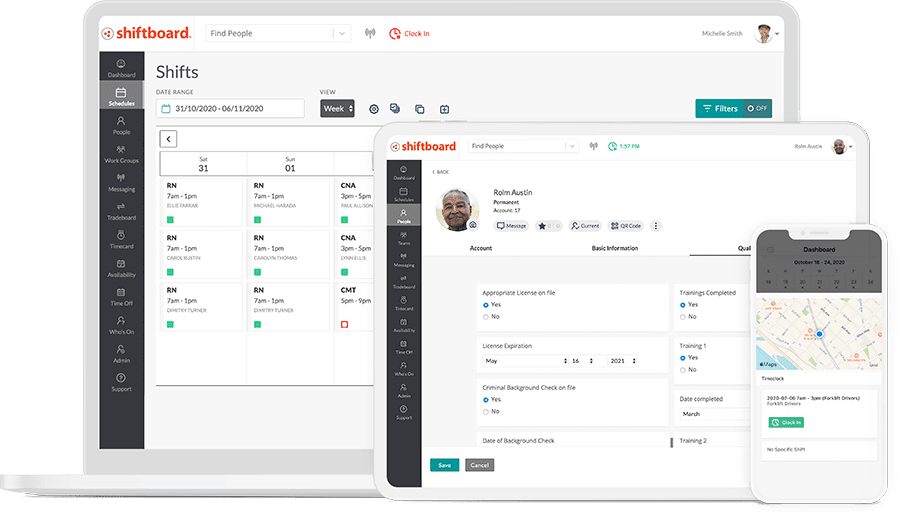 Shiftboard offers two product options that cater to either production-centric businesses (SchedulePro) or service-centric businesses (ScheduleFlex). ScheduleFlex allows employees to self-serve, picking days and times that they're available to work and giving them the option to trade shifts as needed. SchedulePro is great for demand-based scheduling and keeps businesses in compliance with labor laws, union agreements, and fatigue standards. Both options offer customization to meet the needs of your business and integrate with payroll and HR software for better reporting. 
7Shifts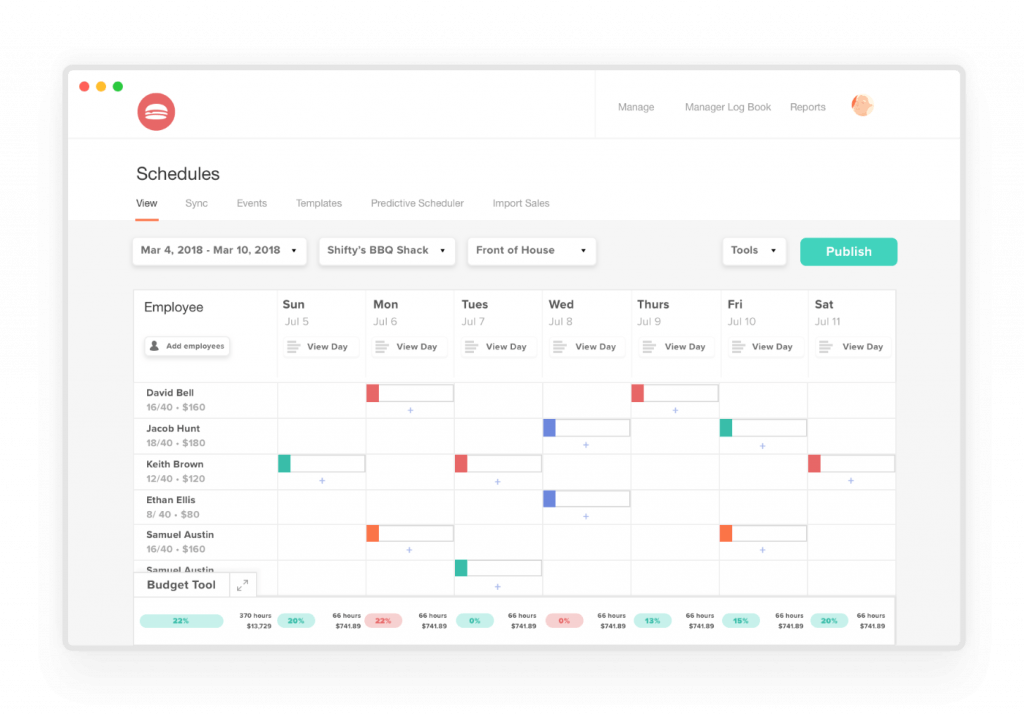 7Shifts is a great option for restaurants, providing easy integrations to both point-of-sale (POS) systems and payroll software. Managers can quickly create schedules with the drag-and-drop interface and notify their team automatically when there are updates, and it includes a time clock component to track time and attendance. Automated surveys help keep employees engaged, while automatic schedule alerts notify managers about breaks, overtime, and other compliance issues. There's also a free mobile app that employees and managers can use to chat, check the schedule, and get alerts about changes.
When I Work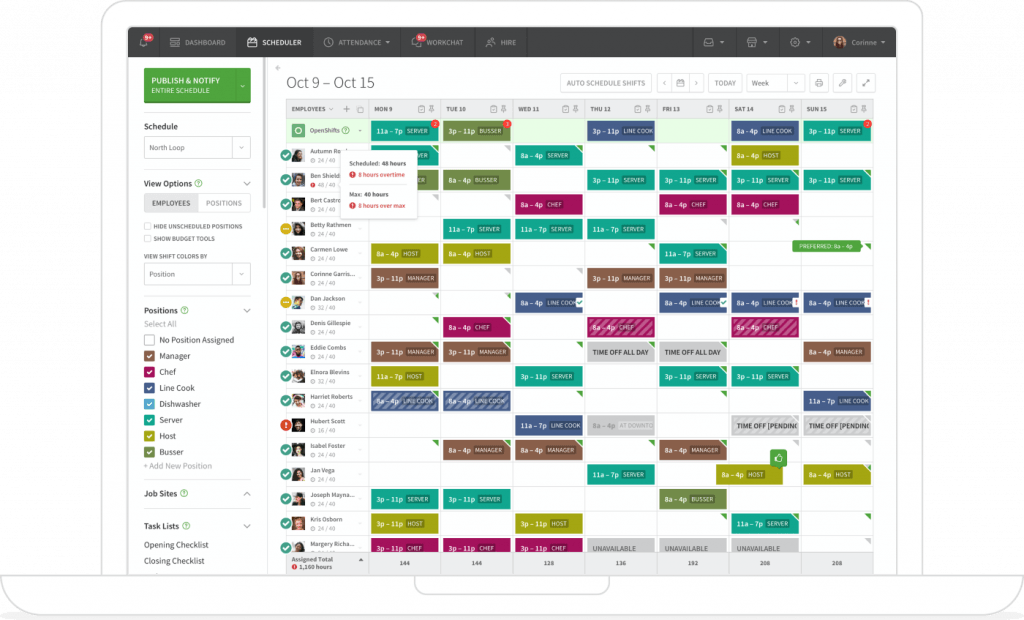 When I Work is an employee scheduling and time tracking system that includes a full-featured mobile application. Employees can manage and request time off, trade shifts, and update their availability all from their smartphones. The platform works well for teams of any size and can scale with your business as it grows in size and across multiple locations. During scheduling, the system automatically matches open shifts with available employees who have the appropriate skills to make sure all necessary skills are covered for the open time. Managers can also use When I Work to schedule shifts for off-site or remote employees.
Choose Kronos competitors that integrate with your existing software
One of the most important things to consider when considering alternatives for Kronos is to find software that integrates with your existing tools. Native integrations are the best option, but when those aren't available, make sure you can at least use APIs to connect each system. Additionally, businesses looking for a quick replacement should opt for cloud-based software because it's easier to set up and won't require as many technical resources.
Once you're ready to make a full replacement of Kronos as your HRIS system, check out our HR Product Selection Tool to find software that will meet your needs. Answer a few questions about your business, and in as little as five minutes, you'll get a free, personalized list of product recommendations.
Read Next: Best HRIS Systems & Platforms
Top Human Resources Software Recommendations
Stop chasing your company data! Workzoom consolidates and automates your people management into a single solution for a per-employee per-month price. Leverage best practices in all areas of people management so you can save time and money and get back to work.
monday.com Work OS is the flexible, no-code Human Resources software that allows HR managers to manage the entire employee lifecycle in one place. Track the recruitment process, onboard new employees with the help of pre-made templates, safely store personal information, plan team-building activities, and use automations to speed up and simplify all these workflows and many more.
Technology Advice is able to offer
our services
for free because some vendors may pay us for web traffic or other sales opportunities. Our mission is to help technology buyers make better purchasing decisions, so we provide you with information for all vendors — even those that don't pay us.