Learning in the workplace has moved beyond a human resources priority to a company-wide necessity as businesses address changing marketplaces, new technologies, and greater access to knowledge.
Things have changed a lot since 2005, when about 70 percent of professionals felt eLearning software wasn't as engaging as face-to-face courses. But the Covid-19 pandemic, virtual schooling, and the move to remote work has significantly increased the number of schools and businesses using LMS software. And new products have made video and interactive learning software easier to use.
ALSO READ: 5 Ways to increase Employee Engagement with Your LMS
eLearning software has become particularly valuable to businesses because it provides teachers and learners with an all-access pass to educational material. The best eLearning software lets teams update and improve current training materials as trends and technology evolve.
Defining a great eLearning software tool depends on what you and your company hope to gain through your online learning. Some of these platforms are great for building and maintaining training systems devoted to internal best practices. Others work better for supplemental learning in schools and universities with blended classrooms. Still other eLearning platforms work for those who intend to monetize their courses.
Let's take a look at some of the best eLearning software options on the market.
Adobe Captivate Prime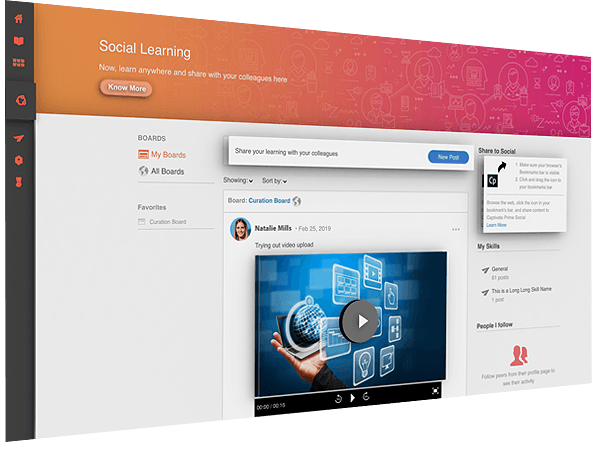 Adobe has long been a leader in the creative corporate software space and went through several forms from a video screen capture software into a full-featured eLearning platform. You can build mobile-responsive eLearning courses that learners can watch from their mobile devices, a feature perfect for companies that want to use eLearning as an extracurricular activity for employees. Captivate Prime is available as a desktop download and through Adobe Cloud.
Because it's an Adobe product, your team has access to the full Adobe library of visual assets including Typekit and images, video, and games. Use these features to spend less time designing the images and videos surrounding your training. Advanced workflows keep your learners on track without unnecessary administrative interventions.
Docebo LMS
Docebo's LMS is a full-featured eLearning software product that works well for both large enterprises and startups looking to expand their training programs. Use the reporting features to stay informed about employee progress, and connect to the API to bulk-update users and courses. You can also download stats to your business intelligence software.
Docebo provides access to a wide network of ready-made training you can use to jumpstart your eLearning courses, anything from safety training to best business or sales practices. The e-commerce features give companies the option to monetize their courses to help build out business offerings. Plans are based on active users, so small companies can sign up without breaking the bank.
SAPLitmos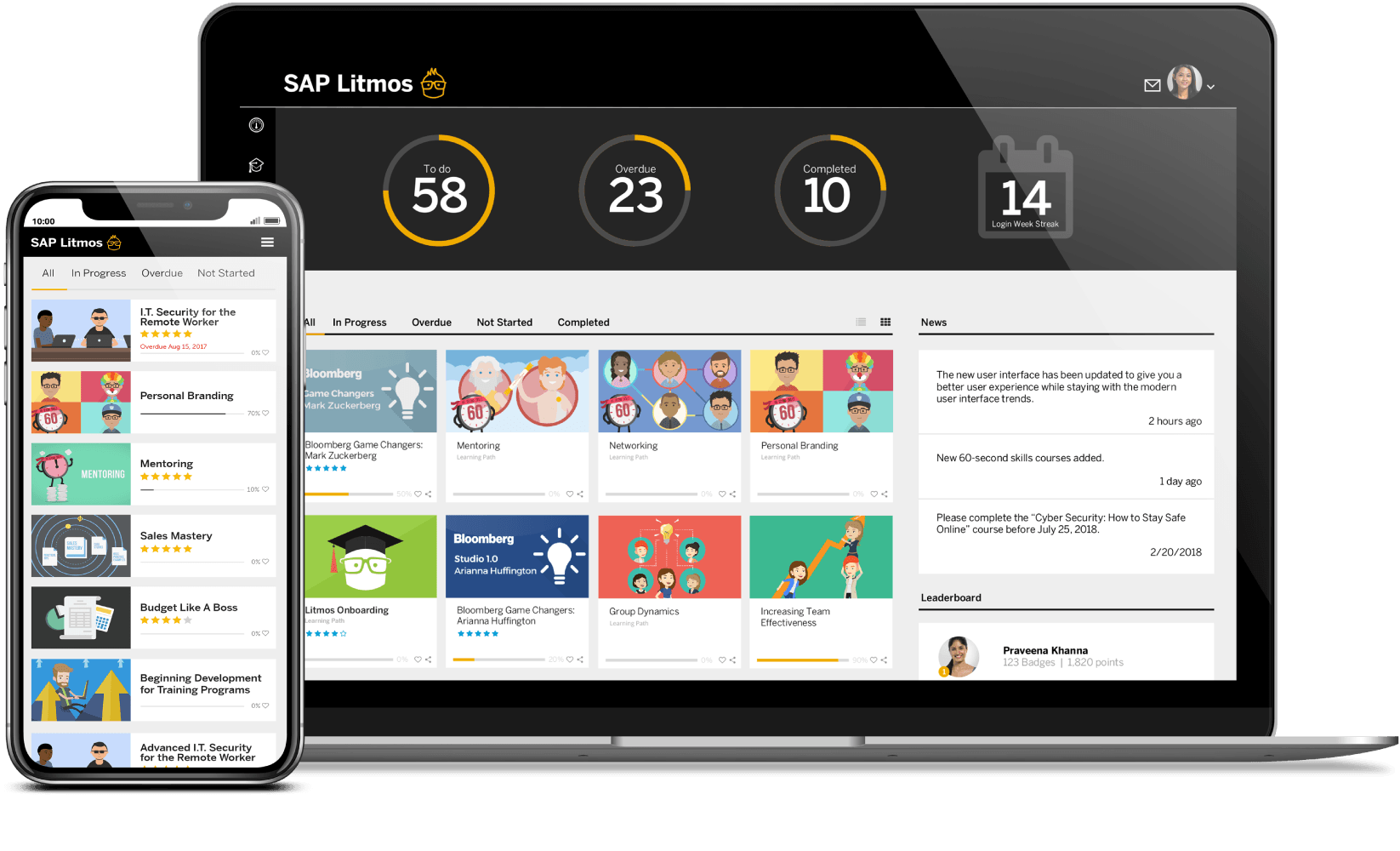 Litmos offers several eLearning solutions for companies looking to expand their educational training. Particularly, they provide employee and customer training supplemented by operational tools and content libraries. Test the effectiveness of the training with quizzes and assesments, and poll your learners with surveys to gather feedback.
Motivate your learners with gamification tools that let them earn points and badges for their progress, based on predefined paths you configure. Provide deep analysis of your program's success with sharable reporting dashboards.
TalentLMS
TalentLMS provides an eLearning platform flexible enough to serve nearly all industries and innovative enough to keep those training programs up-to-date. Pull your training materials from existing presentations and videos by connecting social platforms or uploading your content. Assess your learners with multiple test types, and view their progress through built-in reports and dashboards.
TalentLMS gives companies a full spectrum of eLearning tactics, including video, self-guided courses, blended learning, and videoconferencing. No matter the needs of your learners, the program can handle it. The internal calendar, messaging, and notifications keep learners engaged and remind them to keep up their progress.
Skillsoft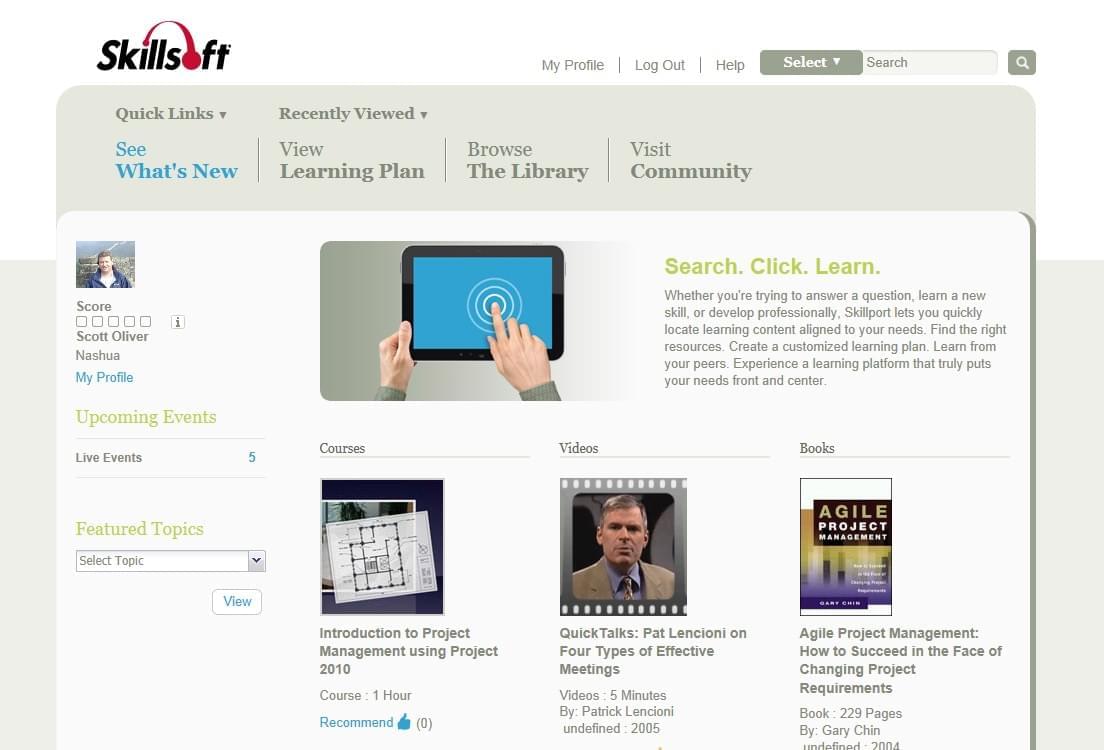 For companies that don't have a fully articulated internal training program, Skillsoft provides content on business, IT, digital skills and compliance. These eLearning programs were built by professionals and vetted by industry leaders. Companies can sign up to access the full or partial range of knowledge articles.
The Skillport feature provides a learning library and company community that brings employees together to talk about the skills they learn every day. Customize training programs for your employees, or provide access to the Skillsoft learning library, and let learners work at their own pace.
* * *
eLearning software comes in all shapes and sizes, and these are just a few of the options on the market. Use our LMS product selection tool to compare more options, or contact one of our Technology Advisors for a free consultation.
Top Human Resources Software Recommendations
Rippling is the #1 Rated All-In-One HR Platform. You can onboard new hires in 90 seconds, and easily manage your company's payroll, benefits, HR, and IT -- all in one, modern system. It brings all of your employee systems and data together, and helps automate your busy work. Take onboarding, for example. With Rippling, you can click a button, and take care of a new hires' I-9, offer letter, payroll, health insurance, and more -- 100% online and paperless.
Processing routine HR tasks by hand and entering data in multiple systems can be time consuming and risky. That's why leaders depend on Paycor for a modern, adaptable, and unified system for all things HR. From engaging employee self-service, mobile push notifications and company updates to unlimited workflows, reminders, and notifications, Paycor's HR software helps you get out of the weeds so you can focus on bigger priorities like attracting, retaining and developing employees.
ExactHire provides a virtual employee onboarding process, eliminating the need for producing and storing paper forms and documents, and enabling employers to deliver a digital onboarding experience from any location.
Need a Little Help?
Talk with a software expert for free. Get a list of software that's great for you in less than 15 minutes.