Applicant tracking can demand a lot of time from recruiters, but it also promises a steep return, if done well. Good employees will work hard to earn their salary and benefits; they'll be worth the time and energy you expended to recruit, interview, and train.
A 2015 survey of 2,100 CFOs revealed that the costs of bad hires are more than financial: the top two consequences of bad hires were team morale and productivity. Having the right technology — in this case, applicant tracking software (ATS) — isn't just about productivity. It's about making the right personnel investments.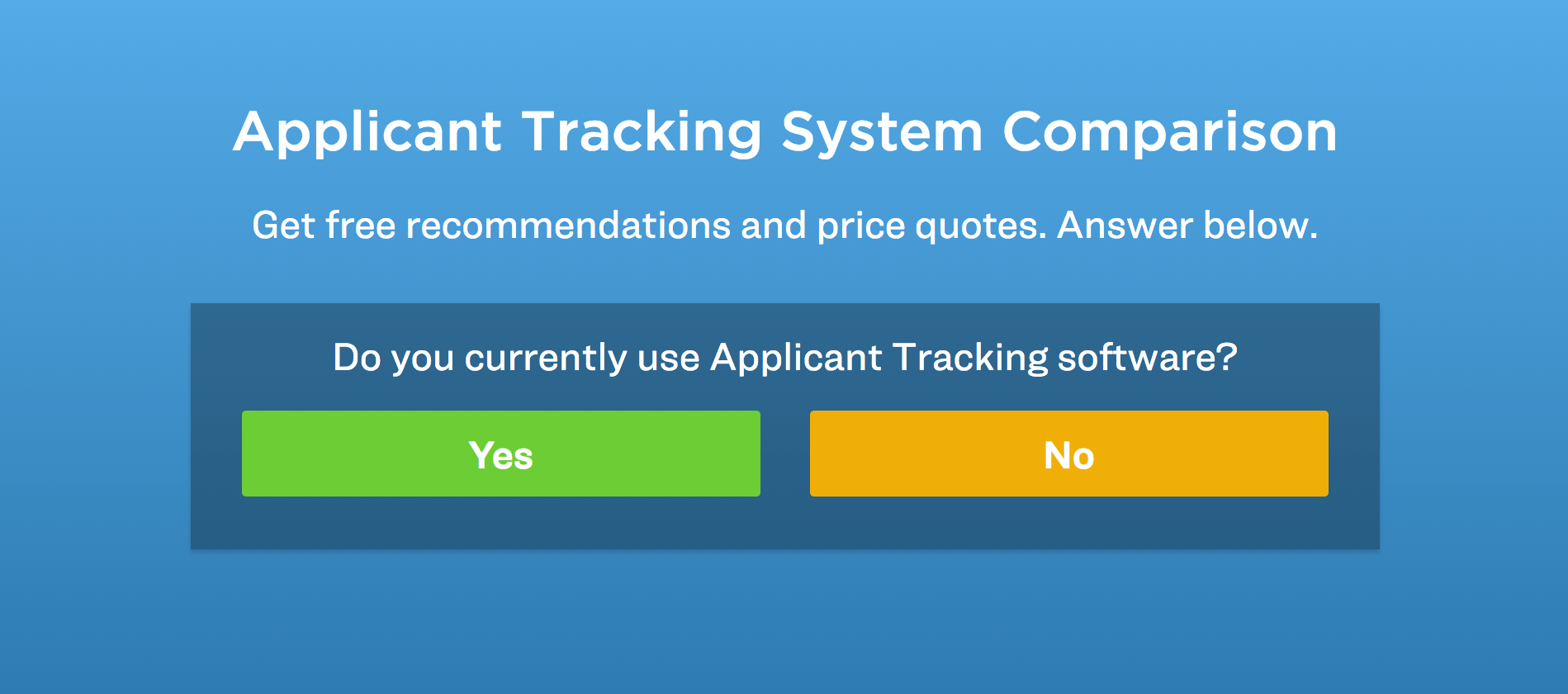 The best applicant tracking software streamlines the process of sourcing candidates, posting to job boards, and making a final offer. Some of the options listed here have capabilities that extend beyond the offer into "core HR" (onboarding, benefits distribution, payroll, etc.). You'll also find options for large companies with more intensive sourcing needs, and standalone ATS solutions built for small businesses. 
ATS + HR Combos
Taleo provides a full-service HR solution with talent acquisition features built in. You can create talent search campaigns that connect directly to your social media, then build an internal and external community for candidates to interact with your current employee base.
You can also search for qualified talent across internal and applicant databases. Taleo helps you turn a successful candidate into a successful employee by moving them through the hiring process and subsequent goal setting. Like many products that have gone through the Oracle acquisition process, Taleo is big in the industry, but the UI isn't very intuitive, which is even more frustrating since there's not a ton of ground-level support. Users suggest you build training programs and/or spend time with a client success representative.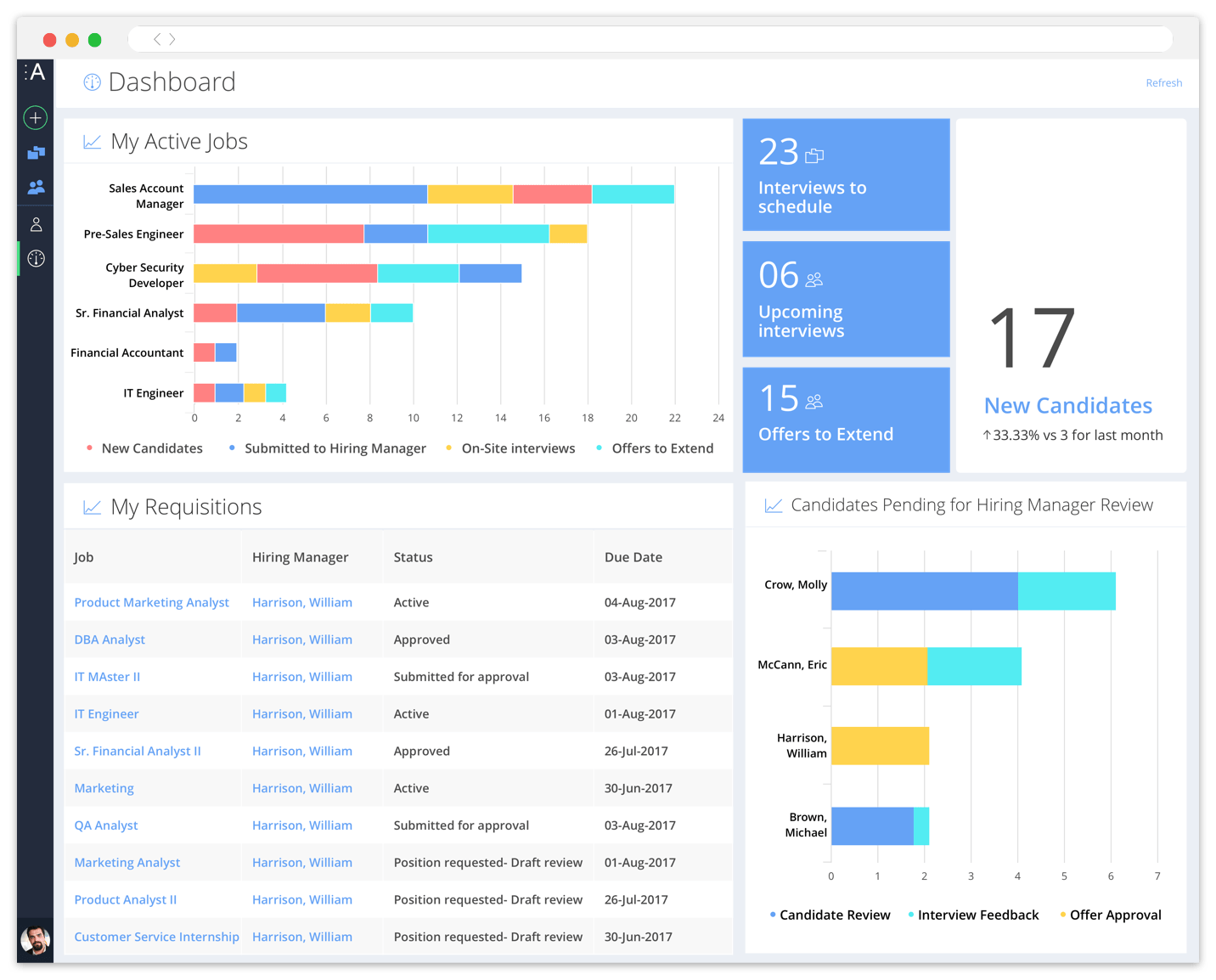 Avature lets you build your own branded applicant portal and job board with mobile responsiveness and third-party login capabilities. It also includes flexible templates and approval processes, powerful searching features (including boolean and custom tags), interview scheduling and processing, and applicant profiling.
The system tracks all interactions and generated offers from every step of the sourcing process, not unlike a CRM platform. Avature provides built-in analytics and reporting, as well as migration help for buyers moving from other products. Their open API lets users easily connect third-party systems for expanded functionality, or import candidates using XML.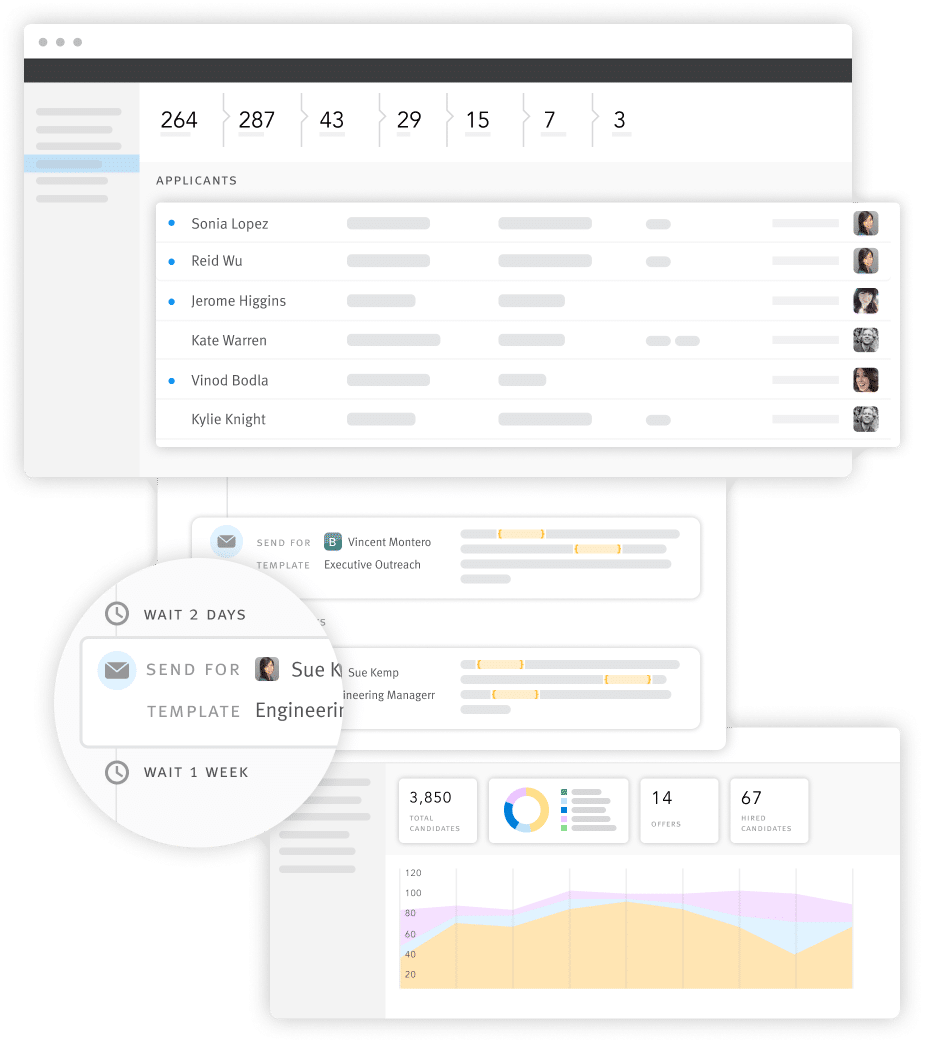 While Lever does not include core HR capabilities within its platform, its native connectors for CRM and other HR systems help HR pros create a single source of truth. Lever shines when it comes to extensions, like the optional browser plugin for sourcing new candidates and email syncing to track all talent interactions in a single location. Calendar connections help hiring teams coordinate meeting times with candidates, and trackable referral links let you understand where your best talent comes from. There's even a custom connection to LinkedIn Recruiter to help you build your social talent network. While it's connected to all of this data, Lever provides their own custom reporting and analytics through built-in dashboards.
Applicant Tracking for Large Companies and Recruiting Firms
Bullhorn recently acquired the company MaxHire, which occupied a similar market share. This recruiter-focused system uses ATS features to organize applicants and onboarding, but also integrates CRM features for the customer-facing side of your business — could be a good choice for mid-size and larger companies hoping to address both needs with one piece of software. Bullhorn also offers predictive intelligence, which helps HR and recruiting professionals uncover peak contact times and passive applicants to keep you from missing opportunities.
Rekruta uses the greater web to help you build a broad applicant network. Rekruta's Radar software accesses all public data from social media and web sources to give you a full picture of your applicant pool. It also scores candidates and helps you find ones that are likely to move forward.
This analytics-heavy system can speed workflows and find bottlenecks in hiring process to help your teams waste less time. It's an interesting option, but Rekruta is fairly protective of information about how their product actually works. Be ready to sign up for a demo or wade through a few support documents.
JobDiva's recruiting software integrates CRM, vendor management, and ATS. This software is designed specifically for recruiting companies, although it could also be used for client-focused sales organizations. JobDiva includes an internal search engine to help recruiters understand combined pools of public and private job candidates. You can integrate your access to subscription job boards, but the subscriptions aren't included in your software fee.
Standalone ATS
CATS works as a standalone ATS and also connects to other HR systems so your internal sales or recruiting team can build a complete client and connection network. While CATS does export data to other HR software and provides an internal search function, it doesn't include internal analytics.
What CATS lacks in data reporting it makes up in customization and exports. You can build your own custom workflows and send posts to Slack, your email marketing program, or WordPress. There is also an API to build new integrations if you don't see what you need. Finally, CATS lets you build custom job sites and connects to your social media to help publicize job posts.
Zoho Recruit connects hiring managers to job boards and social media sites for easy posting. Like many of the other options here, this program lets you build a custom career page that lives on your domain. Zoho also includes an instant resume parsing tool so you can gather data from lots of sources, even websites. 
Recruit eases the burden of the interview and onboarding processes with task management, file sharing and collaboration tools, and workflow automation. These features reduce the repetitive tasks associated with interviewing. If you're looking for analytics, Recruit provides more than 20 standard reports, as well as an option to build your own. 
Breezy brings an agile project management approach to your recruitment process with a kanban-style dashboard to organize your recruitment pipeline. This ATS integrates with more than 20 job boards, as well as email and calendar providers for easy scheduling. Breezy's RESTful API can connect almost any other software tool, and a Chrome extension helps consolidate your data without cutting and pasting. The entire platform was built for ease of use, even down to its mobile app with push notifications. Can't make it to the interview in person? Use the built-in video conferencing to connect.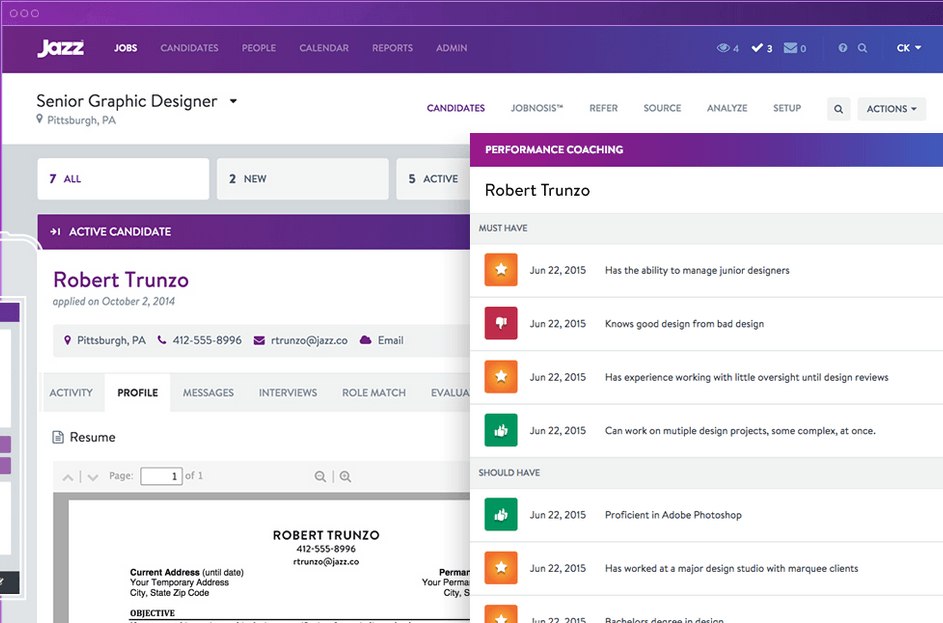 Jazz is a SMB-specific ATS that helps recruiters connect to:
Job boards

Social media

Online calendars

Background checks

Video interviews

Larger HR suites
Give immediate and consistent feedback on candidates with scorecards and evaluation templates to help move them quickly through the interview process. Jazz also provides analytics to help you improve your metrics and send data to compliance agencies. Version control and benchmarking features help you easily review your process. Jazz also gives you access to lots of big data sources, so you can measure candidates against industry standards.
Greenhouse specializes in helping SMBs build a better workforce with limited resources. Hands-on training with account managers is included in standard and premium plans. The software itself focuses on creating ROI by hiring great candidates, and provides guidance for interviewers and managers during the sourcing and hiring process.
Advanced filtering and bulk actions give you the necessary tools to choose candidates from a large pool. Greenhouse also believes in the power of employee networks and integrates those into the hiring process. For expanded functionality, Greenhouse provides connections to third-party recruiting and HR programs, and free automated postings to social networks and job boards.
* * *
Whatever your business size or needs, the best applicant tracking software will organize your candidates and help you improve your hiring process. Remember that no software truly stands alone, so consider your overall technology needs, and build a plan for how to best source your talent.