Two recent communications trends – email and texting – have changed patient behavior, and raised expectations for healthcare providers. Here's how to leverage them for your practice.
1. Email
Secure messaging (essentially email behind an extra username and password for additional security) is now the most common form of HIPAA-compliant email with patients. Ever try it?
Most users, both patients and providers, rightly grumble that the web portals used for secure messaging are difficult to find and that we need to remember another set of passwords as badly as we need another energy bill each month. But the biggest problem is that most patient portals are not mobile friendly.
This is a huge problem since, according to a report conducted by Experian, "53% of total email opens occurred on a mobile phone or tablet in Q3 2014. This is an increase from the 48% percent seen in Q2 2014."
Email analytics company Litmus has slightly differing stats (but close to Experian's) that show that reading emails on mobile devices is the only medium that is rising in use, at the expense of desktop email and web-based email.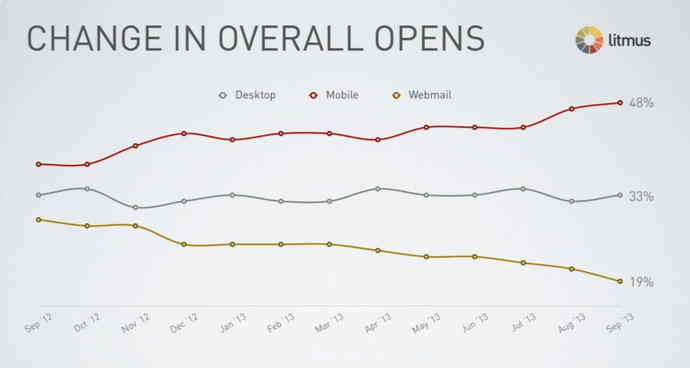 Kaiser and One Medical have used this trend to their advantage. Both organizations have built mobile-friendly patient portals that treat patients like modern consumers – offering them apps that come complete with the ability to get lab results, send secure messages, and recieve appointment reminders. All from a single, convenient interface on their smartphones.
While Kaiser ($56.4B in 2013 revenues) and One Medical (funded by Google Ventures) have the deep pockets to afford such technology development, there are a new breed of startups that offer independent and small practices similar functionality as a cloud-based offering. A growing amount of these solutions even integrate to your existing EHR or Practice Management software.
By offering your patients a mobile-friendly patient portal with similar bells and whistles, your practice will quickly differentiate itself in your local market as a premium medical service provider. Just note the rave reviews of One Medical on Yelp or Kaiser's ability to charge premium rates in many of its markets.
2. Texting
Texting is not a secure form of communication, with patients or anyone else. While there are apps for secure texting, most have failed to gain traction in an independent or small practice setting as they require both providers and patients to download the same app. There are also well founded fears from providers of setting unrealistic expectations with patients by allowing them to think they are available "24/7," – and without reimbursement or any integration of the messages into patient charts.
However, there is a way to leverage the ubiquity of text messaging (or SMS) for your practice by leveraging a reminder system that notifies patients of their appointments and sends them lucrative (for your practice) re-care reminders. All automated via SMS.
As it turns out, consumer responses to text messages are far higher than traditional email (even on mobile devices) or traditional phone calls and voicemails.
A recent New York Times article highlighted the decreasing amount of people who check voicemails, but there is another much more interesting trend for practices looking to get the attention of patients. The marketing technology company HTK recently released statistics that show that 98% of consumers open/read their text messages, compared to only 44% for email.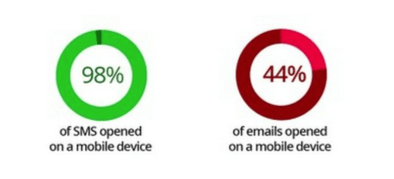 * Image from HTK.co.uk.
If your practice is still making manual phone calls for patients reminders, chances are that nearly 50% of the time your office staff are getting voicemails – many of which are not listened or replied to. And since email reminders to patients simply can't keep the attention of consumers like SMS, leveraging a reminder and re-care based system that can integrate into your Practice Management software or EHR's appointment scheduling calendar will generate a lot more patient response than traditional systems or methods.
***
John Sung Kim  is the founder of Five9 (NASDAQ: FIVN) and the founder of the DoctorBase division of Kareo. He has also served as a product and marketing consultant to numerous government agencies, VC funded startups, and publicly traded companies.