At the beginning of the Meaningful Use program, acute providers were the first wave of physicians and medical facilities required to adopt electronic medical records. Their patients were often in immediate pain, which made streamlining patient care a high priority.
Now providers who deal with elective procedures and treatments are adopting EHRs, and the added waiting time has probably been a benefit to this group of buyers. Options for behavioral health professionals, even a few years ago, were limited and offered less functionality than they do today. For example, e-prescribing was somewhat new in 2009. Now it's become a standard for competent EHR systems.
However, despite widespread increases in functionality, choosing the right EHR is still a complex task. Specialists must search for templates designed to record the proper information, coding functions targeted toward their procedures, and clinical workflow modules that suite their practice. Behavioral health organizations can also accommodate a number of different specialists, making the flexibility and functionality of an EHR even more important.
Many general EHRs claim to provide versions for behavioral health organizations, while others are designed solely for the specialty. We've compiled a list of three of the top behavioral health EHR solutions.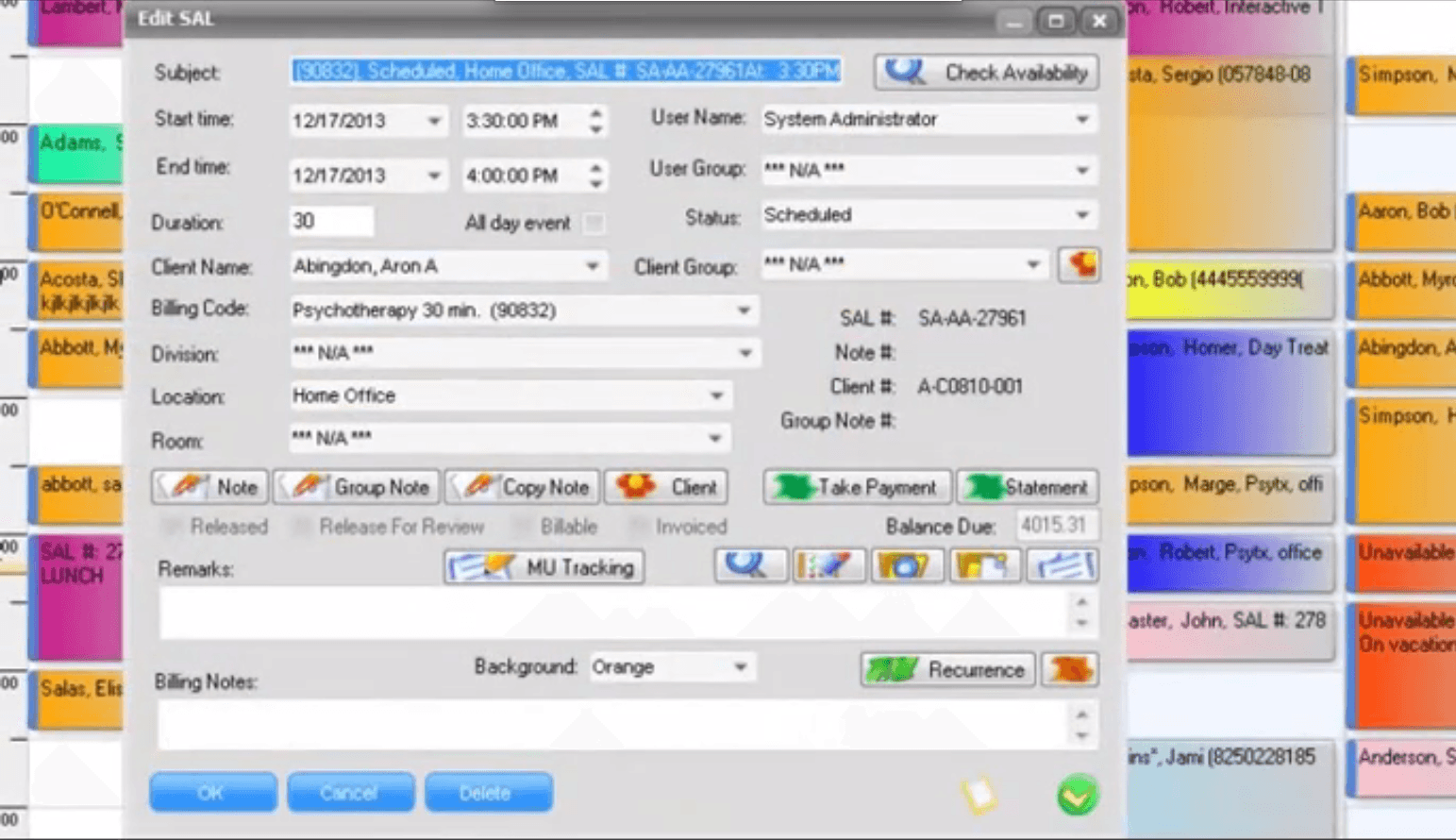 Best for: Practices of all sizes, but especially smaller organizations
Taking a true software-as-a-service approach to electronic medical records, PIMSY offers behavioral health professionals four different pricing tiers for their software: Prix, Prime, Professional, and Platinum. The difference in tiers mainly centers on help and support. Prix offers only training videos, support found on the website, and support tickets. In contrast, Platinum includes email support, phone support, and live web training.
The ability to choose between pricing offers organization some freedom in terms of total spending.
PIMSY's platform offers users standard EHR capabilities with a mix of practice management functions. For example, schedules form a large part of this system's functionality. Team notes are created based on clients in the system's schedule, as are treatment plans. Both of these features are simple to use: team notes allow physicians to easily collaborate on SOAP notes, while commonly used treatment plans can be turned into templates for later use. PIMSY's website even brands team notes as a two minute process.
PIMSY also includes e-prescribing through a native Digital Rx application, meaning users can do all the necessary ordering inside the EHR system. However, this function is only available in the Platinum edition. Billing options are also available through integration with two third parties: Aym Technologies and Psych Med Billing.
PIMSY works well for organizations of all sizes, but its tiered pricing structure and easy-to-use interface make it ideal for smaller organizations that prefer simplicity over larger, more comprehensive feature sets.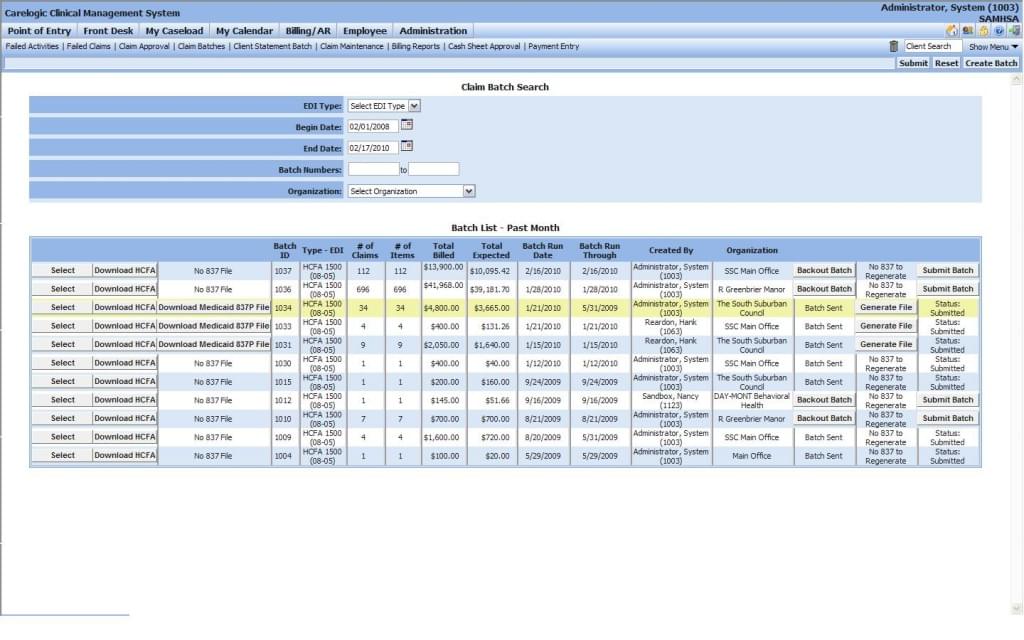 Best for: Large organizations
The most widely used behavioral health EHR, CareLogic was developed in the 1980s for use by a nationwide behavioral health organization. Since then the platform has been updated and refined into a comprehensive web-based EHR that supplies clinicians with electronic medical records capabilities, as well as billing and practice management options.
Although the CareLogic has evolved to meet the demands of the EHR market, it remains geared towards larger organizations. The sheer number of features included in this platform can be overwhelming for some users, so a learning curve is expected. However, once you sort out the interface and system capabilities, you'll find CareLogic is very customizable, and can be molded to fit the work of providers throughout the continuum of care.
That's the true goal of CareLogic: to be the connection between different points of care through the continuum. To get the most out of CareLogic it's best to use this system in multiple care settings, such as community health centers, in-patient hospitals, and even home care settings.
CareLogic also released a real-time reporting tool this year that generates a range of reports on employee productivity, financial and administrative data, and perhaps most importantly, clinical outcomes. Using this tool, you can quickly track a patient's progress against a baseline to establish whether your organization is meeting appropriate quality measures and identify opportunities for improvement.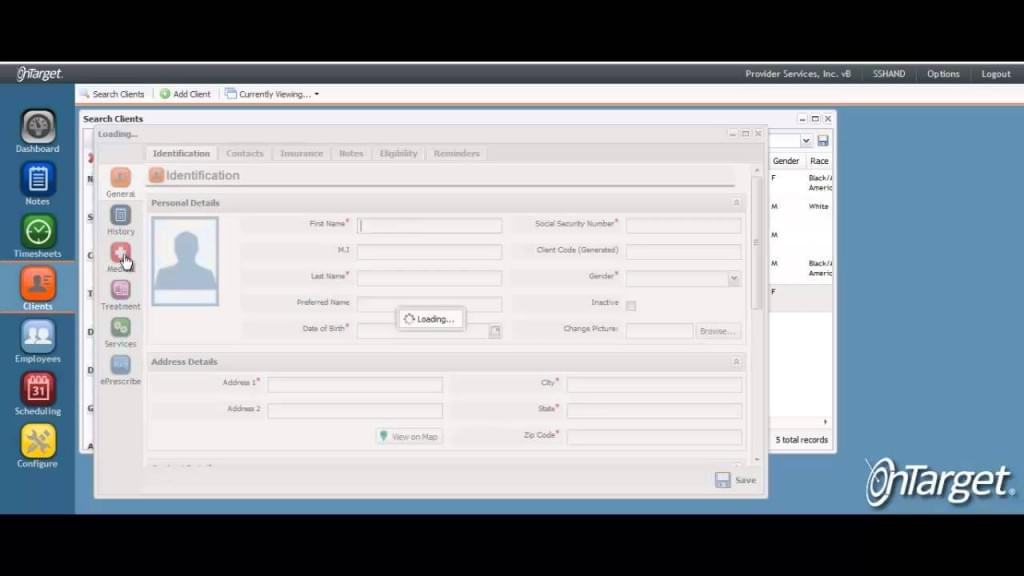 Best For: Small organizations
Developed by Aym Technologies, OnTarget is another electronic health record system designed to meet the specific requirements of behavioral health professionals. While OnTarget may command less market share than the previous products, its unique interface and deep customization options make it an excellent choice.
Foregoing the Windows-esque design of many other EHRs, OnTarget displays information in a bold, easy-to-view interface. Given the range of specialties and business models underneath the behavioral health umbrella, customization plays an integral role in EHR usability, and OnTarget delivers in this area. Customizing the program is quite simple. Field labels, templates, lists, and even modules are all easily editable from within the program's main dashboard.
OnTarget also includes a number of practice management tools, including a module for tracking employee credentials, which helps behavioral health organizations keep their certifications in line and their records up to date. Further, this cloud-based EHR pushes important reminders to users about unapproved or unfinished documentation, an essential feature for ensuring paperwork is completed in a consistent fashion.
Finally, OnTarget generates billing reports that helps you identify which sessions have been billed and which are still open. After you've accrued enough data, you can analyze the billing performance of your practice over the previous months, or even years.
The number of mental and behavioral health organizations implementing electronic medical records is increasing in tandem with the rest of the healthcare industry. The selection process for this software can be arduous, and choosing incorrectly can be costly. The products described in this article each offer something unique and represent some of the best solutions on the market for this particular niche of care. While we do consider them to be a great starting point, they will most certainly not work for everyone. For a more holistic comparison of the entire behavioral health EHR marketplace, we recommend checking out our free comparison tool. 
Do you have experience with any of these products, or others that have worked well for you? We'd love to hear your input in the comments section!