Compare 60 Accounting Software Vendors
Get free recommendations and price quotes. Answer below.
Do you currently use Accounting software?
Compare Accounting Solutions Side by Side
Choose from our list of vendors below
TechnologyAdvice Buyer's Guide to Accounting Software
What is Accounting Software?
Accounting software is most simply defined as an electronic version of an accountant's general ledger. Revenues, expenses, assets, and liabilities are all recorded and tracked digitally to maintain a complete picture of your business's financial health. This technology can take various forms and offer myriad features based on the needs of a particular business or industry. However, the vast majority of accounting systems share similar features and functionality. Accounting software most commonly assists businesses with processes such as payroll, accounts payable, and accounts receivable.
---
Top Accounting Software Vendors
---
The Marketplace
This market is increasingly crowded and diverse. Long dominated by on-premise server-based solutions from Peachtree, SAP, QuickBooks, and other large software development firms, newer companies with industry-specific features and functions are bringing new products to market on a seemingly monthly basis.
For your software consideration, this particular marketplace can be segmented into the following three types of solutions:
Commercial Accounting: The most common type, commercial is used by both individuals and for-profit businesses to manage transactions, equity, etc.
Nonprofit Accounting: Nonprofit software is tailored for the specific needs of not-for-profit organizations. Sometimes called "fund accounting software", it helps manage grants, tax-exempt transactions, and the stringent reporting requirements most nonprofit organizations face.
Enterprise Accounting: Theoretically, an enterprise-level accounting solution could be required for a nonprofit organization. But the majority of enterprise accounting solutions are designed for entities doing business internationally, which means they need to manage regulatory and tax compliance with widely varying requirements. Frequently, enterprise accounting software is deployed as an ERP.
Key Features
No matter your industry or business model, most accounting solutions offer the following standard features or functionality.
Access Control: While not an actual accounting function, all accounting solutions offer varying levels of security and/or access control in the form of user or role-based permissions, single-sign-on capabilities, and/or data encryption. Many solutions also offer the ability to grant access to your third-party accounting services provider.
Accounts Payable/Receivable: The most commonly used area of any accounting solution, electronic management and tracking of A/P and A/R is part of every system and has varying levels of automation. The payable side includes tracking payments to vendors, suppliers, and other financial outlays. The receivable side includes billing/invoicing and collections.
Asset Management: While less important to businesses without expensive capital assets such as production machinery, vehicles, or other forms of property, plant, and equipment (PP&E), electronically tracking and realizing depreciation costs is a major function of most accounting systems.
Bank Reconciliation: The key to automating the majority of your accounting functions is to connect your software directly with your financial institution. This allows you to reconcile the transactions you've recorded with your bank's records for your company's credit, checking, or savings accounts. Most systems include pre-built reports for both month-end and year-end closing.
Cash Management: Though many businesses today are handling less cash — or none at all — managing your company's cash or cash equivalents is a key function of all accounting systems, and necessary for preparing the standard Statement of Cash Flows report. Many accounting systems also simplify managing multiple currencies by converting foreign transactions into the currency your business uses.
Departmental Accounting: Most best-of-breed accounting systems offer support for recording transactions across multiple offices, branches, or divisions. This allows you to treat each subset as its own entity on paper, yet maintain a comprehensive view for tax and/or reporting purposes.
Expense Management: In addition to tracking your business expenses via Accounts Payable, most accounting solutions offer a separate area for tracking individual employees' expenses and reimbursements. This includes the ability to reconcile expenses with various projects and/or departmental budgets.
Regulatory Compliance: Most accounting vendors offer features that help users maintain compliance with various governmental requirements, such as GAAP, Sarbanes-Oxley, etc.
Reporting: Besides electronically recording transactions, the single most-cited reason for purchasing accounting software is automated report preparation for income statements, profit and loss, sales tax return, etc.
Case Study
Solution: Sage Intacct
Company: Regent Entertainment1
Problem: With offices in Los Angeles and Dallas, Regent Entertainment could no longer rely on QuickBooks to manage its four major business units which included:
Regent Studios (a full-service motion picture studio)
Regent Worldwide Sales (International sales force)
Regent Releasing (theatrical releasing division)
Regent Theaters (movie)
After opening a corporate office in New York to support a digital television network reaching over 25 million households, Regent's increasingly distributed organization required a solution that could easily scale without absorbing vast amounts of capital expenditure and labor resources.
"We required a business solution that would mirror and support our dynamic processes, rather than re-engineer our business." — Stephen P. Jarchow, President
Solution: To manage the financials of its network of companies, Regent selected Sage Intacct's financial management applications, the only Web-based financial management solution with robust multi-entity functionality.
Sage Intacct gave Regent a single, unified, real-time view of all its affiliates. Through Sage Intacct's Web console, corporate headquarters can run budget comparisons and simultaneously collaborate with production sites, sales and distribution offices, and movie theater operations.
Granular permission controls further allow the head office to redistribute resources between affiliates and grant access to critical data for stakeholders such as auditors, board members, and business partners. As Regent Entertainment continues to grow, the company doesn't need to add costly hardware or software. Sage Intacct simply extends its web-based services to any office and any user, on demand.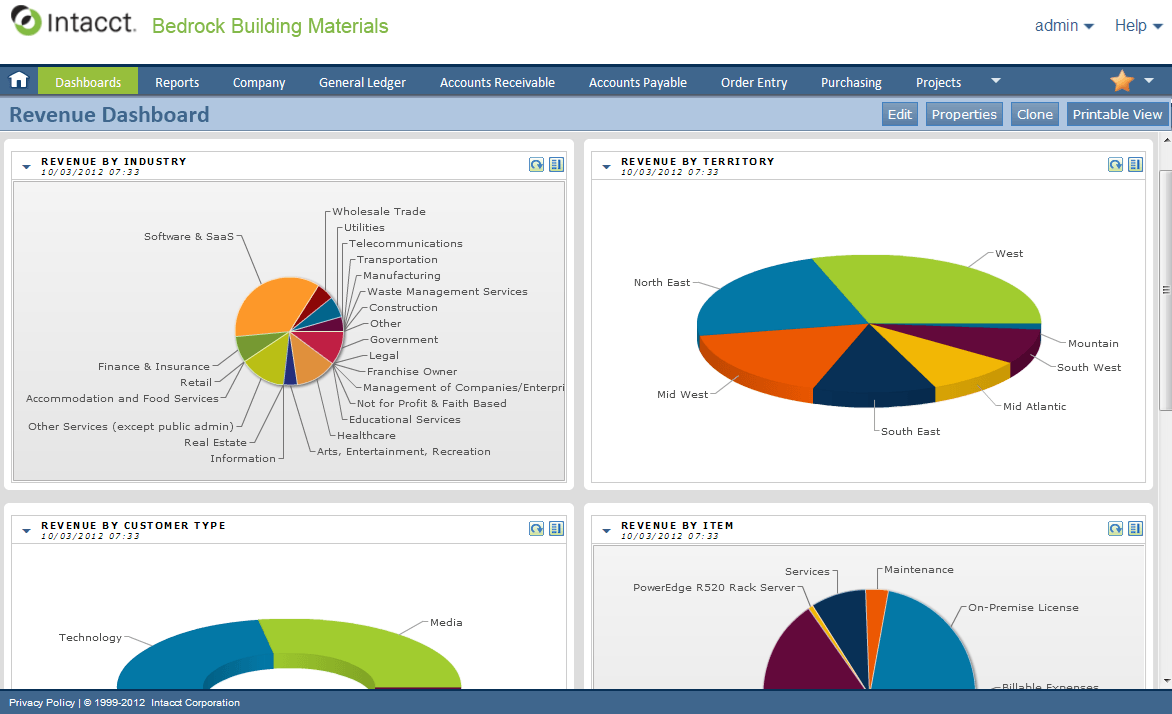 Results: With Sage Intacct's easy integration, Regent was able to implement the back-end operations of its New York office in less than a week. As Regent continues to expand, Jarchow says Sage Intacct's multi-entity technology "immediately extends transparency and real-time collaboration capabilities to our new locations and companies."
Sage Intacct also allows Regent to quickly adjust to a changing market. Using Intacct's analytical tools, for example, executives can immediately access sales figures and budget projections posted by its companies. "Intacct makes us a dynamic enterprise capable of solving business problems and creating new market opportunities," Jarchow concludes.
CHALLENGES
Needed a financial management system that could handle multiple entities
A complex corporate structure was impeding Regent's agility in the fast-moving entertainment industry
Costly in-house systems would take 2-3 months to implement
PREVIOUS SOLUTION
QuickBooks
RESULTS WITH SAGE INTACCT
Gained a single, unified, real-time view of all affiliates
Saved money, without the need to add costly hardware, software, or IT personnel
Deployed Sage Intacct in less than a week at the new office in New York
Other Market-Leading Solutions
Sage Intacct was the best solution for Regent Entertainment, but it may not be the best fit for your unique situation. The following solutions are some of the most recommended and best accounting software solutions on the market today.
Xero, QuickBooks, FreshBooks, FinancialForce
Creating Executive Buy-In
If you're leading the initiative on software procurement, you'll need to build a compelling business case that "sells" the new solution to future company stakeholders. Below are a few talking points tailored to specific executives to help you get started.
CFO:
Your CFO is the single most important person you'll need to convince. They will likely live in whatever system you select, so you'll need to ensure it offers a significant upgrade in functionality (and lower price point) than your existing solution. If you're paying an outside accountant to manage your books, calculate the cost savings of moving your accounting in-house with a new solution.
CEO:
Your CEO, like the CFO, will be concerned with the dollars and cents of this procurement effort. How many labor hours will the new system save? What will the month, quarter, or year-end close processes look like, and how long will it take to get those reports? Make sure the CEO and CFO agree, because without them, it will be difficult to make your case to the final stakeholder.
CTO:
Your CTO likely doesn't care about the features or functionality of the accounting solution you select, just as long as it can be easily integrated with the remainder of your technology stack. Look for solutions that offer an open API, a robust online knowledge base, and, hopefully, share a similar technical framework as your other mission-critical systems such as CRM, ERP, etc.
Choosing the Best Accounting Software
That's where we come in. At TechnologyAdvice, we specialize in connecting businesses with the technology they need to grow. To that end, we've compiled product information, reviews, case studies, feature lists, video walkthroughs, and research articles on thousands of leading IT solutions.
If you're curious about any of the accounting systems detailed in this guide, we'd love to talk to you. Call one of our unbiased Technology Advisors for a free consultation, or use the Product Selection Tool on our site to get a list of custom recommendations based on your industry, use case, and/or desired features.
---
Sources
"Regent Entertainment Easily Manages Its Multiple Business Units with Intacct." OneVision. Accessed November 30, 2015. http://onevisionllc.com/wp-content/uploads/2015/05/OneVision-case-study_Regent-4.pdf