What is Enterprise Risk Management Software?
Enterprise risk management (ERM) software and risk management information systems (RMIS) help organizations identify risks in information systems and critical technologies, so the organization can plan for potential risks, document responses, and improve upon response processes.
Risk assessments are designed to quantify risk and its potential effect on a project or business's major goals. The identified risks are classified as acceptable or unacceptable, and the team and managers can implement a plan to mitigate the disruptions or alter the course as needed. Continuous input along a project's lifecycle will help lower risk levels and equip teams to act faster.
What Are The 5 Risk Categories?
Before you can manage risk, you have to identify what kind of risk you're dealing with. Risk identification gives you a better idea of who needs to be involved with the plan, how it affects your business as a whole, and what your initial steps should be. The five types of risks are:
Strategic risk
Compliance risk
Operational risk
Financial risk
Reputational risk
Top ERM software vendors
These best enterprise risk management vendors are chosen based on market share, online reviews, and user feedback. Not all solutions are best for every team, but our Technology Advisors can help you find the right ERM platform for your needs. Request a consultation now via the form on the right-hand side of the page, and our unbiased Technology Advisors will contact you to find a set of solutions that meet your individual needs.
Oracle Risk Management and Compliance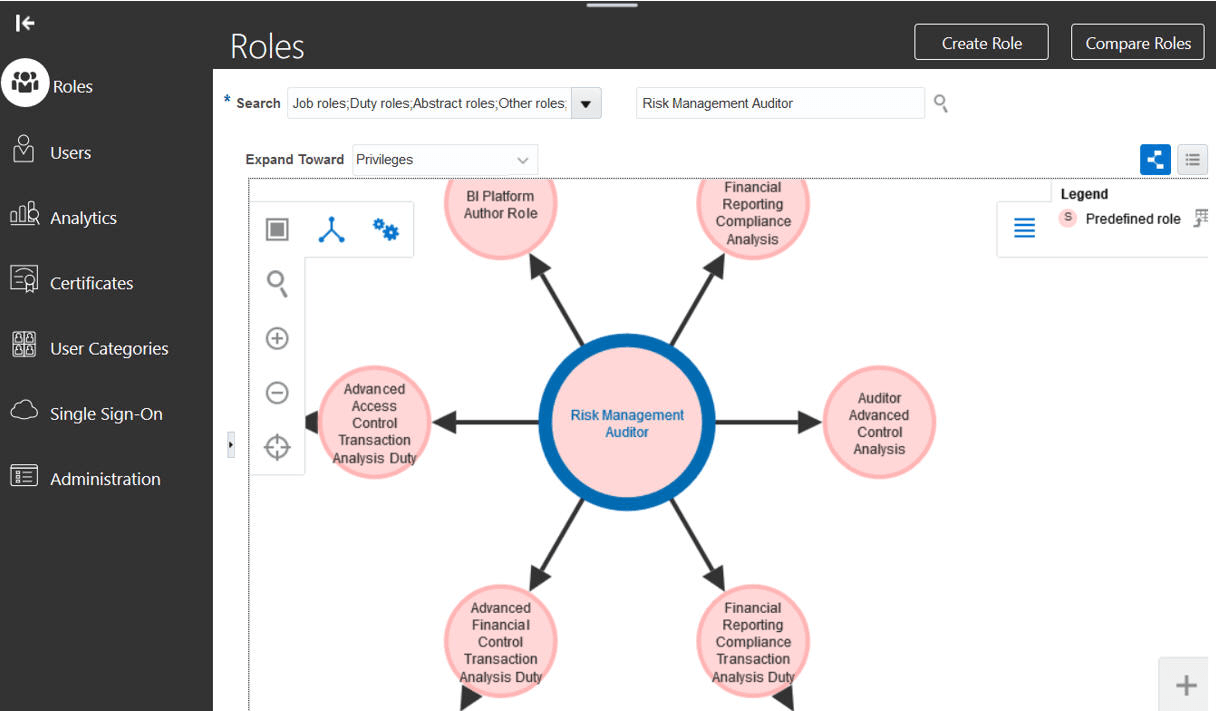 Oracle Risk Management and Compliance is a subset of the Oracle enterprise resource planning cloud tools. The tools help companies design secure financial and data structures, digitize certification and compliance workflows, and provide continuous monitoring of financial transactions to reduce stress on auditors during compliance checks. The streamlined digital security and access management surfaces exceptions across the entire organization and allows for swift action to maintain compliance and react to risk.
MetricStream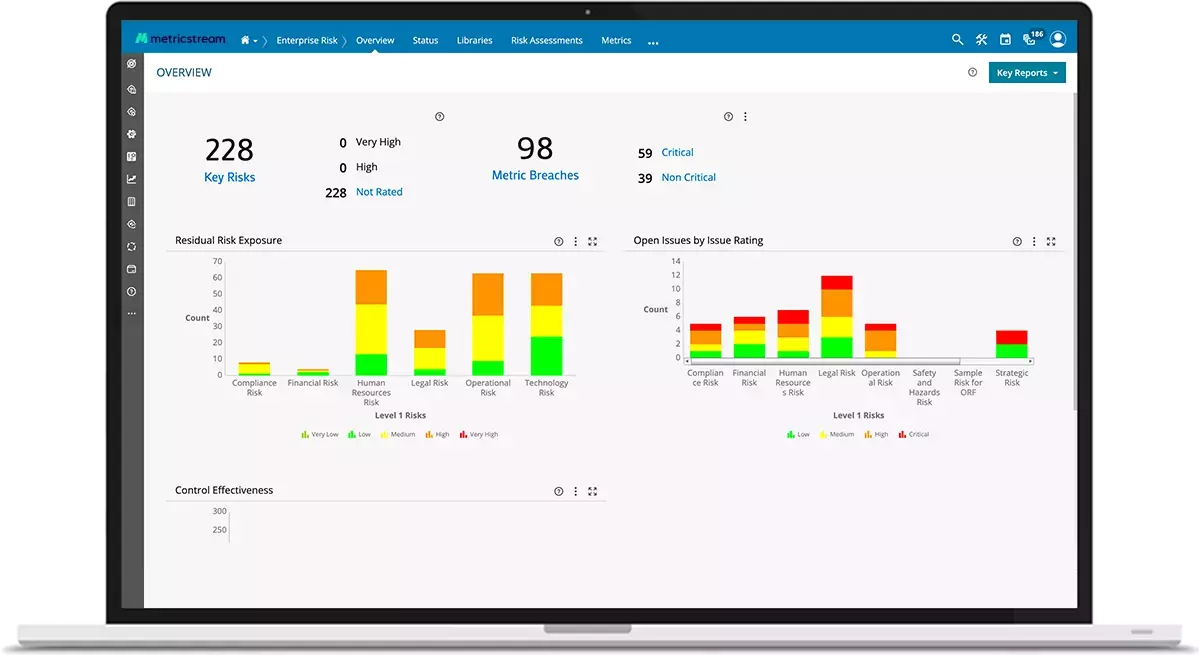 MetricStream's ConnectedGRC is a governance, risk, and compliance platform for enterprise companies looking to increase their resilience after an incident. The tools combine traditional risk, compliance, and audit tools with cybersecurity and third-party controls to ensure a full-spectrum view of the enterprise's risk profile. The collaborative platform increases transparency between otherwise-siloed departments, which contributes to higher agility in the face of risk.
Riskonnect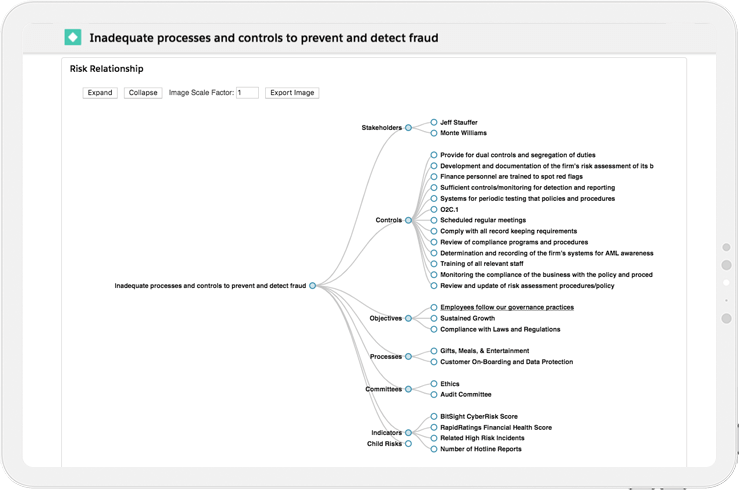 Riskonnect's risk management platform integrates insurable and non-insurable risks for an actionable 360 view of the company's risk profile. The workflow tool lets companies quickly assign actions and priorities to mitigate risk as it happens, while risk heatmaps give stakeholders a quick understanding of the most vulnerable parts of the business. Then use Riskonnect's prebuilt and customizable reporting templates to communicate progress and increase awareness across the organization.
LogicManager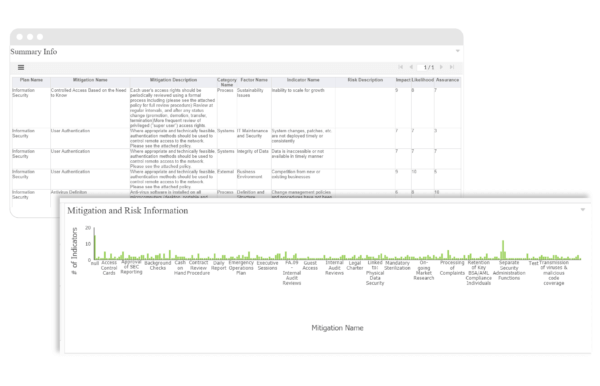 LogicManager uses a risk taxonomy structure to help companies categorize their risk across departments and business units to surface the most urgent vulnerabilities across an organization's information silos. The taxonomy structure also allows risk and compliance teams to better allocate resources without duplication, providing the company with a faster, more organized response to risk environments.
LogicGate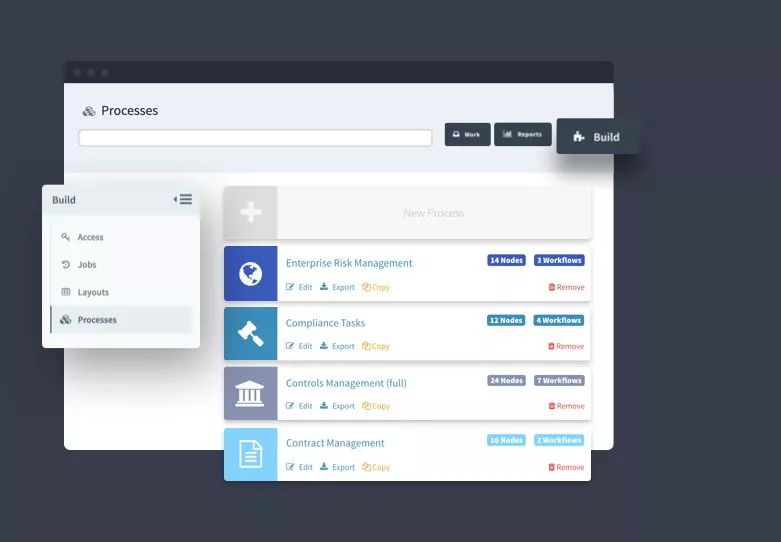 LogicGate offers a full platform of modular no-code enterprise risk management solutions that companies can choose from to improve risk management as the company grows, including ERM, third-party, IT, compliance, and incident management solutions that work together in a single interface. Companies can use the pre-built workflows and drag-and-drop form builder to customize identification, notification, and response protocols.
NAVEX Global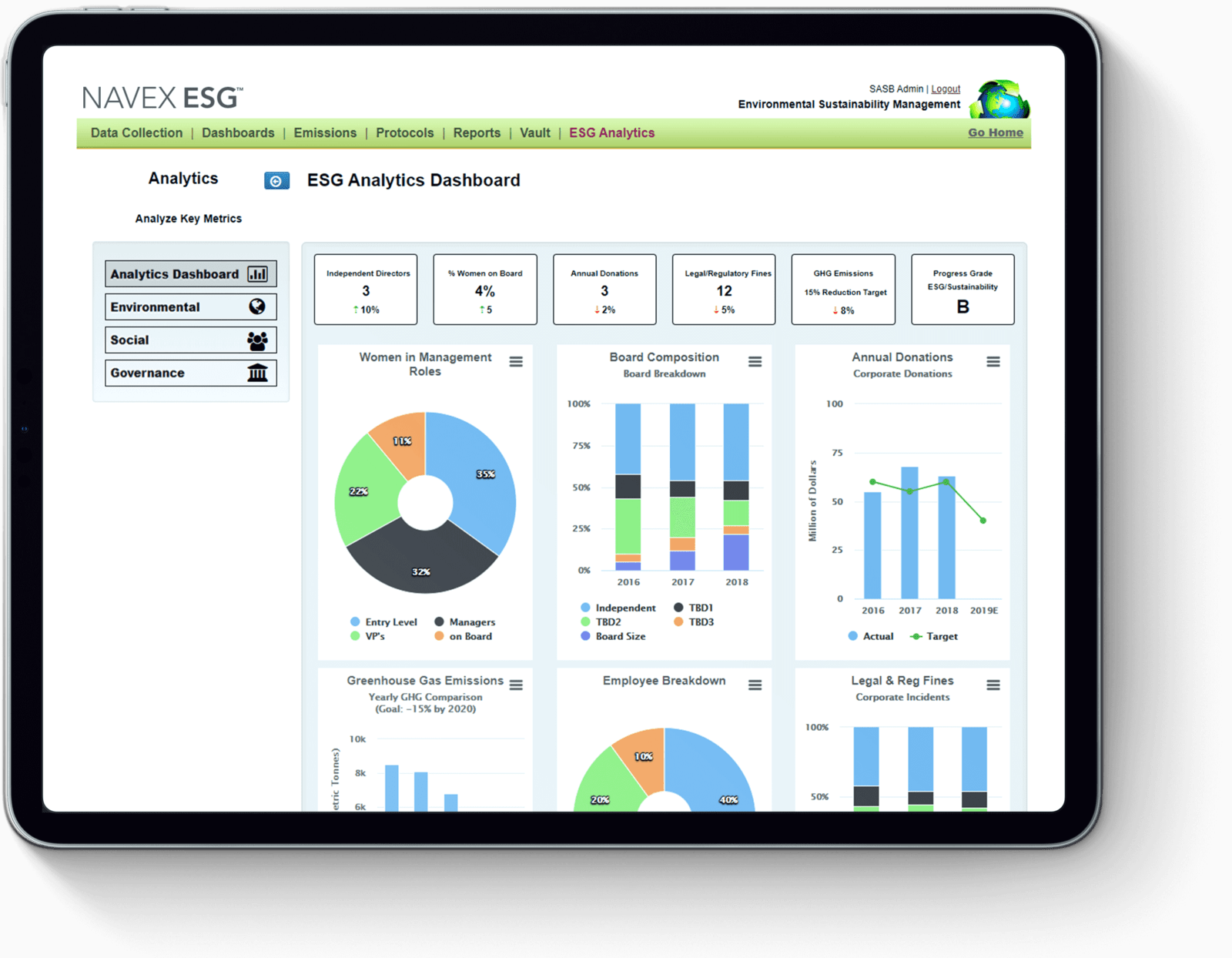 The NAVEX One Platform is a combination of the NAVEX ethics and compliance (E&C), integrated risk management (IRM), and environmental social governance (ESG) tools, which can be purchased individually, as well. These tools help enterprise corporations manage their risk across all business sectors, including IT, finance, HR, and regulatory compliance. The tools are especially useful for multinational organizations that must ensure simultaneous compliance across multiple business regions.
Who needs ERM software?
Enterprise risk management is critical for businesses that must abide by federal and international regulations, especially those in financial services, insurance, and healthcare industries. ERM software is often used by financial analysts to identify monetary distractions in relation to projects and business objectives, but it's also a popular tool for project managers, software engineers, and legal specialists.
In the first half of 2021, the number of ransomware attacks nearly doubled over 2020's numbers, according to research done by Cognyte. The top 5 industries who were attacked in these technology breaches were:
Manufacturing
Financial services
Transportation
Technology
Legal and human resources
The increasing attacks on industries outside of financial services — attacks that disrupt the supply chain and can create chaos for essential industries that keep the larger economy running, have shown that every company needs to plan for disruptions to be able to act quickly.
All companies increasingly rely on technology to manage day-to-day operations, and enterprise risk management software holds a critical position in IT infrastructure. Managing risk requires strong internal controls, and ERM software often includes features that help businesses plan for ransomware breaches and DDoS attacks. The best risk management platforms also use risk data to identify and assess dependency risks that could derail a planned project or essential business functions.
Common ERM software features
Enterprise risk management software options will help companies build processes that identify and mitigate risks. Workflow tools, document management systems, and notifications and alerts provide the foundation of these tools, as they can help companies build systems to pinpoint possible risks and manage the response to risk. The features we list here may augment these basic tools for many organizations, although not all of these features are available from all vendors.
Threat and vulnerability analysis
Threat and vulnerability analysis tools monitor systems and projects, analyze the potential for business risk inherent in those projects, and alert administrators. Many of these tools will also rank risks, to give administrators a prioritized list of tasks.
Compliance management
Highly regulated industries struggle to stay compliant with federal, state, local, and industry-wide regulations that may have complicated paperwork and strict deadlines. Compliance management tools help administrators prioritize compliance tasks, ensure timely submission of assets, and provide workflows to keep the team's tasks organized.
Vendor/third-party risk management
As companies grow, the number of vendors and third parties necessary to conduct timely and efficient business also grows. Risk management information systems with vendor or third party risk management tools allow teams to assess and prepare for the risks associated with delays, shortages, or downtime due to issues with vendors and third party organizations. These tools allow the organization to respond to changing vendor landscapes quickly and efficiently.
Modeling and forecasting
One of the biggest promises of artificial intelligence and machine learning is that of predictive analytics, which can augment legacy data modeling and forecasting tools with speed and greater accuracy. Modeling and forecasting within risk management solutions will help teams prepare for various known and unknown risks and draw up different scenarios to prepare against.
IT governance and security
IT security teams contend with new risks every day from ransomware, hackers, and software bugs. A risk management information system will provide the team with structured workflows, policies, and tools to assess risk across the enterprise. These tools ensure that risk-related knowledge is easily maintained and updated, even during periods of high turnover.
Audit management
Audits of processes and documents benefit greatly from defined workflows and systems that ensure that each audit runs according to regulation and is compliant. These tools help teams perform audits on time and accurately through automation, notifications, and centralized data stores.
Financial reporting
Connection to key financial software and databases that ensures that financial data is centralized means that the financial departments can quickly access all of the important data they need to build reports. Whether teams are building stakeholder reports or forward-facing analyses, financial reporting tools in ERM software give teams a clear view of financials.
Policy management
As companies grow and change, their policies must also adapt to the changing environment. A centralized policy management solution within an ERM gives the entire company a centralized location to store policy, reference existing policies, and use those to build risk mitigation plans. ERM tools that offer operational risk management, like Fusion Risk Management, help businesses create and store policies that lower their organizational risk.
API and native connections to essential software
Finding a risk management solution that integrates with other systems of record is essential — how else will the software gain visibility into your data and processes? This is especially true if you're looking for a solution that will mitigate risk across the entire enterprise. As you compare products, look for vendors that offer open APIs or native integrations with these software types:
Cloud and on-premise databases
Document management systems
Fleet management
Legal applications
Software development platforms
Version control software
Benefits of enterprise risk management software
Enterprise risk management software makes it easier for businesses to identify and account for their risks, helping them make more informed decisions.
Standardized risk assessments
When you have multiple people performing risk assessments, they may not always be doing them the same way. However, ERM tools provide templates for risk assessments, so your organization can decide on one and stick to it. This way, you can ensure your team is including all relevant information in the assessment, and it'll be easier to see where the risks lie. Performing the same assessment can also help standardize the risk analysis and risk management processes as a whole.
Better compliance coordination
Potential risks can be very scary for a company, but the best way to prepare for them is to communicate effectively. Compliance managers can use their ERM tools to outline potential compliance risks on a project, create an action plan, and assign tasks to avoid them. This way, everyone knows what they're responsible for, and they can work together to spot and stop emerging risks quickly, improving regulatory compliance.
Business continuity
Most ERM platforms offer business continuity management that helps risk managers outline key risk indicators and how each one should be handled. Risk analytics provide actionable insights on a business's risk exposure, allowing the risk owners to take action. Additionally, the organization can log each risk mitigation activity into the ERM tool, providing corporate governance and a clear audit trail. By logging risk treatments, businesses can also act faster the next time they encounter a similar risk.
Common ERM software use cases
Risk management software has many different applications, depending on your industry and job function. If this is your first time shopping for solutions, it's a good idea to define your specific use intent and look for products that offer matching functionality. To give you a better idea of the landscape, here are some of the most common ways organizations use risk management software:
IT Project Management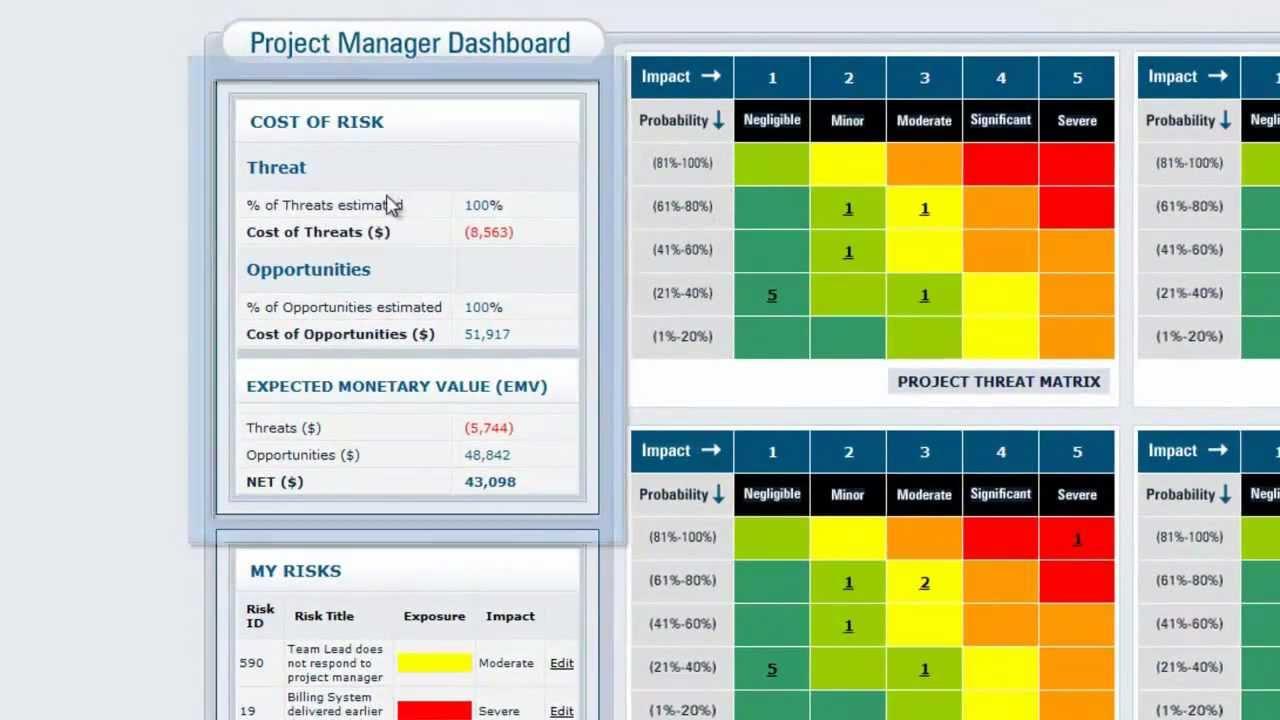 Many software and IT project management tools like LogicManager and TimeCamp are built with internal risk management systems or with risk management protocols in mind. These software tools help teams understand and assess possible risks in funds and workforce allocation as they pertain to IT and development projects. This includes ensuring that team members don't have too much on their to-do lists and assessing information and data security. Penetration testing is a common part of IT risk management because it can help identify vulnerabilities in software before it goes public.
Legal
Legal firms and internal legal departments use risk management software to assess business risks when building contracts and agreements with vendors. These tools can also create risk models to demonstrate insecurities in accordance with government regulations and intellectual property.
Internal Auditing and HR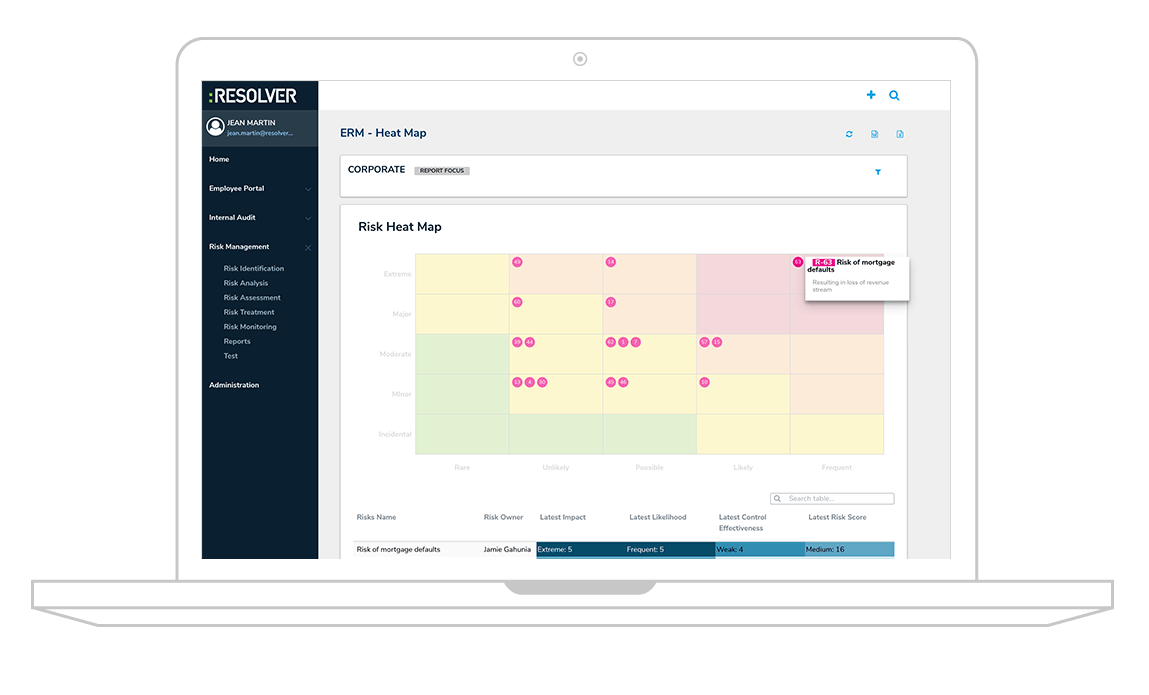 HR and internal audit departments ensure that business resources are used to their fullest potential. Risk management software helps these departments understand over and under-utilized staff, project costs and inefficiencies, and financial risks associated with vendor and customer relationships.
Financial
Financial institutions and internal financial departments use risk management software to understand regulatory and internal threats that might increase fees from legal recourse or regulatory fines. This software is also used to predict and respond to how internal and external business threats affect projects and businesses as a whole. Data from risk management programs can be instrumental in detecting financial fraud and credit risks.
Tips for Comparing ERM Software
Businesses have many options when it comes to risk management software, as the programs are often integrated within a larger ERP suite or can be purchased as stand-alone platforms. In addition to the focuses listed above, an RMIS determines a business's risk in light of the full supply chain, warehouse, vendor, supplier, and regulatory relationships. When choosing the best risk management solution for your team, research solutions that provide support in these areas of the risk management cycle:
Identification
Software that provides analytics and processes for identifying risks according to company input and existing models. Input can take many forms, from manual data entry to API connections and existing resources.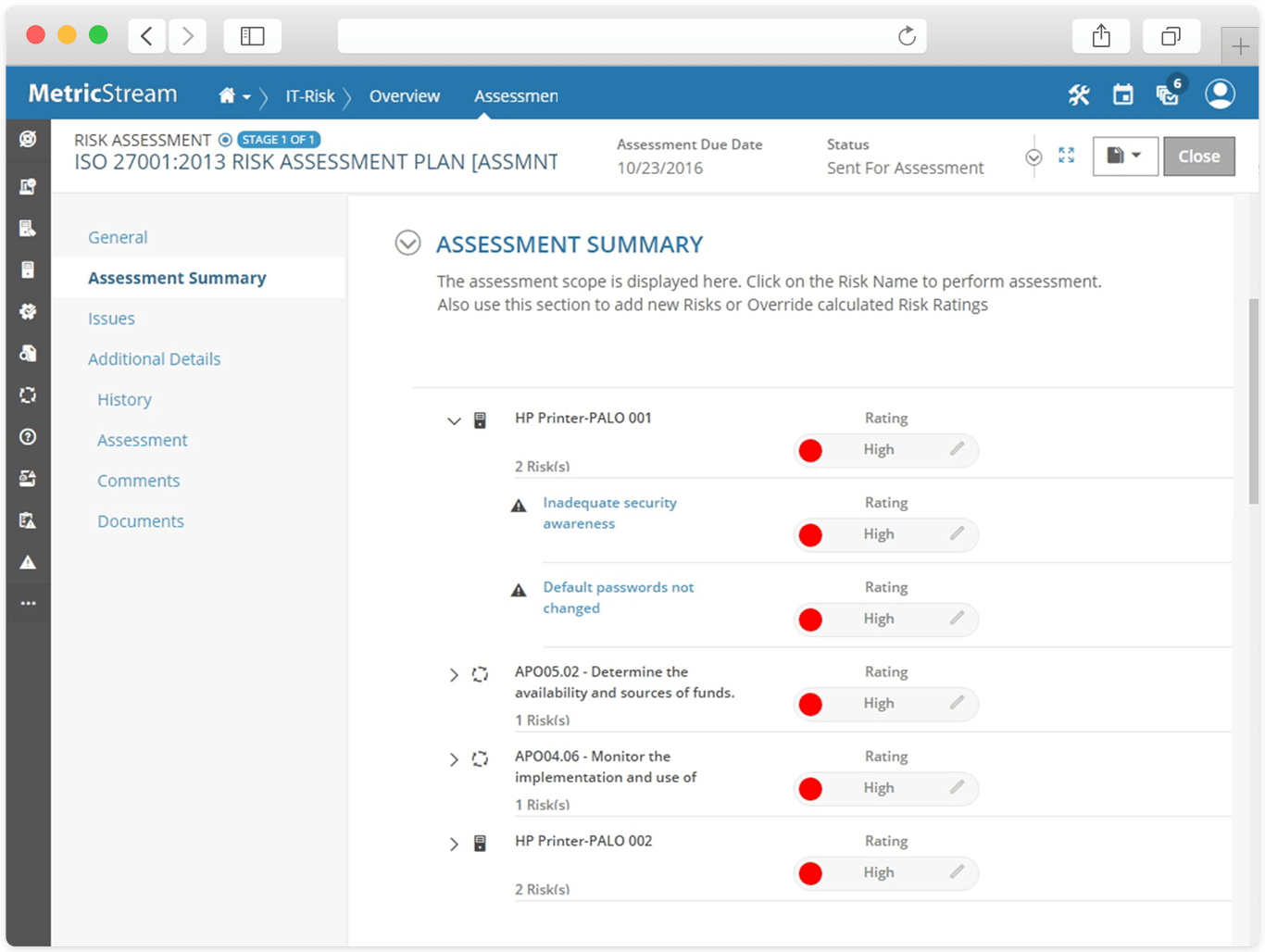 Assignment
Features that determine the outcomes of the identified risk and assign a monetary value for that outcome based on known business factors. Other metrics in assignment include loss of time and regulatory concerns. When connected to other business applications like accounting and contract management software, businesses can determine the total loss at stake and the value of avoidance.
Prioritization
An RMIS will usually provide an ongoing overview of potential risks, including the increases and decreases of risk value according to dependent factors. These features are often viewed through a dashboard or timeline.
Response Planning
Should a response become necessary, the proper steps and actions by all stakeholders should be documented for audit and future use in similar cases. This part of the software should include document management systems with annotation capabilities.
Response Implementation
These software features help organizations implement a risk plan should a risk require action. The proper execution tools, connections to legal and contract management tools, and document management are all included in this portion of the software. Connections to accounting, security, and project management tools are also helpful.
Choosing the right ERM software
Choosing the best ERM solution for your business requires careful planning based on your existing technology and the compliance landscape of your industry. Many businesses will find that a standalone option works, but may not scale with a growing or more mature business. ERP platforms that include risk management features may also be a good solution for larger companies that don't want to implement and pay for separate systems. When choosing a system, businesses should determine their risk appetite and select software that can help them stick to that level.
Our Technology Advisors can help you choose an ERM software that works well for your organization. Call us for a free consultation, or request your shortlist in the form below.