About Vembu BDR Suite
Vembu BDR Suite is a comprehensive universal backup solution catering to the backup, recovery and disaster recovery needs of diverse and heterogeneous IT environments. The portfolio of products under the Vembu BDR Suite can be used by sophisticated, virtualized data centers to the simple IT environment in small and medium businesses including service providers providing an offsite backup service to small businesses.
Vembu BDR Suite also provides flexible deployment options like offsite, cloud, on-premise and hybrid cloud. The centralized monitoring and management portal also makes it very easy to monitor and manage large deployments with minimal effort.
Still not convinced Vembu BDR Suite is right for you? Use our Cloud Backup and Storage Software product selection tool to browse additional solutions and get a custom recommendation. Have questions? Call, click, or email to get a free consultation from one of our unbiased Technology Advisors.
(Last updated on 11/11/2016)
Screenshots
---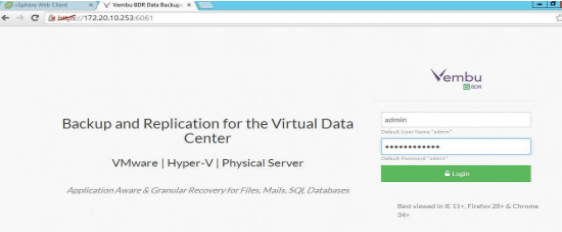 ---
Vembu BDR Suite User Reviews
Average User Rating
(0 reviews)
5 star:
0
4 star:
0
3 star:
0
2 star:
0
1 star:
0
Do you use this product?
Share your insight by leaving a review
---
There are no reviews yet. Be the first to write one!
---
Do you use this product?
Share your insight by leaving a review.
---