Product Quick Facts

---

Industry Specialties

Architecture / Engineering / Construction, Enterprise, Manufacturing, Real Estate

Pricing

Average

Works Best For

Any Sized Businesses
About UpKeep Maintenance Management
UpKeep is a mobile-first Enterprise Asset Management (EAM)/Computerized Maintenance Management System (CMMS). While traditional EAM software relies on written forms and manual input, UpKeep is helping to revolutionize the enterprise sector with an intuitive user experience. 
UpKeep helps facility, property, restaurant, and manufacturing managers improve communication by enabling real-time status updates for their team(s). UpKeep's mobile and desktop applications can help streamline your organization's workflow, so your team knows exactly what to do and when — helping reduce costs and increase your asset uptime. Below are some examples of how UpKeep can help expedite your work flow process:
Add co-workers and easily assign orders to different users
Create, update, and check work order status
Manage your asset(s) history
Receive phone and email notifications
Organize your reporting
Enable UPC label scanning
Develop assets and assign asset work orders
Sync information across all devices
Web-based application available for use on any device
Create and manage preventative and scheduled maintenance
Customize work orders using form items
UpKeep was designed to help streamline your teams' communication, whether on-site on in the field. With different access levels for administrators, technicians, supervisors/overseers, and customers/requesters, you can collaborate securely with all stakeholders. 
We recommend UpKeep for maintenance crews that constantly work at different sites, as the system allows them to spend more time working in the field, and less time updating information or traveling between site/office and back. 
Have questions about UpKeep Maintenance Management? Want to find out more about CMMS software in general? Call, click, or email to speak with an unbiased Technology Advisor for a no-cost, no-obligation consultation on  your unique requirements. 
(Last updated on 07/18/2016)
Screenshots
---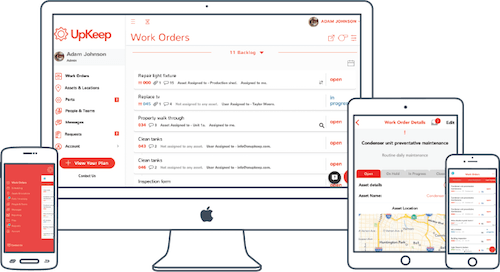 ---
UpKeep Maintenance Management User Reviews
Average User Rating
5 star:
1
4 star:
0
3 star:
0
2 star:
0
1 star:
0
Do you use this product?
Share your insight by leaving a review
---
Ryan C.
Denton Rehabilitation & Nursing Center
↑
↓
A great asset for us
What do you like best about this product?
Our facility has used the Upkeep App for about nine months now. It has been a great asset for us. The app has greatly improved our maintenance process, from reporting issues all the way down to reporting back on completed work orders. We see a much better turnaround time from issues reported to work completed.
What could be improved about this product?
We have absolutely no issues with work orders being lost now. We also have a more structured process, because of the app, of reporting work issues and we don't have multiple entries for the same issue.
What was your main concern about buying this software?
Justifying cost has been one of the biggest issues having to sell to upper management
What business problems are you solving? What benefits have you seen?
Upkeep has streamlined our work order process and allowed our maintenance department to be more effective. Definitely take a look at the actual mobile application for maintenance software
How likely would you be to recommend this software to a friend or colleague?
10/10
---
Do you use this product?
Share your insight by leaving a review.
---