Product Quick Facts

---

Industry Specialties

All Industries

Pricing

Average

Works Best For

Any Sized Businesses
About Socedo
Socedo, a platform for lead generation from social media, was founded in 2013 by CEO Aseem Badshah and CTO Kevin Yu. Prior to Socedo, Aseem started a digital marketing agency called Uptown Treehouse, at which he encountered an interesting problem: he knew that social media was an untapped pool of quality leads for his clients but didn't have a way to find them, not to mention a scalable process for converting them into customers. The result was Socedo.
Today, Socedo helps B2B marketers discover their target audience on Twitter, engage them in one click, and fill their database with qualified leads. It starts with conversational search criteria that identifies prospects based on real-time interests. Automated messaging drives leads to a landing page or starts a conversation, and by integrating Socedo with Marketo, HubSpot, or Salesforce, teams can follow up with every lead. Socedo's Social Lead Monitoring feature helps demand generation marketers continue to track lead behavior on social media, so they can enhance their lead scoring model, personalize the buyer's journey, and send the right leads to Sales at the right time. By turning an existing social investment into new revenue, Socedo bridges the gap between social media management and marketing operations.
The interactive content platform Ceros used Socedo to drive more leads from their active Twitter audience. Since using Socedo, Ceros has seen a 26% visit-to-lead conversion rate from Twitter visits, which is 30% better than other lead gen tactics they were using. Their cost-per-lead hovered around $15. That's 25% less than their historical cost of leads from Twitter Ads, and 50% less than the average CPL of their highly targeted B2B lead gen campaigns. Socedo's inbound marketing strategy helps businesses scale their social media outreach.
We recommend Socedo to any company looking for a solution to social media lead generation, but especially those organizations already using Salesforce, Hubspot, or Marketo to manage their leads and/or drip campaigns.
Have questions about Socedo? Want to find out more about social media marketing software? Call, click, or email to speak with an unbiased Technology Advisor for a no-cost, no-obligation consultation on your unique requirements. 
(Last updated on 05/05/2016)
Screenshots
---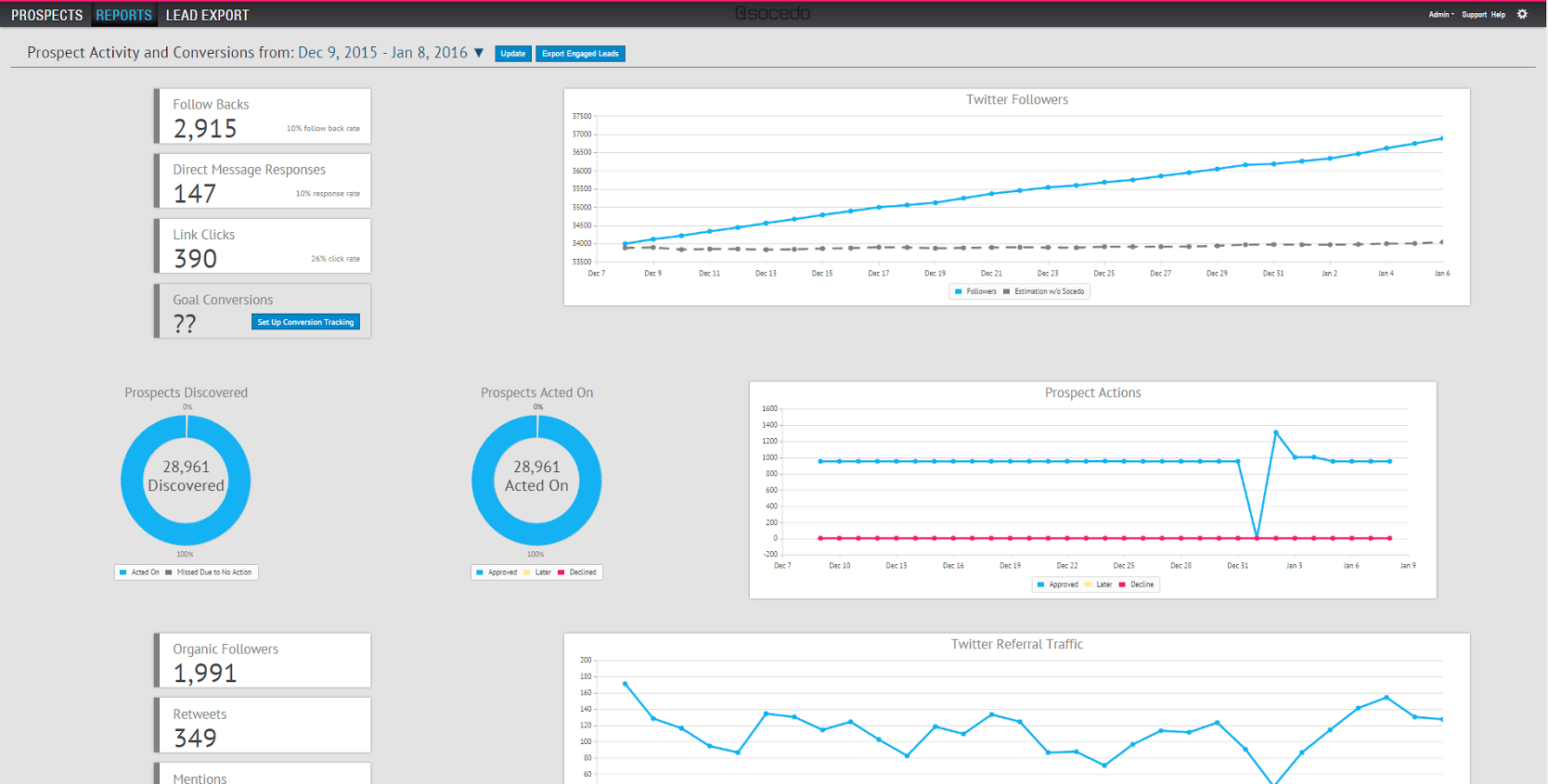 ---
Socedo User Reviews
Average User Rating
(0 reviews)
5 star:
0
4 star:
0
3 star:
0
2 star:
0
1 star:
0
Do you use this product?
Share your insight by leaving a review
---
There are no reviews yet. Be the first to write one!
---
Do you use this product?
Share your insight by leaving a review.
---