Product Quick Facts

---

Industry Specialties

Advertising / Media / Publishing, Marketing / Public Relations

Pricing

Average

Works Best For

Array
About RoboHead
RoboHead, by Aquent, was launched in 2004 to serve as a project management solution for marketing and creative teams. Over 20,000 users trust RoboHead to manage their people, daily schedule, deadlines, and deliverables. 
Marketing and creative work is different; Marketers and creatives sometimes handle hundreds of projects at any given point in time, with thousands of deliverable tasks. New assignments are frequent, and completion is expected far more quickly than at most project-based businesses. RoboHead helps marketing and creative professionals manage their work, collaborate with internal and external stakeholders, and maintain total visibility over their entire workload. 
Some of RoboHead's more innovative features include a customizable project request form, which allows you to require custom fields (like budget, due date, etc.) or use multi-layered, conditional (if/then) questions when creating a new project. Each project has a detailed summary page, with drill-down reports on tasks, deliverables pending review/approval, notes, and much more. Furthermore, the 'Annotation & Approval' feature makes it easy to comment, highlight, select, or stamp uploaded files or URLs; as new versions are created, all previous ones are automatically saved, and built-in notifications help  keep your team on task and aware of what changes are required to earn approval. Lastly, each user can create their own customizable dashboard, with the following sections in any order — metrics, recent activity, weekly activity, reports. They also have a 'My Work' tab that lets each user monitor their tasks on all projects in a single place, plus any personal t0-do list items. This list can be sorted by date, priority, and more. 
RoboHead is trusted by companies like Cisco, Petco, National Geographic, Equifax, Honda, and many more. We recommend them to any marketing or creative team, but especially those teams or agencies managing a wide variety of content production. 
Have questions about RoboHead? Want to find out more about marketing project management software? Call, click, or email to speak with an unbiased Technology Advisor for a no-cost, no-obligation consultation on  your unique requirements. 
(Last updated on 06/27/2016)
Screenshots
---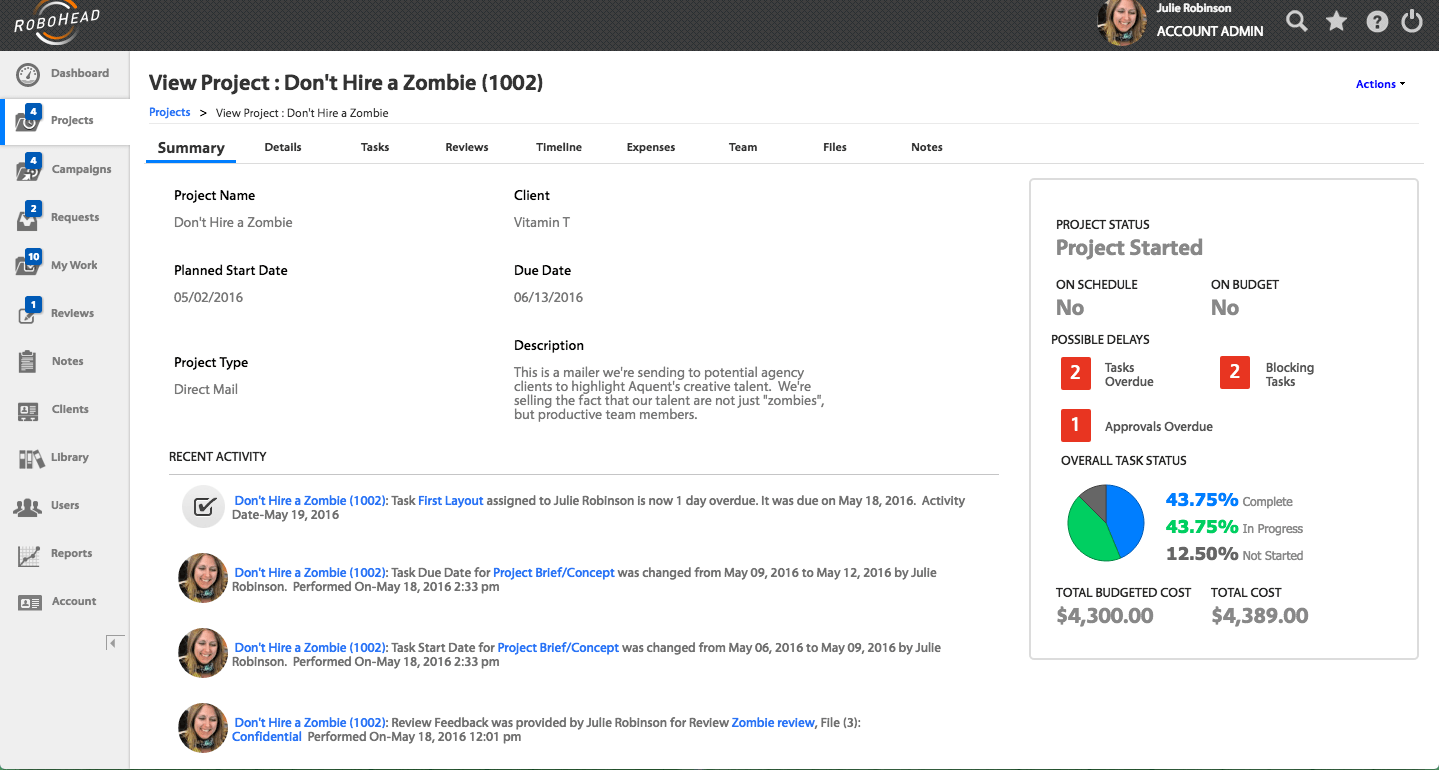 ---
RoboHead User Reviews
Average User Rating
(0 reviews)
5 star:
0
4 star:
0
3 star:
0
2 star:
0
1 star:
0
Do you use this product?
Share your insight by leaving a review
---
There are no reviews yet. Be the first to write one!
---
Do you use this product?
Share your insight by leaving a review.
---