About OpenEMR
OpenEMR is an enterprise-level software package that can handle the most demanding workflows for any private practice. It can accommodate 42 different languages and has been the preferred EMR of the Peace Corp for over last five years. OpenEMR includes just about every major features a practice would need (scheduling, patient intake, patient lab requisition, bidirectional order integration) right out of the box. The system has a very comprehensive patient dashboard that will allow a physician to see all pertinent patient data at a glance — from the vitals checked during triage to the review of system performed by the nurse.
A full billing and accounting package is also included in the software, so no data has to be sent to a third party software system and then imported back. The system can generate an x12 file that can be sent to clearinghouses or directly to a payer. Import ERAs and distribute them to patients accounts. The system tracks A&R as well.
OpenEMR is customizable to your office needs on the fly, and OpenEMR is open to user requests for new form or a process features. 
Still not convinced OpenEMR is right for you? Use our Medical EHR/EMR Software product selection tool to browse additional solutions and get a custom recommendation. Have questions? Call, click, or email to get a free consultation from one of our unbiased Technology Advisors.
(Last updated on 12/27/2016)
Screenshots
---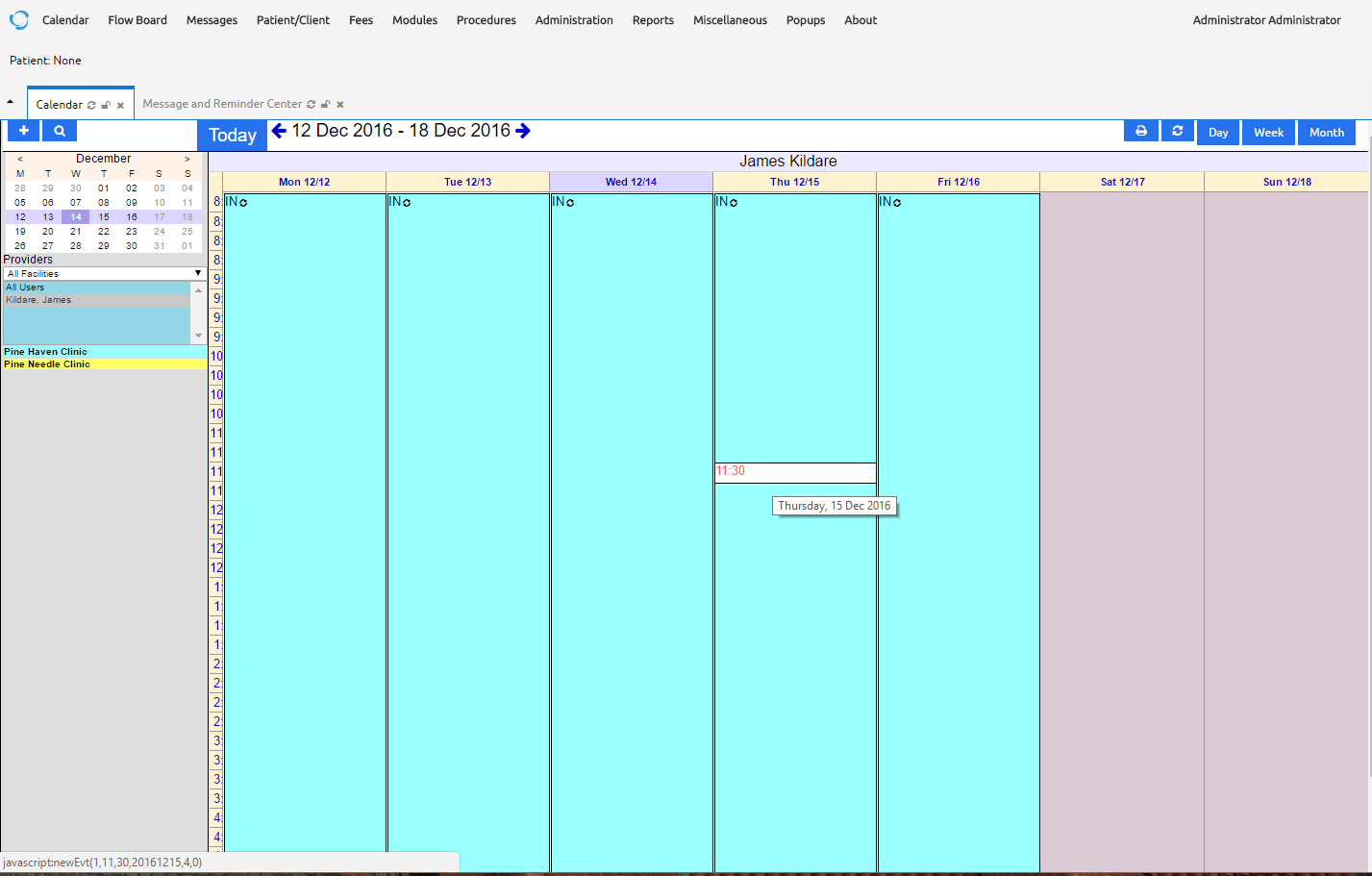 ---
OpenEMR User Reviews
Average User Rating
5 star:
1
4 star:
0
3 star:
0
2 star:
0
1 star:
0
Do you use this product?
Share your insight by leaving a review
---
Dianne J.
George Mason University
↑
↓
Designing Clinical Decision Support Rules and Interventions
What do you like best about this product?
I was very satisfied with the product's functionality and the ability of Mr. Sherwin Gaddis of Open Med Practice to design an electronic blood pressure alert and reminder with notification capabilities within the vital sign flowsheet for the clinicians. The EHR will now alert the clinicians and providers of elevated blood pressures when relevant. The EHR allows individual user specific customization which help to minimize data input, thus increasing ease of use and flexibility. The product provided reminders for screening tests and guideline-based interventions.
What could be improved about this product?
I think providing more recent updated videos on how the product works and the different fuctions might be helpful.
What was your main concern about buying this software?
My main concern was whether the software would be easy to customize to the specific patient population we serve and how easy it would be to train the providers and clinical staff to use it. Although these were some of my concerns, they were easily dashed when I started to work with Mr. Gaddis. He provided excellent support to me and was quite diligent in taking my vision and creating the tools and interventions I needed within the EHR.
What business problems are you solving? What benefits have you seen?
One business problem that OpenEMR will assist in solving is the ease at which the clinic will be able to view and query data on quality of care and implement necessary interventions and changes. Another problem that we are solving is ensuring that providers consistently utilize evidence-based guidelines when providing care to patients. The ability to be able to link to the guideline-based protocol interventions will benefit the end-users of OpenEMR. Mr. Gaddis has helped me solve this problem for the clinic.
How likely would you be to recommend this software to a friend or colleague?
10/10
---
Do you use this product?
Share your insight by leaving a review.
---