Product Quick Facts

---

Industry Specialties

All Industries

Pricing

Low-end

Works Best For

Array
About Fortay
Fortay is a data-drive "culture scaling" solution that helps leaders keep their organizational culture intact as they scale for growth. Hiring managers use Fortay reviews to objectively screen talent for culture fit, measure and improve culture, and improve engagement. 
According to Fortay, "Culture eats everything," because of its immeasurable yet considerable impact on the bottom line. With Fortay's "culture-first" approach, companies can help ensure success for years to come with a highly engaged and happy work force. 
With Fortay, your best people define your company's distinct cultural profile to create an internal baseline; this is crucial, as every company culture is unique. Unlike psychometric-based solutions, Fortay focuses on the collective, promotes diversity, and matches for relative culture fit in just five minutes. 
To help leaders keep the pulse of their teams, identify key issues, and improve performance, Fortay's real-time survey and polling platform gives their employees a voice while ensuring their anonymity. Designed to be flexible and lightweight, Fortay's surveys and polls take five minutes or less, helping to increase engagement and completion rates. 
Companies from small startups to large enterprises use Fortay for many reasons: increase hiring efficiency, measure culture on a company-wide or team level, avoid turnover, remote workers, and increase performance and productivity. 
We recommend Fortay to any organization considering an employee pulse survey platform, but especially growing firms that who want to retain the culture that helped them succeed thus far. 
Have questions about Fortay? Want to find out more about HR software in general? Call, click, or email to speak with an unbiased Technology Advisor for a no-cost, no-obligation consultation on your unique requirements. 
(Last updated on 08/23/2016)
Screenshots
---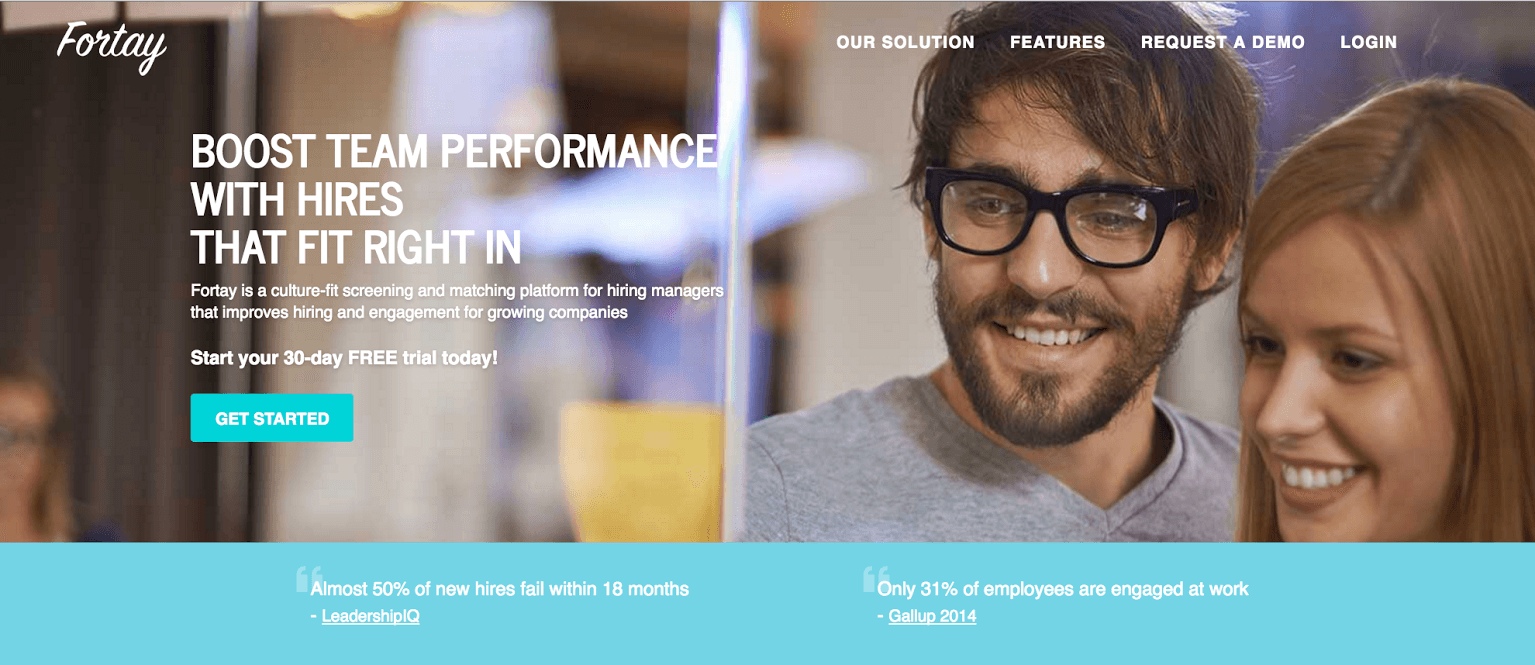 ---
Fortay User Reviews
Average User Rating
5 star:
2
4 star:
0
3 star:
0
2 star:
0
1 star:
0
Do you use this product?
Share your insight by leaving a review
---
Steve P.
Statflo
↑
↓
Fortay helps us hire for our most important standards
What do you like best about this product?
We started using Fortay when we were first building out our recruiting system and have made it our primary initial screen for candidates. It solved a unique problem we had: how to hire for culture without bias. Fortay allows us to put a statistical figure on culture match with all our team members – rather than just relying on the opinion of our hiring manager. Furthermore, it has allowed us to cut down time spent on candidates with a very low culture match by prompting all candidates to take the Fortay survey in advance of our initial discussion.
In term's of results, through our 100% headcount growth over the past 12 months, Fortay's cultural matching system has proven accurate – all our best hires have scored highly for culture according to their system (70%+). As we went through the on boarding process with these hires Fortay was also helpful in generating actionable insights around staff engagement. For example, the engagement survey determined that our team and especially our new hires wanted more feedback and formalized learning objectives. We then invested in a performance management and continuous feedback system to address this.
What could be improved about this product?
I would love to see more information and guidance around best practices observed as a provider to many companies. I'm sure they're collecting a lot of information about what works/doesn't and who's doing exceptionally well, and I'd like to see that feed back into the system in terms of automated guidance, tips, benchmarking or visualized data for everyone's benefit.
What was your main concern about buying this software?
I was honestly concerned we wouldn't use it enough 🙂
Almost immediately though we were swamped with candidates and we're growing faster and getting more attention every day so it gets a lot of use these days.
What business problems are you solving? What benefits have you seen?
We try to hire for the long haul. Fortay helps us discover whether our candidates are aligned with our vision and gives us a solid foundation to build a candidate profile.
How likely would you be to recommend this software to a friend or colleague?
9/10
---
Daryl S.
Maintenance Assistant Inc.
↑
↓
Grow your team, focus on culture matching
What do you like best about this product?
When we introduced Fortay into our hiring process, it helped to very quickly identify individuals who may not be a good team match before spending time assessing or interviewing for their technical or professional fit. Fortay uses cultural values defined by all members of the organization and provides an unbiased assessment each candidate's cultural beliefs before they have come in for their first interview. Candidates who we then invite to interview are still assessed based on culture-fit, but this becomes more of a refinement excercise as opposed to a hit or miss excercise. Having this hiring tool has done two things for our hiring process: it has helped reduce the risk of favouring skills fit over culture fit, and it has saved us an average of 10-20 hours for each role by removing candidates early on who just are not the right overall fit for our company. I would highly recommend Fortay as a tool in your hiring toolbox. It is not a silver bullet to always hiring the best candidate (that is your job), but it is a valuable asset to help you stay focused on cultural health as you grow your business.
What could be improved about this product?
More focused alerts to help indicate when a rematch or candidate above a certain threshold has been matched.
What was your main concern about buying this software?
Needed to see it in action and have it work as part of the process before we were able to identify this as a valuable tool for our hiring process. Testing results with Fortay will be critical to making it a success.
What business problems are you solving? What benefits have you seen?
As a co-founder of a growing technology company I know that cultural alignment is the most important aspect to ensuring healthy company growth for early and emerging businesses. That's why, when candidates with a great resume are found, we spend hours with them in interviews in order to keep them honest on their technical abilities. We also do this (hopefully) to judge that they will not only fit with the team, but enrich your cultural values. A big risk when hiring is finding a candidate who has wowed you so much with their technical abilities you hesitate to be critical of their cultural fit, and you decide to bring them in anyways. Regardless of whether they make it through the interview process or not, the cost of having the wrong culture-fit is an impact against time and often very disruptive. Every manager wants the ability to easily identify an individual who will, or more importantly will not, exemplify the cultural values that are the backbone to team success.
How likely would you be to recommend this software to a friend or colleague?
9/10
---
Do you use this product?
Share your insight by leaving a review.
---