Product Quick Facts

---

Industry Specialties

All Industries, Education and Training

Pricing

Average

Works Best For

Enterprise Businesses, Mid Sized Businesses
About eFront
eFront is an enterprise-grade learning management solution developed by Epignosis, LLC, makers of the smaller-business focused TalentLMS cloud learning management suite. Led by an experienced and decorated team of developers and learning professionals, eFront's LMS is offered as an on-premise deployment, but private cloud-hosted options are available as well.
Based on an open-source project, eFront is sold in two versions: Pro and Enterprise
eFrontPro is a powerful Learning & Talent Development Platform that improves the skills of your people and the competitiveness of your business. It fits your brand preferences, facilitates online training & blended learning and features a powerful gamification engine. eFrontPro helps you improve learning & development, ensure compliance, track results, engage your workforce and support organizational goals. Trusted by hundreds of companies and organizations around the world, eFrontPro is here to make your talent thrive!
eFront Enterprise offers most of the same functions as eFrontPro, though it is not as mobile-friendly, doesn't offer the same levels of advanced reporting options or functionality for course sales, lacks WebEx integration, and doesn't include support for curriculum development or offline learning. eFront Enterprise is the more appropriate choice for organizations that intend for the majority of learning to be done while in the office,  or that don't intend to focus on course sales.
Both versions include 100 user licenses to start, and users can be increased accordingly upon the size of  your organization's needs for an additional fee. We recommend eFront to enterprises with a minimum of 100 learners, desire SCORM and TinCan/xAPI support, or want to monetize their elearning courses with an online marketplace. It's especially attractive to organizations seeking a private cloud deployment, or traditional on-premise licensing. 
Not sure if eFront LMS is the right fit for your organization? Call, click, or email to speak with an unbiased Technology Advisor for a no-cost, no-obligation consultation on your unique requirements. 
(Last updated on 08/03/2016)
Screenshots
---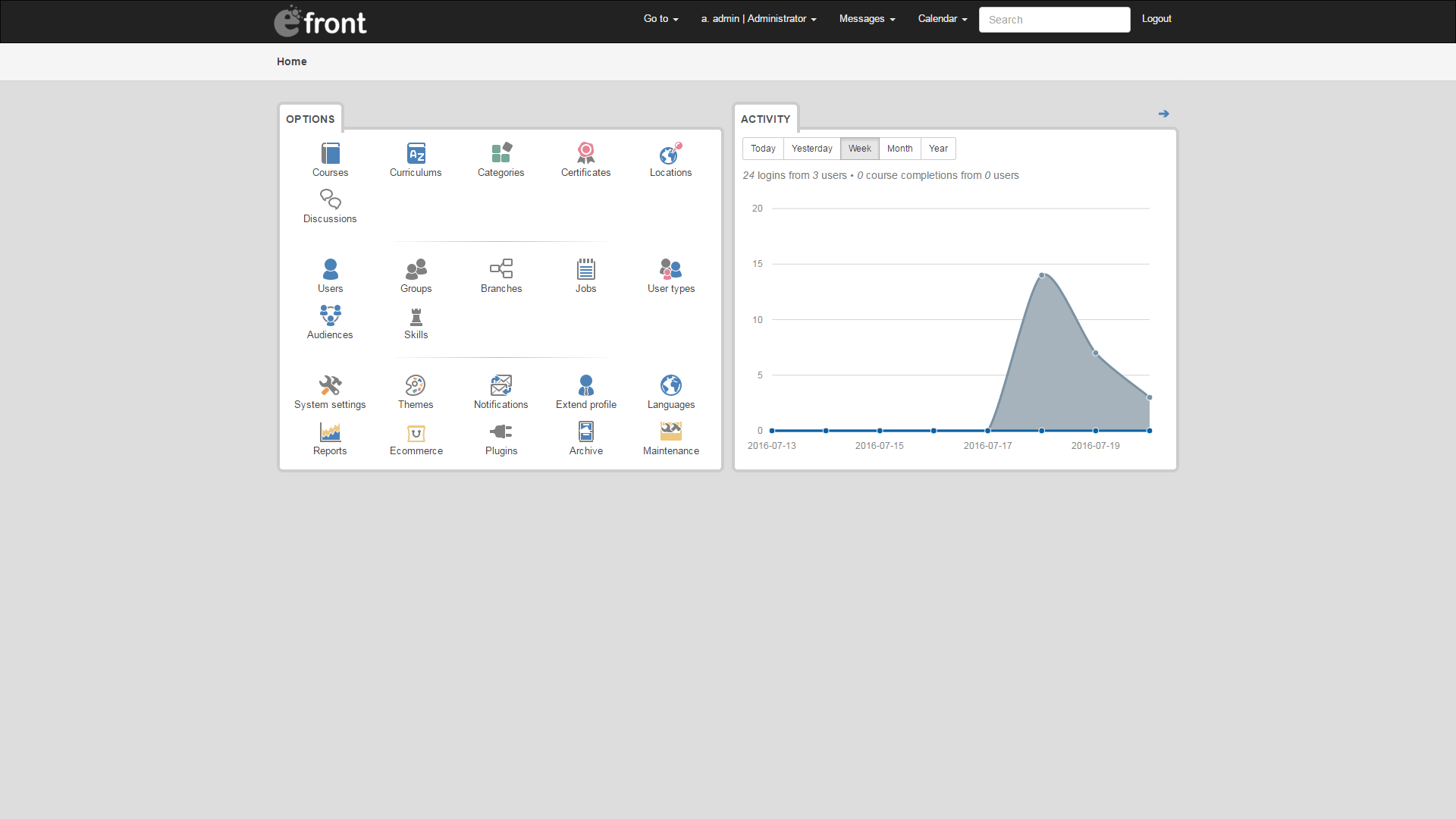 ---
eFront User Reviews
Average User Rating
(0 reviews)
5 star:
0
4 star:
0
3 star:
0
2 star:
0
1 star:
0
Do you use this product?
Share your insight by leaving a review
---
There are no reviews yet. Be the first to write one!
---
Do you use this product?
Share your insight by leaving a review.
---