Compare Best Human Resources Software Solutions (180+ Vendors)
Get free recommendations and price quotes. Answer below.
Do you currently use HR software?
Compare HR Solutions Side by Side
Choose from our list of vendors below
Updated: May 23, 2018
What is HR software?
The growing HR management software market is forecast to reach $9.2 billion by 2022. Often referred to as Human Resources Management Systems (HRMS), or Human Resources Information Systems (HRIS), HRM software is designed to streamline and automate a company's Human Capital Management (HCM) through one central database.
Since this technology has evolved with the continually changing functions of HR departments, the market is now at an interesting turning point.
There has been little movement in traditional segments of the HR management software market, such as payroll, time and attendance, and benefits management, which means market growth and consolidation is being driven by emerging HR strategies as well as new technology and trends.
Organizations often cite the following five reasons for seeking new HRMS:
New, better, faster technology solutions on the market (76 percent)
Improvements to user experience (73 percent)
Inability to get analytics (57 percent)
Business goals cannot be addressed with current technology (54 percent)
Unable to efficiently integrate with other systems (54 percent)
This desire for change and upgraded technology presents businesses with overwhelming options in a swiftly expanding market. There are both integrated suites with sweeping functionality and best-of-breed platforms for extremely specific tasks. This guide examines the three developing categories of HRMS based on features and business function, as well as prominent vendors, and progressive trends.
Best HR Software (by Specialty)
3 Categories of HR Software Solutions
I. HR Administration
It's estimated that 58 percent of HR staff time is spent on administrative tasks - which does not include the additional 20 percent of time spent on activities related to reporting and compliance. HR Administration software is designed to streamline and automate the three traditional pillars of HRM: payroll, time and attendance, and benefits management.
Sometimes called Core HR, this segment has shown slow growth recently but continues to make up a large portion of the market. These platforms are generally available either as a package of integrated features or as separate modules focused on specific tasks.
Case Study: Flexitronics
Flextronics is a leading electronics manufacturing services provider. The company was struggling with manual global reporting that often caused inaccuracies. 80 different HR systems existed within the company due to several acquisitions, which made management difficult. Rather than working as a whole, various locations acted more like independent entities. They had separate processes and systems that didn't talk to other parts of the company, resulting in widespread inefficiency.
Flextronics implemented Workday's HCM and cloud payroll solutions to create a single record system for their entire global workforce. Workday's self-service features have given managers greater transparency into the organization, including the ability to see how much their employees cost, and what current priorities are. The subscription-based SaaS delivery model also reduced up-front investment, which has helped their organization stay agile.
Results
80 disparate global HR systems replaced by a single system
30 percent reduction in total cost of ownership compared to a packaged solution from a traditional vendor
Additionally, by replacing their expensive, fragmented system, Workday helped Flextronic's HR automate transaction-based processes so they could focus on strategic business projects and provide data to company leaders. Flextronics successfully implemented Workday with no help from third-party integration partners. Dave Smoley, the SVP and CIO, considers this upgrade one of the premier accomplishments of his career.
Comparable Products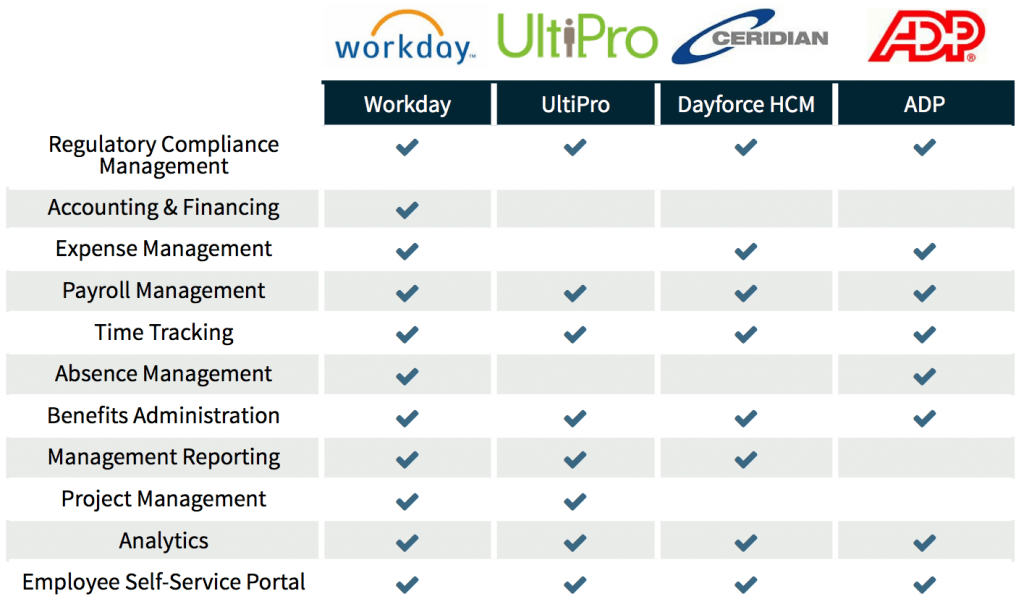 II. Talent Management Systems
Whereas traditional HRMS focuses on administration and transaction processing, talent management systems (TMS) provide a central location and database for recruitment, employee development, and retention efforts. TMS are sometimes called applicant tracking systems (ATS) or even more broadly, "strategic HR." They can be standalone or integrated with an HR Administration software suite to provide additional core HR functions.
TMS are largely responsible for the recent high growth of the HRMS market. This segment grew by 17 percent last year to become a $5 billion market. Such growth is not surprising when one considers that 83 percent of CEOs list talent management - i.e., managing skills, driving productivity, and retaining employees - as their number one priority. As traditional HRMS have automated many functions of traditional HR departments, many companies have re-purposed HR to focus on recruiting top employees. Businesses are now replacing dated systems and paper resumes for social media recruiting, online assessments, and real time analytics.
Case Study: Yoh
Yoh is a technology staffing firm headquartered in Philadelphia that used SuccessFactors to build their recruiting efforts. Before SuccessFactors, the company let individual offices choose which sourcing channels to use. With no centralized control, Yoh estimates that they overspent for job board postings by roughly 30 percent. Additionally, the company was unable to track which efforts were effective.
Yoh aimed to track and automate the process, since posting a job involved 18 steps, and 75 percent of their candidates never even made it to the applicant tracking system. Yoh implemented SuccessFactors as the back end of its new career site in order to measure its recruiting campaigns, track applicants throughout the funnel, build a robust talent community, and automate the job posting and application processes.
Applicants now go directly into the applicant tracking system, where they're visible to any recruiter across the organization. Within the first year of going live with SuccessFactors, Yoh's career site saw:
A 200 percent increase in unique visitors, with 85 percent of traffic driven by SuccessFactors Recruiting Marketing
A 350 percent increase in unique candidates, and an 83 percent visitor conversion rate
Approximately 10,000 new sign-ups per month for their talent community.
All of this has added up to a 15-day reduction in time-to-fill, a $200 reduction in cost-per hire, and a 31.5 percent increase in hires.
III. Learning Management Systems
Learning Management Systems (LMS) track an employee's education, qualifications, and skills, then outline materials or courses available to develop those skills. Some LMS may function as a part of TMS, but many standalone options are also available.
The emerging LMS segment is one of the fastest growing segments of the overall market. It grew more than 11 percent in 2013, with worldwide sales of over $2 billion.
LMS allow managers to approve training, budgets, and calendars alongside performance management and appraisal metrics. Most LMS users create their own learning content which then gets hosted on an LMS server. Any department looking to centralize administration, consolidate training initiatives, and customize learning or training content could benefit from this type of program.
Case Study: Discovery
Solution: Saba Software
Discovery is a prominent South Africa-based insurance company that provides health insurance, life insurance, wellness programs, investment services, and credit card services. The company needed to provide professional learning and development courses to a distributed workforce in order to foster company success and meet regulatory compliance requirements.
Discovery implemented Saba to automate the management and reporting of all learning for their growing workforce to efficiently meet those goals. After deployment, the company:
Reached 18 percent more learners while reducing the time devoted to training by 98,559 hours in one year
Realized significant ROI of more than five times the original technology cost
Reduced overall costs by more than two million USD.
Additionally, Saba provided Discovery with a variety of collaborative tools for adding to the company's collective knowledge bank. The LMS also enables Discovery to easily produce engaging, interactive learning content in-house at a reduced cost.
Comparable Products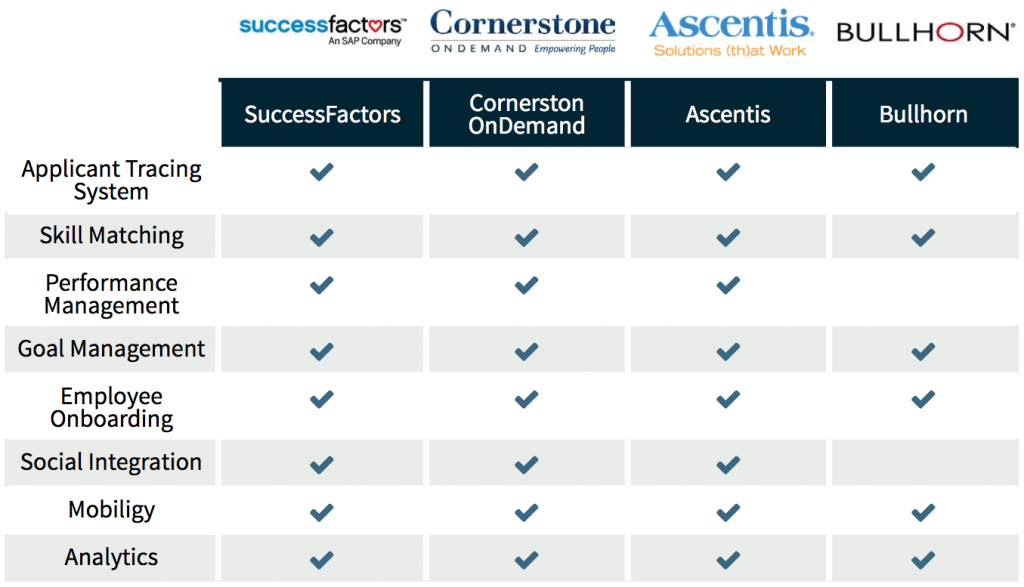 Current Trends
As the human resources software market grows and changes, there are a few additional considerations to make when choosing a solution. Features such as analytics, social integration, and mobile capabilities are becoming standard issue for most platforms rather than innovative selling points.
Here are the two most prominent and ongoing trends for some of the best HR software providers on the market today:
Integrated Systems vs. Best of Breed
Though the solutions in this guide have been referenced in three categories, many vendors offer integrated systems. This means one vendor could provide core HR, TMS, and LMS as an all-in-one, or "best of suite" solution. Advantages of this approach include a seamless user interface, easy access to data across the system, and comprehensive analytics.
Best of breed refers to a specific software used for a specialized area. So rather than choosing software with several HR functionalities, it's possible to simply purchase a great payroll system for your business. Advantages can include tailored functionality for specific job functions and competitive upgrades to solve niche problems.
On average, companies manage over eight HR and payroll systems. However, over 33 percent would be willing to "sacrifice features in order to get a single vendor solution". While the debate is ongoing, and unique to each company, buyers should focus on defining their needs and must-have features. What is missing from your existing system? What do you wish your current tools could do? Defining what you need and why you need it will help pinpoint the best solution for your business.
Software-as-a-service (SaaS)
Perhaps the biggest trend in HRM is the move away from on-premise solutions. Rather than buying a one-time license and housing an HR system onsite, business are choosing to use cloud-based systems instead. This SaaS model allows companies to pay a subscription fee (generally per month or year) in order to use the software.
According to IDG Connect, almost half of companies surveyed have already migrated to cloud-based solutions. Of the companies who haven't already moved away from on premise HR, 56 percent planned to migrate to cloud solutions within a year. Contributing factors to the switch include:
Lower capital expenditure
Reduced administration costs
Rapid deployment
Scalability
Better functionality
Less drain on internal IT departments
Additionally, over half of respondents suggested their desire to change systems was driven by competitors who already had cloud HR solutions.